Photo Preview: GAYFESTNYC
GAYFEST NYC, a festival of new gay-themed plays and musicals, runs May 9-June 2, 2007 in NYC. This year's Main Stage selections, from over 175 submissions worldwide, are Revolution written and directed by Michael D. Jackson, Competing Narratives by A.B. Asher, directed by Margarett Perry, and A Kiss from Alexander, book and lyrics by Stephan deGhelder, music and lyrics by Brad Simmons, directed and choreographed by DJ Salisbury, co-produced with Dennis Grimaldi Productions. Two additional plays will be presented as staged readings:  Edward the King by David Hopes, directed by Sidney J. Burgoyne and The Casserole Brigade by David John Ford, directed by Sturgis Warner. GAYFEST NYC provides scholarships for graduates of Harvey Milk High School in Manhattan.
Revolution
kicks off the festival on May 10th, with
Competive Narratives
receiving its world premiere on May 17th and
A Kiss from Alexander
premiering on May 24th.Festival Passports and Individual tickets are available at www.theatermania.com or by calling 212-351-3101.  Visit
www.GAYFESTNYC.com
.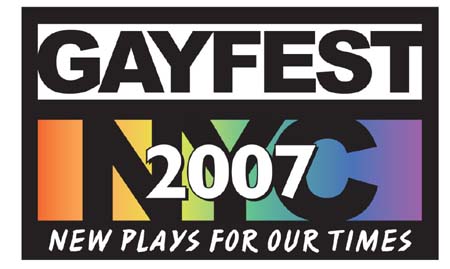 Craig Ramsay comes from the past in A Kiss from Alexander, Stephan DeGhelder and Brad Simmons new musical (photo: Joe Oppedisano)
 


Corey Boardman and Maggie Graham star in the World Premiere of Michael D. Jackson's new play Revolution (Photo: Ben Strothmann)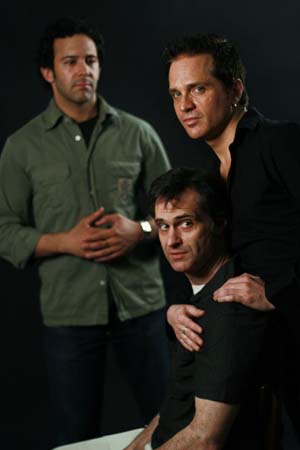 Sebastian LaCause, Michael Vaccaro and Matthew Boston are passing strangers in A.B. Asher's new play Competing Narratives (photo: Ben Strothmann)

Producers of GAYFEST NYC (May 9 – June 2) – Bruce Robert Harris and Jack W. Batman (photo: Ben Strothmann)