Photos: THE 39 STEPS 2nd Annual Hitchcock Look-A-Like Contest
Alfred Hitchcock Look-A-Like Finals, Sponsored by Broadway's Tony Award-winning comedy, Alfred Hitchcock's THE 39 STEPS took place on Tuesday, September 15th, 2009.
Voting was held at the Helen Hayes Theatre (240 West 44th Street) for the best Hitchcock look-a-like, after THE 39 STEPS performance. The three finalists were invited to appear on-stage and the audience voted LIVE to select the grand prize winner.
Once the contest was over, the cast of THE 39 STEPS and the Hitchcock look-a-like finalists and winner attended an exclusive cast party at at Tony's DiNapoli (147 West 43rd Street).
Now in its second smash year, the Tony Award-winning quick change comedy version of Hitchcock's classic film thriller is playing at the Helen Hayes Theatre (240 West 44th Street). The production has now played over 600 performances on Broadway.
THE 39 STEPS is adapted by Patrick Barlow and directed by Maria Aitken. The production is based on an original concept by Simon Corble and Nobby Dimon and on the book by John Buchan.
THE 39 STEPS features a cast of four actors who, against all odds, breathlessly and hilariously attempt to reenact all of the characters, locations and famous scenes in Hitchcock's 1935 film thriller with just a few props and a lot of theatrical ingenuity and split second quick changes.
The production currently stars Arnie Burton (Man #2), Jeffrey Kuhn (Man #1), Sean Mahon(Richard Hannay) and Jill Paice (Annabella Schmidt/Pamela/Margaret). The company also includes Rob Breckenridge, Cameron Folmar and Nisi Sturgis.
THE 39 STEPS opened to deliriously ecstatic reviews. Ben Brantley, New York Times, called the production, "Absurdly enjoyable! This gleefully theatrical riff on Hitchcock's film is fast and frothy, performed by a cast of four that seems like a cast of thousands. The actors themselves seem to be having a helluva good time. As does the audience." Clive Barnes, New York Post, pronounced THE 39 STEPS "Inventively astonishing, riotous & marvelous." Joe Dziemianowicz, Daily News, exclaimed, "Hitchcock probably never imagined his thriller had the makings of a hilarious comedy, but this show is a dizzy delight and an ingenious spoof, inventively directed by Maria Aitken. A fast-paced fun ride!"
Tickets are available from TeleCharge at 212-239-6200, online at www.telecharge.com and at the Helen Hayes Theatre box office. Performances are Tuesday at 7:00 PM, Wednesday through Saturday at 8:00 PM, with matinees Wednesday and Saturday at 2:00 PM, Sunday at 3:00 PM.
For more information, visit www.39StepsOnBroadway.com.
Photos by Fred Roark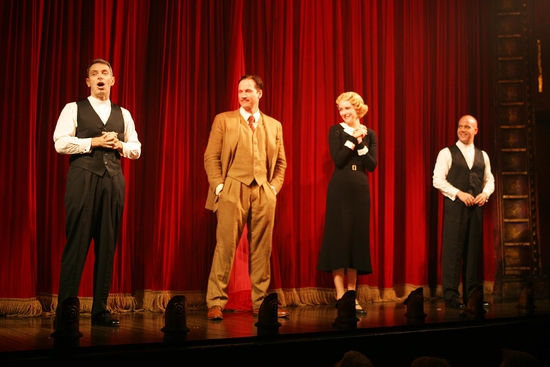 The 39 Steps cast members Arnie Burton, Sean Mahon, Jill Paice, Jeffrey Kuhn. Burton informs the audience that they will be judging the 2nd Annual Hitchcock Look-A-Like Contest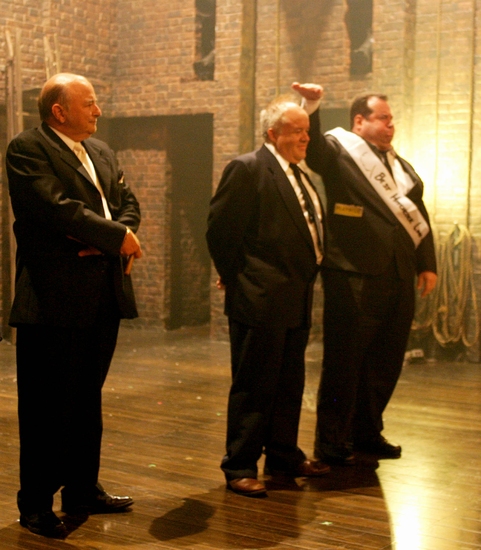 The voting begins. Last year's winner Bob Greenberg leads audience applause for competitors Dominic Dephillips and Glenn Andreiev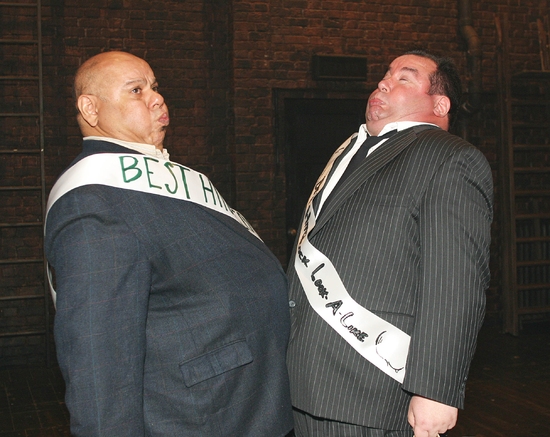 Competitor Steve Solis and 2008 winner Bob Greenberg do their best Hitchcock impression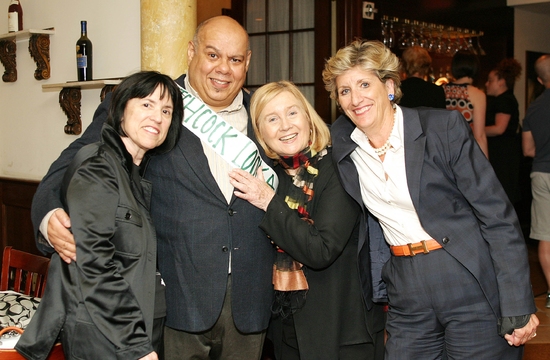 The 39 Steps producers Harriet Leve, Pat Addiss and Pam Laudenslager with this year's winner, Steve Solis at Tony di Napoli's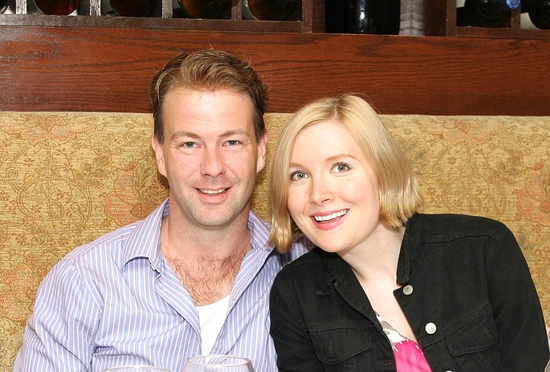 The 39 Steps talented understudies Cameron Folmar and Nisi Sturgis.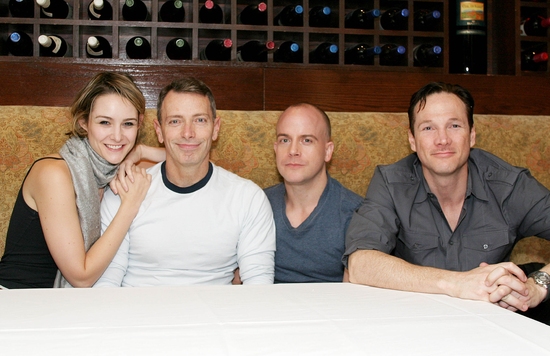 The 39 Steps stars Jill Paice, Arnie Burton, Jeffrey Kuhn and Sean Mahon