Photo Flash: Spamalot Opens in Las Vegas
The Las Vegas production of the award-winning Monty Python's Spamalot, starring John O'Hurley, opened at Wynn Las Vegas on Saturday March 31.  An after-party followed at the nightclub Lure.
Featuring a book and lyrics by Eric Idle, music by John Du Prez and Eric Idle, direction by Mike Nichols, and choreography by Casey Nicholaw, the musical is based on the screenplay of Monty Python and the Holy Grail by Monty Python creators Graham Chapman, John Cleese, Terry Gilliam, Eric Idle, Terry Jones and Michael Palin
The production stars O'Hurley (Chicago, "Seinfeld," "Dancing with the Stars") as King Arthur.  Nikki Crawford plays The Lady of the Lake. The principal cast also includes Harry Bouvy as Sir Robin, Justin Brill as Patsy, J. Anthony Crane as Lancelot, Randal Keith as Bedevere, Edward Staudenmayer as Galahad, and Steven Strafford as Prince Herbert. 
"Telling the legendary tale of King Arthur and the Knights of the Round Table, and their quest for the Holy Grail, Spamalot features a chorus line of dancing divas and knights, flatulent Frenchmen, a killer rabbit and one legless knight," state press notes.  The show has been honored with numerous awards, including the Grammy Award for Best Original Cast Recording and three Tony Awards, including Best Musical. 
To reserve tickets for the show at Wynn Las Vegas, please call 888 320 7110 or 702 770 WYNN, or go online to www.montypythonsspamalot.com or www.wynnlasvegas.com.  Groups of 10 or more persons may contact 702 770 3720 or showsales@wynnlasvegas.
Photos by Carolyn Weaver; Show photos by Carol Rosegg

A hallway of the Wynn Las Vegas, leading to the theatre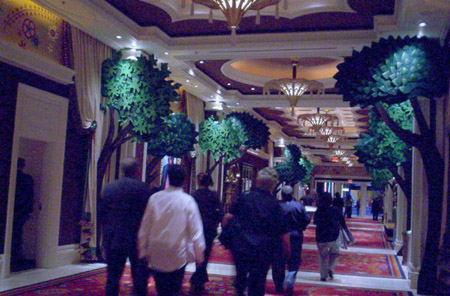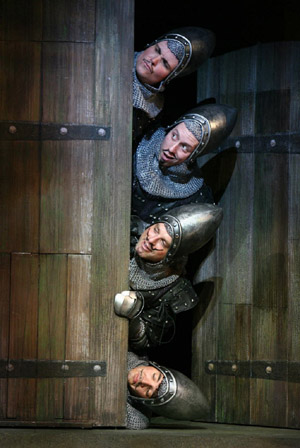 The Las Vegas company of Spamalot

Nikki Crawford as the Lady of the Lake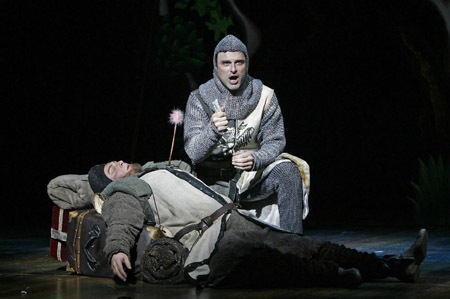 Randal Keith (lying down) as Concorde and J. Anthony Crane as Sir Lancelot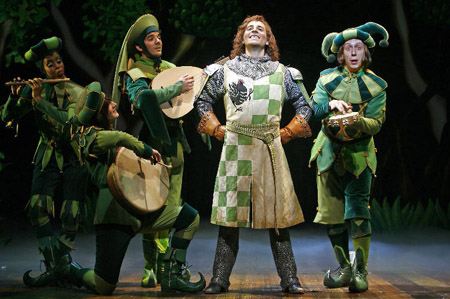 Harry Bouvy as Sir Robin with the company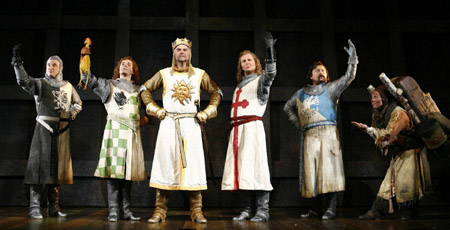 The Las Vegas company of Spamalot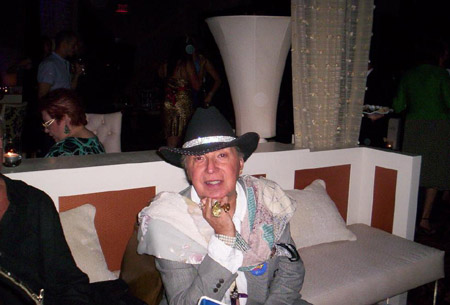 Las Vegas icon Monty Rock III (Grease movie)

Lisa Bishop (wife of Bob Bishop DJ on KWNR 95.5 in Las Vegas) with the bride's bouquet she caught