Photo Flash: Daniel McCoy's New Play PERFECT TEETH Comes to Theaterlab
Playwright Daniel McCoy's new play, Perfect Teeth is currently running at Theaterlab in mid-town Manhattan. The drama is directed by David Hilder.
Kyle and Dylan hooked up several months ago after a few too many drinks. Now they're meeting for the first time since that night, and an unexpected accusation pits both men against each other in a struggle for dignity, status and control. As the two men find themselves unable, or unwilling, to escape each other's orbits, they are forced to decide if "what happened" in the past really matters when the present stakes are high enough.
Perfect Teeth stars Maxwell Eddy (Shows for Days/Lincoln Center) and Jose Joaquin Perez (2015 Drama Desk Nomination/My Manana Comes).
Remaining Performance Dates:
Wednesday August 1 @ 7:30 pm
Friday August 3 @ 7:30 pm
Saturday August 4 @ 9:00 pm
Thursday August 9 @ 7:30 pm
Saturday August 11 @ 6:00 pm
Sunday August 12 @ 3:00 pm
More info available at www.perfectpixplays.com
The Creative team includes lighting design by Cecilia Durbin, sound design by Emily Auciello, costume design by Liam O'Brien, scenic/properties design by Sarah Pencheff, projection design by Alexandra Kelly Colburn and Mark Costello, stage management by Phoebe Duncan (Perfect Teeth), company/house manager Sarah Livant. Erin Cronican is the Creative Producer, Lauren Parrish serves as the Production Manager.
Performances take place at Theaterlab, 357 West 36th Street (between 8th and 9th avenues), 3rd Floor, New York, NY 10018. Subways: 1, 2, 3, A, C, E to 34th Street. Tickets are $20 and can be purchased at www.perfectpixplays.com/tickets.
Photo Credit: Jody Christopherson.


Jose Joaquin Perez and Maxwell Eddy

Jose Joaquin Perez and Maxwell Eddy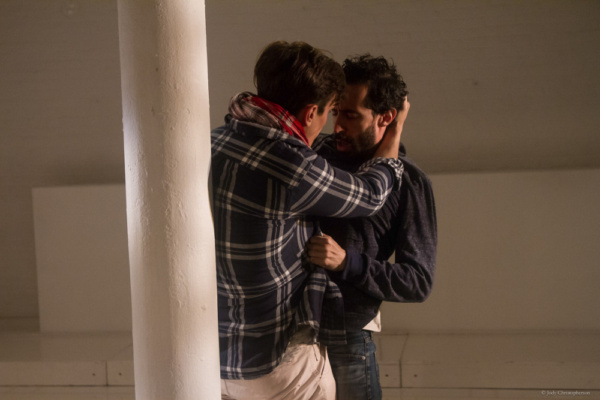 Maxwell Eddy and Jose Joaquin Perez

Maxwell Eddy