Photo Flash: 'Passion Play' by Sarah Ruhl at Yale Repertory Theatre
YALE REPERTORY THEATRE (James Bundy, Artistic Director; Victoria Nolan, Managing Director) presents PASSION PLAY by Pulitzer Prize nominee and MacArthur Foundation Fellowship recipient Sarah Ruhl, directed by OBIE Award-winner Mark Wing-Davey at the University Theatre (222 York Street, New Haven), September 19-October 11 only.  Opening Night is Thursday, September 25.
The creative team for PASSION PLAY includes scenic designer Allen Moyer, associate scenic designer Warren Karp, costume designer Ilona Somogyi, lighting designer Stephen Strawbridge, sound designer Charles Coes, projections designer Ruppert Bohle, dramaturg Colin Mannex, dialect coach Gillian Lane-Plescia, and stage manager James Mountcastle.
The cast of PASSION PLAY is Brendan Averett (Carpenter 1), Kathleen Chalfant (Queen Elizabeth/ Hitler/ Reagan), Austin Durant (Carpenter 2), Laura Esposito (Ensemble), DieteRich Gray (Machinist/German Officer/Young Director), Brian Hastert (Ensemble), Slate Holmgren (Ensemble), Polly Noonan (Village Idiot/Violet), Barret O'Brien (Ensemble), Susan Pourfar (Mary 1), Keith Reddin (Director), Luke Robertson (Ensemble), Thomas Jay Ryan (Visiting Friar/Visiting Englishman/VA), Felix Solis (Pontius the fish-gutter), Joaquín Torres (John the Fisherman), and Nicole Wiesner (Mary 2).
Pulitzer Prize finalist Sarah Ruhl, author of The Clean House and Eurydice, returns to Yale Rep with PASSION PLAY: an epic trilogy of plays performed in one evening.
Local communities and amateur actors have come together for centuries to perform Passion plays, theatrical celebrations of the life and death of Christ.  Inspired by this tradition, Sarah Ruhl's PASSION PLAY transports audiences first to 16th-century England, where the Protestant Queen Elizabeth threatens to shut down a small town's production; then to 20th-century Germany, where Adolf Hitler seizes an opportunity to use the famous Oberammergau Passion Play to promote the Nazi agenda; and finally to Spearfish, South Dakota in 1984, as a local production becomes a campaign stop for a famous actor-turned-President running for re-election.
Poetic, poignant, and uniquely theatrical, PASSION PLAY reveals the power of performance to transform ordinary sinners into saints and world leaders into theatrical icons.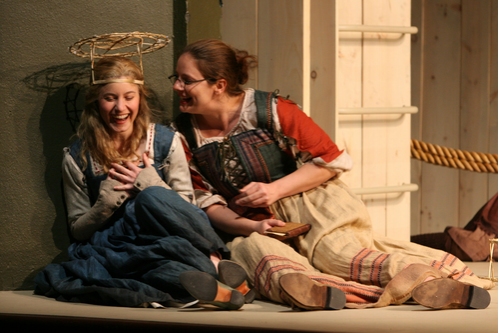 Susan Pourfar and Nicole Wiesner

Joaquín Torres , Kathleen Chalfant, Felix Solis, and Susan Pourfar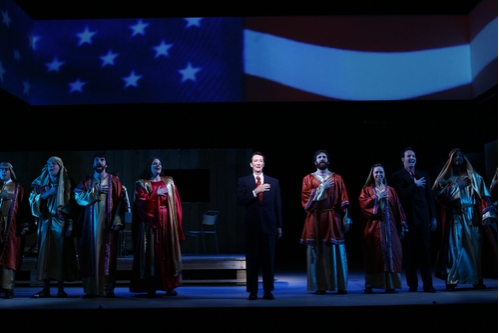 Kathleen Chalfant and cast

Kathleen Chalfant and cast
Joaquín Torres and the cast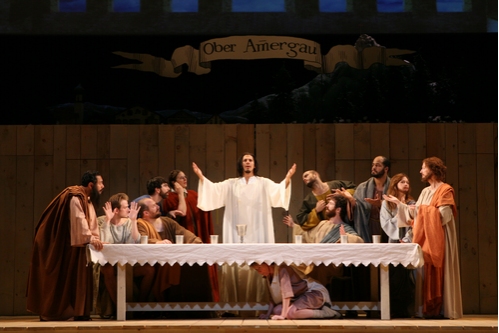 Joaquín Torres and the cast

Joaquín Torres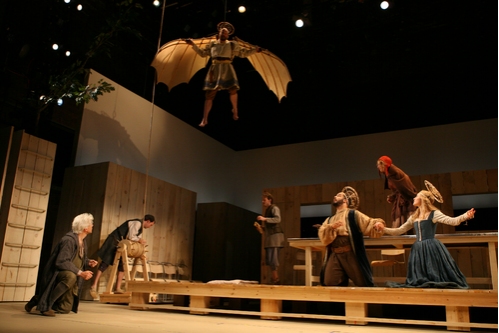 The cast of Passion Play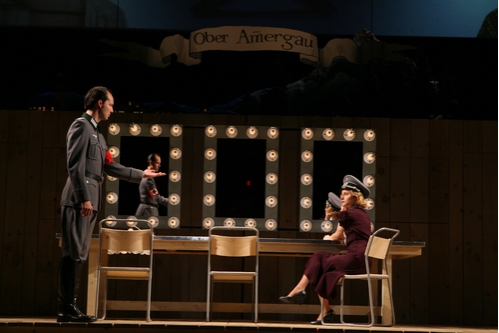 Dieterich Gray and Susan Pourfar

Susan Pourfar and Dieterich Gray

Susan Pourfar and Joaqui­n Torres

Susan Pourfar, Joaquín Torres , and Keith Reddin

Susan Pourfar and Joaquín Torres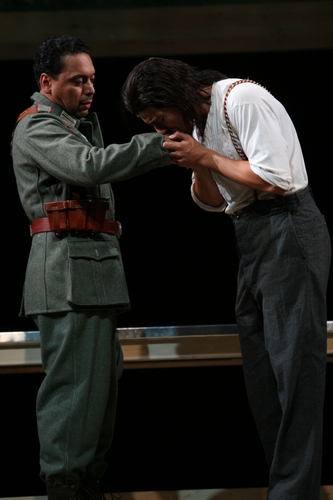 Felix Solis and Joaquín Torres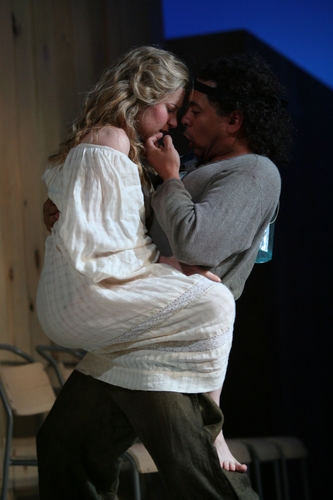 Susan Pourfar and Felix Solis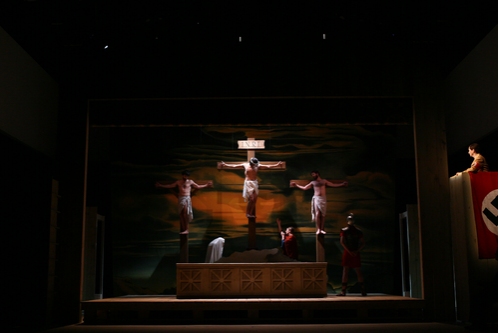 Joaquín Torres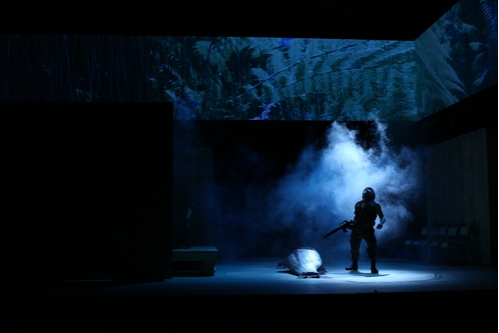 Felix Solis
Photos by Joan Marcus