Photo Flash: PREformances with Allison Charney Launches Season Nine
"PREformances with Allison Charney" launches its 2017-2018 Concert Series Season in its new home at Merkin Concert Hall at Kaufman Music Center. Both intimate and stately the 450-seat Merkin Concert Hall at Kaufman Music Center is located within the world-renown epicenter of classical music on Manhattan's West Side. Widely regarded as having near-perfect acoustics Merkin Concert Hall at Kaufman Music Center's 2007 renovation by noted American architect and native New Yorker, Robert A. M. Stern has merited praise for offering barrier free accessibility for all audience members.
In celebration of its Season Nine move to Merkin Concert Hall at Kaufman Music Center PREformances' guest artists will include, among other noted musicians: The ARK Trio, Jordan Charney, stage and screen actor; Joel Fan, pianist; Pam Goldberg, pianist; Kelly Hall-Tompkins, violinist; Elizabeth Mann, flutist; Blair McMillen, pianist; Daniel Panner, violist; Jason Tramm, conductor; Kajsa William-Olsson, cellist; CarolWincenc, flutist; Rupei Yeh, cellist; Julia Zilberquit, pianist. Together with Craig Ketter, PREformances' noted collaborative pianist, soprano Allison Charney, performs on every concert. To commemorate the milestone, renown visual artist, designer and director Doug Fitch has created artwork celebrating a new look for "PREformances with Allison Charney" Season Nine Series' launch on October 16, 2017coinciding with its new web and social media presence this Fall.
The innovative classical concert series "PREformances with Allison Charney" invites audience to experience celebrated classical musicians in "PREformances" anticipating their upcoming engagements on the world's most prestigious stages. Acclaimed opera singer Allison Charney hosts a behind-the-scenes glimpse into top-level artists' practices and performance, deliberately blurring the traditional barriers which exist between classical musicians and audience in concerts. Ms. Charney promises a complete concert experience that provides entertainment and insight providing audiences with classical music knowledge "that she promises "is simply not Googleable."
Throughout its previous eight seasons "PREformances with Allison Charney" has presented over 95 of the preeminent musicians of our time. Notable appearances include those by New York Philharmonic Music Director Alan Gilbert, Metropolitan Opera stars William Burden and Maria Zifchak, flutist Carol WIncenc, violinist Kelly Hall-Tompkins, pianists Joel Fan and Navah Perlman, just to name a few. In addition, the series has presented new classical works by composers Michael Ching, Moshe Knoll, Kim D. Sherman and Dina Pruzhansky.
PREformances with Allison Charney classical concert series begins Monday October 16, 2017 at 1PMand consists of two Monday Matinee Concerts at 1:00pm: October 16, 2017 and April 23, 2018; and twoMonday Evening Concerts at 7:30pm on November 27, 2017 and March 5, 2018. Single tickets start at $30 and an Inaugural Subscription Packages for Two/Three/Four Concert Series range from $50, $75 and $80 and are on sale now and available online or at the Kaufman Music Center Box Office.
The Kaufman Music Center location at Lincoln Square is easily accessible by public transportation and positions "PREformances with Allison Charney" within the world-renowned epicenter of classical music - the concert halls and academic centers that are "home" to of many of PREformances featured guests. Fittingly PREformances with Allison Charney new look reflects the visual sensibility of its Lincoln Plaza location. Doug Fitch - who reimagined PREformances new look in celebration of its Season Nine move to Merkin Concert Hall at Kaufman Music Center - recent work includes several projects conducted by Alan Gilbert for the New York Philharmonic, including Ligeti's Le Grand Macabre (cited as the top opera of 2010 by The New York Times, New York Magazine, and Time Out New York), Janác?ek's The Cunning Little Vixen (2011) New York Magazine's "Best Classical Event of the Year"), A Dancer's Dream: Two Works by Stravinsky (2013), later screened in movie theaters worldwide); and HK Gruber's Gloria - A Pig Tale (2014) with forces from The Juilliard School as part of the New York Philharmonic's Biennial.
"PREformances with Allison Charney" owes a debt of gratitude to Rabbi Joy Levitt, Executive Director of the JCC Manhattan and Megan Whitman, Director of The Lambert Center for Arts + Ideas where the series was originally incubated and evolved from proof of concept into a featured programing component of the JCC Manhattan's cultural offerings on Manhattan's upper West Side. "PREformances with Allison Charney" maintains a charitable relationship with the Basser Center for BRCA at the University of Pennsylvania - contributing to its research efforts and by promoting awareness of the Basser Center's mission of advancing the care of individuals living with BRCA1 and BRCA2 mutations. "PREformances with Allison Charney" is supported in part through the generosity of its patron group - "Friends of PREformances" - donors who believe in the series mission and vision and whose partnership enables the development of new works in addition to educational community outreach efforts offering free tickets to aspiring young professional musicians as well as students without regular access to high quality classical music programming. To learn more about "PREformances with Allison Charney," its Friends group and member benefits (which also include preferred seating at all series concerts and two additional private concerts) visit www.preformances.org
Photo Credit: David Andrako


PREformances' host, soprano Allison Charney welcomes audience to Season Nine debut at Merkin Concert Hall, Kaufman Music Center

Allison welcomes violin soloist Kelly Hall-Tompkins and accompanists Stephen Benson, guitar; Joshua Camp, accordion and Steve Moran, bass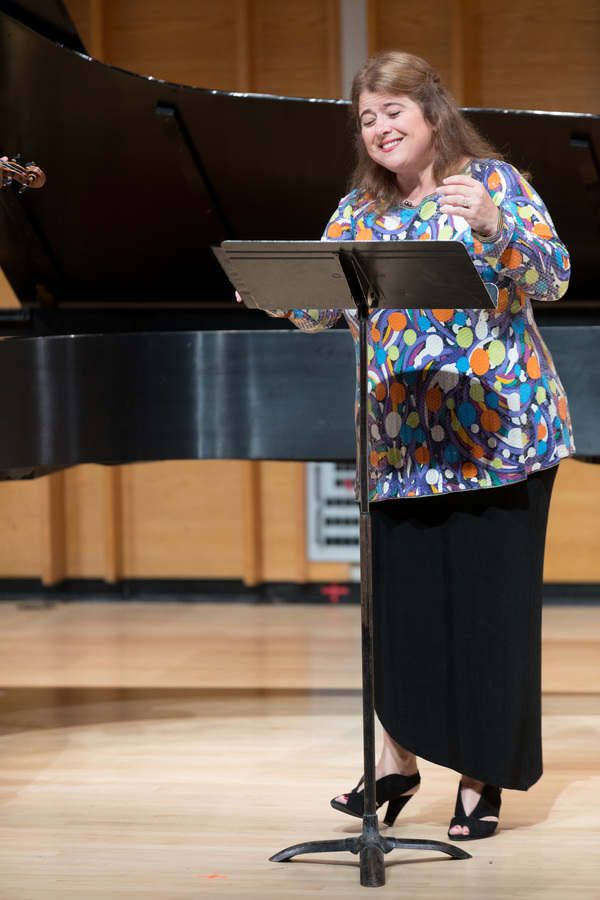 Soprano Allison Charney concludes concert program with PREformances' signature coda , Zueignung by Richard Strauss

Julia Zilberquit in performance of Alexander Scriabin Op. 8 no. 2 and Sergei Rachmaninoff Elegie, Op. 3 no. 1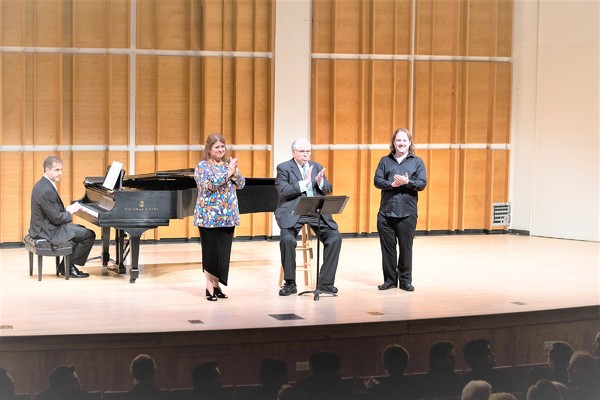 Charney, Charney and Tramm

Actor Jordan Charney joins Allison Charney and Kelly Hall-Tompkins in narration of Composer Moshe Knoll's Psalm 133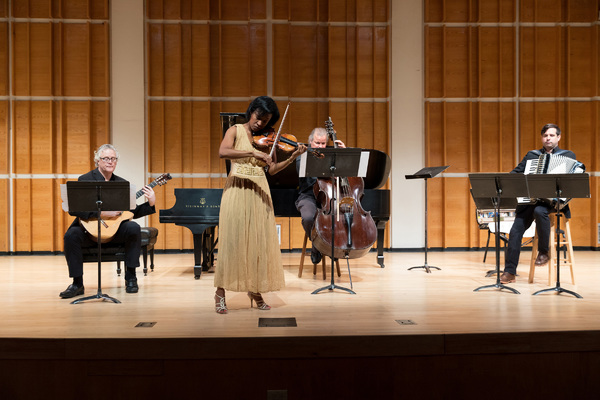 Kelly Hall-Tompkins and Trio performs from Fiddler on the Roof Suite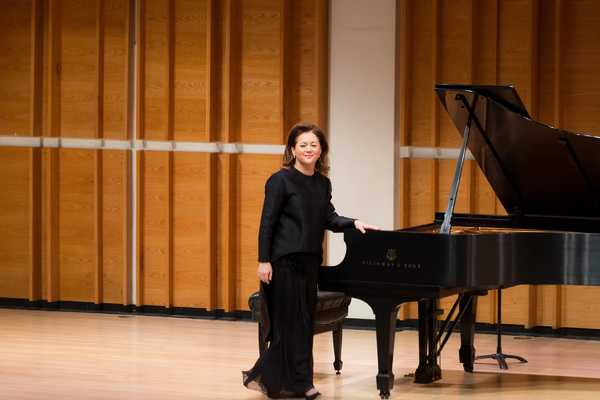 Guest, pianist Julia Zilberquit takes the stage

Pianist Joel Fan's performance Cesar Camargo Mariano Cristal and

Joel Fan performance of Frederic Chopin's Nocturne in D-flat, Op. 27, no 2

Conductor Jason Tramm with narrator Jordan Charney in Arnold Schoenberg's "A Survivor From Warsaw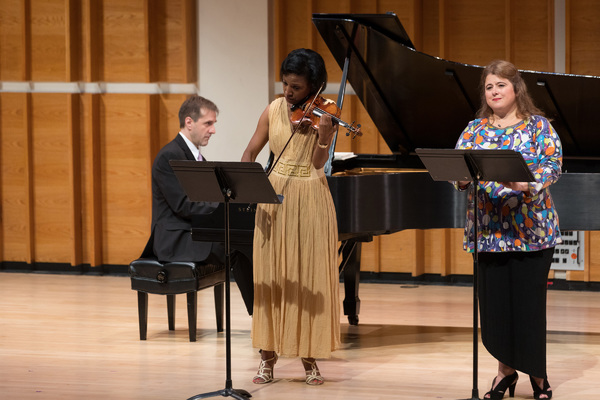 Soprano Allison Charney and violinist Kelly Hall Tompkins perform Moshe Knoll's Psalm 133, together with PREformances collaborative pianist, Craig Ketter

Standing Ovation closes PREformances Season Nine Debut at Merkin Concert Hall Kaufman Music Center
Related Articles
More Hot Stories For You
Ellen's Stardust Diner Will Reopen Its Doors on October 1
Ellen's Stardust Diner will reopen its doors once again! The restaurant, famous for its singing wait staff, will be open for patrons beginning on Thur...

Steps on Broadway Announces Passing of Founder Carol Paumgarten
Steps on Broadway, the internationally recognized dance training center, announced today that its Founder, Carol Paumgarten, passed away on Thursday e...

Broadway Jukebox: 25 Songs for Falling Into Autumn!
Bust out your chunky sweaters, heat up your pumpkin spice latte, and get ready to roll in the leaves. Autumn is here and we're falling into the season...

Photo Flash: BACK TO THE FUTURE: THE MUSICAL Marquee Goes Up at the Adelphi Theatre
BACK TO THE FUTURE The Musical will transfer to the Adelphi Theatre in London's West End following an out-of-town opening at Manchester Opera House in...

7 More Broadway Choreography Tutorials You Can Follow Along with At Home!
Looking for something fun to do? We've rounded up even MORE Broadway dance tutorials from productions like Kinky Boots, The Lion King, The Prom, and m...

18 Shows Streaming on BroadwayWorld Events This Week!
BroadwayWorld Events is bringing you incredible talent right into your home!...