Photo Flash: POPULATION: 8 Comes To Soho Playhouse During NY Int'l Fringe Fest
THE PROCESS GROUP and PURPLE MAN THEATER present the production of the world premiere of Population: 8 at the Soho Playhouse on Tuesday August 18th at 4pm, Friday, August 21st at 10pm, Saturday, August 22nd at 3:45pm, Tuesday, August 25th at 7:15pm, and Sunday, August 30th at 2:45pm. The Soho Playhouse is located at 15 Vandam Street. Subway: E or C to Spring Street or 1 to Houston. General admission tickets for Population: 8 are $15. For Information / Tickets visit: www.FringeNYC.org or call 866-468-7619. The play is directed by Marc Stuart Weitz and is proudly a part of the 13th annual New York International Fringe Festival - FringeNYC.
Award winning director Marc Stuart Weitz and playwright Nicholas Gray have charted the topography of this surreal world through song, animation, American Sign Language, and keen ensemble work.
THE PROCESS GROUP and PURPLE MAN THEATER's production of Population: 8, chronicles the curious and singular account of the 8 remaining denizens of the remote town of Loki, North Dakota. When eight become nine, then eight again, the Loki Eight must reckon between isolation and the outside world..
Jacob is missing, shrinking the size of Loki down to Population: 8. Ruth (Maggie Low) is determined that no more should leave, especially not her charmingly peculiar son (Gideon Glick) or his wholesome songstress of a sister, Pepper (Dana Berger). While the declining matriarch Sylvie (Kathryn Kates) communes with the dead to advise them on their future, the town's faith-worn preacher Cree (Jon Krupp) struggles between his loyalty to his flock, and his duty to his deaf son, McCoy (Garrett Zuercher). There is no flagging of faith from Jacob's lover, Ugly (Shonda Robbins), who is convinced Jacob is still alive, even as she takes the gruff Emmanuel (David Goldberg) into her bed. All are intent on remaining in Loki until news of Jacob arrives and the appearance of a mysterious outlaw (Arturo Castro) upturn loyalties and threaten to bring the denizens of Loki down to Population: 0.
With Gideon Glick (Original Cast Spring Awakening, Roundabout's Speech and Debate, and "One Last Thing" with Cynthia Nixon) as Frankie, Dana Berger (IT Nominee for Best Solo Performance in Drama Desk Nominated Washing Machine) as Pepper, Kathyn Kates (Sa Ka La directed by Sarah Cameron Sunde, The Sexual Nueroses Of Our Parents with Grace Gummer) as Sylvie, Garrett Zuercher (Deaf West's Big River, Kennedy Center's Quid Pro Quo) as McCoy, Jon Krupp (David Levine's Venice Saved) as Cree, Maggie Low as Ruth (Hamlet, with Lili Taylor, Candle In the Window, directed by Michael Imperioli, and Catholic Girls) , David Goldberg as Man, Arturo Castro as Jesse (Cannes Film Festival's Looking For Palladin), and Shonda Robbins (World Premiere of Severence) as Ugly.
David Bengali's crafty and cinematic animation heightens the action, while Amanda Hagy's wind-worn set, and Ian Wherle's eccentric musical compositions zoom this magical world delightfully into focus.
**NOTE*** Population: 8 involves nudity and sexual situations that may not be appropriate for some audiences.
Director Marc Stuart Weitz's productions include the award-winning premiere of Broken Hands, in the 2006 NY Fringe Festival and the 2006 FringeNYC Encore Series, and the premiere of Time Is the Mercy of Eternity, by OBIE Award-winning theatre artist Deb Margolin, at The West End Theatre. He is the Artistic Director of Purple Man Theater Company.
ABOUT THE PROCESS GROUP THEATER COMPANY: Founded in 2007, The Process Group is a woman-owned, woman-run not-for-profit theater company that grants artists -- playwrights, actors, and directors -- the opportunity to fully explore and cultivate the art of theater-making. The Process Group incubates work from a first draft to a professional production. Through our annual staged readings, The Required Reading Series, followed by play workshops and professional theatrical productions, TPG not only cultivates work, but also cultivates the artists that create and participate in each project. By nurturing artists and their work in a process-based environment, TPG strives to make a living theater that resonantes between art and the present world.
ABOUT PURPLE MAN THEATER COMPANY: Purple Man Theater Company is dedicated to the transformational quality of theater. Whether by finding and developing new works by contemporary playwrights, producing innovative productions of established works, or by devising organic pieces, Purple Man Theater Company melds words with moving bodies in a frenzied array of humanity at its best and worst and is unafraid of constant reinvention, innovation, and exclamation towards that end.
Photographer: Larry Gumpel
Gideon Glick and Dana Berger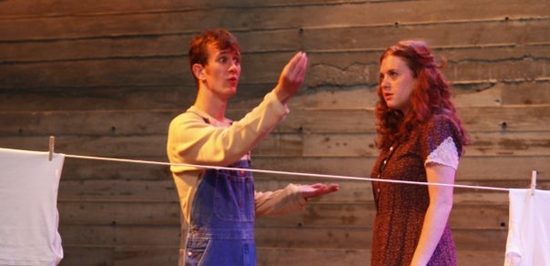 Garrett Zuercher and Dana Berger