Click Here for More Articles on THE LION KING
Photo Flash: OMG! THE LION KING Company Reacts to 'Circle of Life' 360 Video
THE LION KING recently filmed its iconic opening number "Circle of Life" using virtual reality technology, marking the first time the technology has been used inside a Broadway theatre. The 360° footage has been compiled to create the first-ever virtual reality experience of a theatrical production number captured exactly as it is seen onstage.
Scroll down to watch the Broadway company experience the virtual reality video for the first time! Featured are Tshidi Manye (who plays Rafiki and is one of the featured soloists in the video), ensemble members Jaysin McCollum and Bravita Threatt, and Chantel Riley (Nala).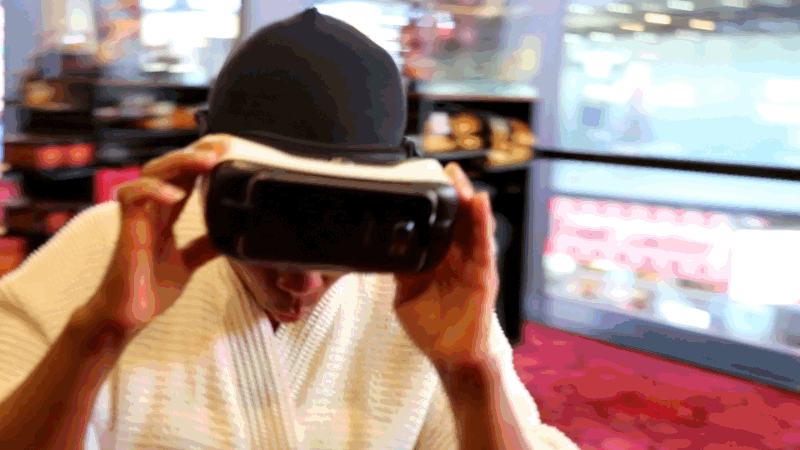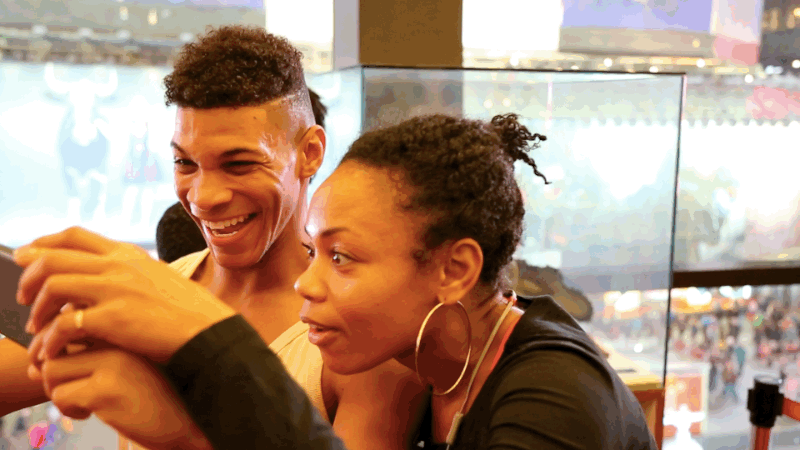 Unlike most virtual reality captures of landscapes, sporting events or concerts, The Lion King's allows viewers to experience "Circle of Life" from the actors' point of view and see activity otherwise invisible to an audience. The camera allows viewers - in a seamless 360° sweep - to experience the number from within it, completely surrounded by the 31 cast members onstage, Julie Taymor's eye-popping puppets and masks, the audience seated in the Minskoff Theatre auditorium, set pieces flying in from above and actors emerging from two floors below the stage as Pride Rock rises up to present Mufasa, Rafiki and baby Simba. The virtual reality technology enables viewers to choose where to look at every point, inviting repeat viewings of the video to take in every possible vantage point.
"In our 19th year, The Lion King continues to be embraced to an unprecedented degree around the world, and we are humbled," said Thomas Schumacher, President and Producer Disney Theatrical Productions. "But with that success comes the responsibility to consistently find new ways of sharing Julie Taymor's bold artistry. What better way to do that than this cutting edge virtual reality technology that puts you right in the middle of one of the most unforgettable production numbers ever staged? For the first time ever, you become part of the 'Circle of Life.'"
The video is produced for The Lion King by Total Cinema 360. Watch it below!
Now in its 19th year, The Lion King remains ascendant as one of the most popular stage musicals in the world. Since its Broadway premiere on November 13, 1997, 22 global productions have been seen by more than 80 million people and, cumulatively, run a staggering 132 years. Produced by Disney Theatrical Productions (under the direction of Thomas Schumacher), The Lion King is only the second show in history to generate five productions worldwide running 10 or more years. Translated into eight different languages (Japanese, German, Korean, French, Dutch, Spanish, Portuguese and Mandarin), productions of The Lion King can currently be seen on Broadway; London's West End; Hamburg; Tokyo; Madrid; Melbourne, Australia; Mexico City; and on tour across North America and Japan, for a total of nine productions running concurrently across the globe. Having played 20 countries on every continent except Antarctica, The Lion King's worldwide gross exceeds that of any film, Broadway show or other entertainment title in box office history.
THE LION KING won six 1998 Tony Awards: Best Musical, Best Scenic Design (Richard Hudson), Best Costume Design (Julie Taymor), Best Lighting Design (Donald Holder), Best Choreography (Garth Fagan) and Best Direction of a Musical. The Lion King has also earned more than 70 major arts awards including the 1998 NY Drama Critics Circle Award for Best Musical, the 1999 Grammy for Best Musical Show Album, the 1999 Evening Standard Award for Theatrical Event of the Year and the 1999 Laurence Olivier Awards for Best Choreography and Best Costume Design.
The show's director, costume designer and mask co-designer Julie Taymor continues to play an integral part in the show's ongoing success. The first woman to win a Tony Award for Direction of a Musical, Taymor has in recent years supervised new productions of the show around the world.
The Broadway score features Elton John and Tim Rice's music from The Lion King animated film along with three new songs by John and Rice; additional musical material by South African Lebo M, Mark Mancina, Jay Rifkin, Julie Taymor and Hans Zimmer; and music from "Rhythm of the Pride Lands," an album inspired by the original music in the film, written by Lebo M, Mark Mancina and Hans Zimmer. The resulting sound of The Lion King is a fusion of Western popular music and the distinctive sounds and rhythms of Africa, ranging from the Academy Award®-winning song "Can You Feel the Love Tonight" to the haunting ballad "Shadowland."
The book has been adapted by Roger Allers, who co-directed The Lion King animated feature, and Irene Mecchi, who co-wrote the film's screenplay. Other members of the creative team include: Michael Curry, who designed the masks and puppets with Taymor, Steve Canyon Kennedy (sound design), Michael Ward (hair and makeup design), John Stefaniuk (associate director), Marey Griffith (associate choreographer), Clement Ishmael (music supervisor) and Doc Zorthian (production supervisor). Anne Quart serves as associate producer.
On Broadway, "Scar" is played by GARETH SAXE. L. STEVEN TAYLOR is "Mufasa," TSHIDI MANYE is "Rafiki," JEFFREY KUHN portrays "Zazu," BEN JEFFREY is "Pumbaa" and FRED BERMAN is "Timon." "Simba" is played by JELANI REMY, and CHANTEL RILEY is "Nala."
The show also features JAMES BROWN-ORLEANS ("Banzai"), BONITA J. HAMILTON ("Shenzi") and ENRIQUE SEGURA ("Ed"). The role of "Young Simba" is alternated between JULIAN SILVA and JAHI DIALLO WINSTON and the role of "Young Nala" is alternated between GRACE CAPELESS and K'LYNN JACKMAN.
Related Articles
More Hot Stories For You
VIDEO: Josh Gad Recaps AVENGERS: ENDGAME as Olaf
After promising his followers to recap the latest Avenger film as Olaf once 1500 registered to vote or verify their registration, Josh Gad has deliver...

Broadway Performers, Ballet Dancers, Industry Vets & More Discuss the Impact of the Shutdown of Live Entertainment
Broadway performers, industry veterans and more are discussing the ways in which the extended shutdown of live entertainment is going to affect Broadw...

Times Square New Year's Eve Celebration Goes Virtual for 2021; Live Elements Still to be Determined
With January 1, 2021 now 100 days away, the organizers of the New Year's Eve celebration in Times Square provided a preliminary teaser of how the even...

VIDEO: Lin-Manuel Miranda, Mandy Gonzalez & More From HAMILTON Sing Out the Importance of Voting
In honor of National Voter Registration Day, Lin-Manuel Miranda, Mandy Gonzalez, Miguel Cervantes and more from the cast of Hamilton (and the video's ...

COME FROM AWAY to Play to a Socially-Distanced Audience of 50 Tonight in Sweden
Come From Away is set to play to a socially-distanced crowd in Sweden tonight! David Hein, who co-wrote the show with his writing partner and wife, Ir...

VIDEO: Andrew Lloyd Webber Reveals Details of His Experience With the COVID-19 Vaccine Oxford Trial
Andrew Lloyd Webber recently discussed his experience receiving an experimental COVID-19 vaccine as part of the Oxford trial, on Good Morning Britain....