Click Here for More Articles on Emmy Coverage 2014
Photos: Newly Minted Emmy Winners Dori Berinstein, Lin-Manuel Miranda & More Pose at Creative Arts Ceremony
A whopping 80 Creative Arts Emmy Awards were presented last weekend at the Nokia Theater at LA LIVE! ThePrimetime Creative Arts Emmy Awards are traditionally held the weekend before the live Primetime Emmys telecast and are largely dedicated to key technical disciplines and behind-the-scenes crafts essential to television production: art direction, cinematography, hairstyling, makeup, music, picture editing, sound editing and mixing, special visual effects, stunts and more.
Amongst this year's winners? The Tony Awards (last year's) won big, winning for Outstanding Music & Lyrics, for the 67th Annual Tony Awards, Tom Kitt, music by; Lin-Manuel Miranda, lyrics • Song Title: Bigger!, CBS White Cherry Entertainment. Plus director and producer Dori Berinstein for Marvin Hamlisch: What He Did For Love
And, the Tony Awards themselves won for Special Class Program, which was given to the 67th Annual Tony Awards,CBS and White Cherry Entertainment.
Also winning was The Sound of Music Live! on NBC for Technical Direction, Camerawork, Video Control for A Miniseries, Movie or Special, and HBO's stellar film of The Normal Heart picked up an Emmy for Makeup for a Miniseries or a Movie as well.
Other winners included Uzo Aduba for Guest Actress in Orange is the New Black, Jane Lynch for hosting Hollywood Game Night, The AFI Life Achievement Awards: A Tribute to Mel Brooks for Variety Special, Jeremy Irons for narrator for Game of Lions, Jimmy Fallon as Guest Actor in a Comedy Series, Allison Janney as Guest Actress in a Drama Series for Master of Sex. One more theatrical winner was Derek McLane for his Art Direction on The Oscars.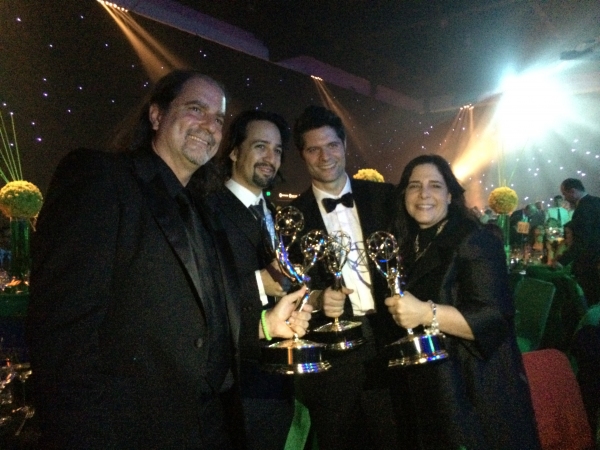 Glenn Weiss, Lin-Manuel Miranda, Tom Kitt and Dori Berinstein