Photo Flash: Marlon Brando, Arthur Miller & More Immortalized by Hirschfeld; First Look at NYPL's THE LINE KING Exhibit!
In The Line King's Library: Al Hirschfeld at The New York Public Library, The Library for the Performing Arts presents the largest exhibition of Al Hirschfeld's artwork and archival material from its collection. On display through January 4, 2014, in the Library for the Performing Art's Oenslager Gallery, the free, multimedia exhibition celebrates the Al Hirschfeld Foundation's latest gift of Hirschfeld papers and objects to the Library, and commemorates the 110th anniversary of his birth. BroadwayWorld brings you a special sneak peek of the exhibit below!
"Each day when I walk into The New York Public Library for the Performing Arts and see the barber chair and drawing table where
Al Hirschfeld
created virtually all of his works, I'm reminded of his special connection to this institution," said
Jacqueline Z. Davis
, Barbara G. and Lawrence A. Fleishman Executive Director of The New York Public Library for the Performing Arts. "The Line King's Library gives us an opportunity to show one of The Library for the Performing Arts' most extensive collections and the remarkable work of one of New York's most beloved and iconic artists. His generous donations of his work helped inspire others to do the same."
Al Hirschfeld
(1903 - 2003) brought a new set of visual conventions to the task of performance portraiture when he made his debut in 1926. His signature work, defined by a linear calligraphic style, made his name a verb: to be "Hirschfelded" was a sign that one has arrived. Appearing in virtually every major publication -- most notably in The New York Times over the course of a 75-year relationship -- Hirschfeld's works were as much a part of the cultural landscape as the individuals they depicted. His career began at Goldwyn Pictures in 1920 across the street from the main branch of The New York Public Library, and over the next nine decades, Hirschfeld and the Library became even closer. Hirschfeld availed himself of the Library's book and picture collections, he attended its events, and was a lifelong supporter. Over the years, the Library has collected origin
Al Hirschfeld
drawings, paintings, and prints, and its shelves are filled with books and publications featuring Hirschfeld artwork, as well as posters, album covers, and all manner of ephemera.
Photo Credit: © The Al Hirschfeld Foundation. All rights reserved. www.AlHirschfeldFoundation.org.

You Can't Take it With You, c. 1971; With Paul Trueman, George Tobias, Henry Travers, and Josephine Hull

Whoopi Goldberg, 1984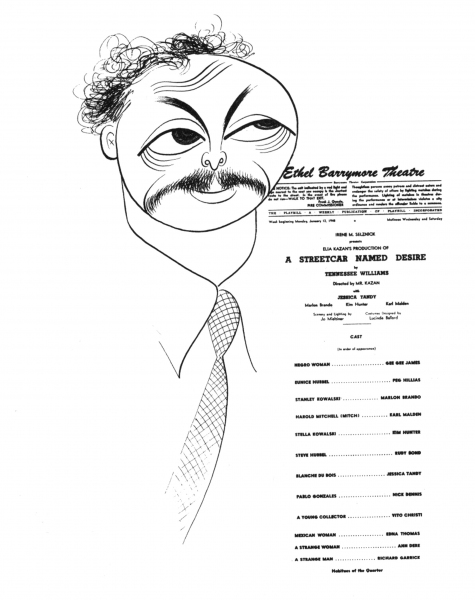 Tennessee Williams with a program for A Streetcar Named Desire, c. 1971; One of the Pulitzer Prize series commissioned and donated to the Billy Rose Theater Division by Harold Steinberg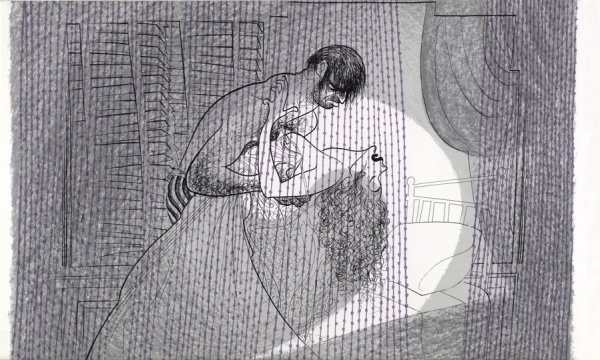 A Streetcar Named Desire, 1982; From the limited edition of the play with illustrations by Hirschfeld

Sidney Kingsley with a program for Men in White, c. 1971; One of the Pulitzer Prize series commissioned and donated to the Billy Rose Theater Division by Harold Steinberg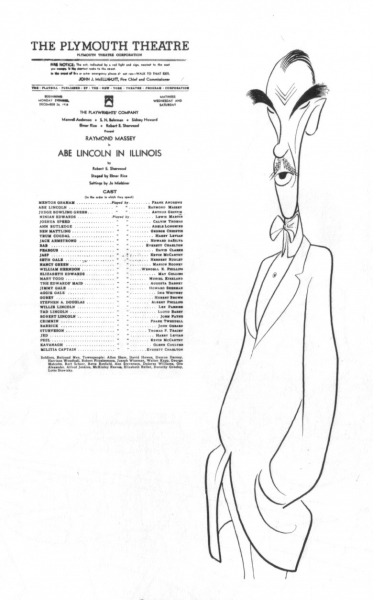 Robert Sherwood with program for Abe Lincoln In Illinois, c. 1971; One of the Pulitzer Prize series commissioned and donated to the Billy Rose Theater Division by Harold Steinberg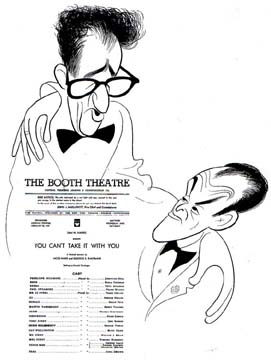 George Kaufman and Moss Hart with program for You Can't Take It With You, c. 1971; One of the Pulitzer Prize series commissioned and donated to the Billy Rose Theater Division by Harold Steinberg

Daughter of Silence, 1961; With Emlyn Williams, Rip Torn, Janet Margolin and William Hansen

Broadway Rhythm, 1943

Arthur Miller with program for Death of a Salesman, c. 1971; One of the Pulitzer Prize series commissioned and donated to the Billy Rose Theater Division by Harold Steinberg

Raymond Massey in Abe Lincoln In Illinois, c. 1971

Men In White, c. 1971; One of the Pulitzer Prize series commissioned and donated to the Billy Rose Theater Division by Harold Steinberg

A Streetcar Named Desire, c.1971 With Jessica Tandy and Marlon Brando; One of the Pulitzer Prize series commissioned and donated to the Billy Rose Theater Division by Harold Steinberg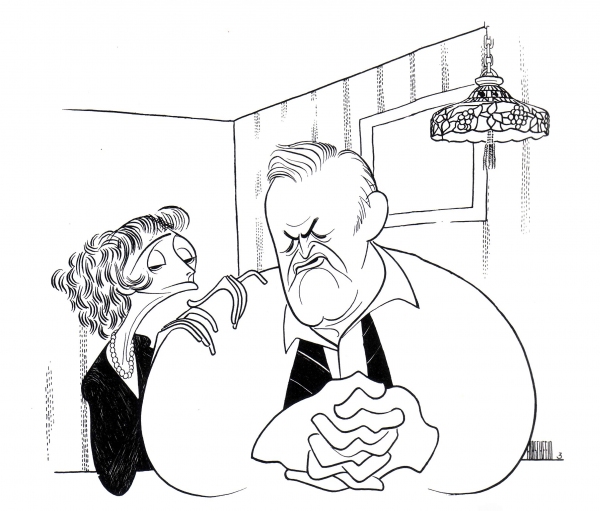 Death of a Salesman, 1973; With Mildred Dunnock and Lee J. Cobb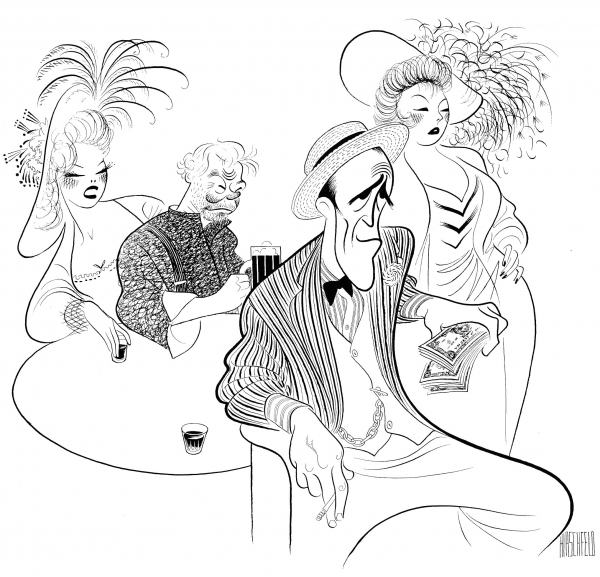 Iceman Cometh with Jason Robards, 1960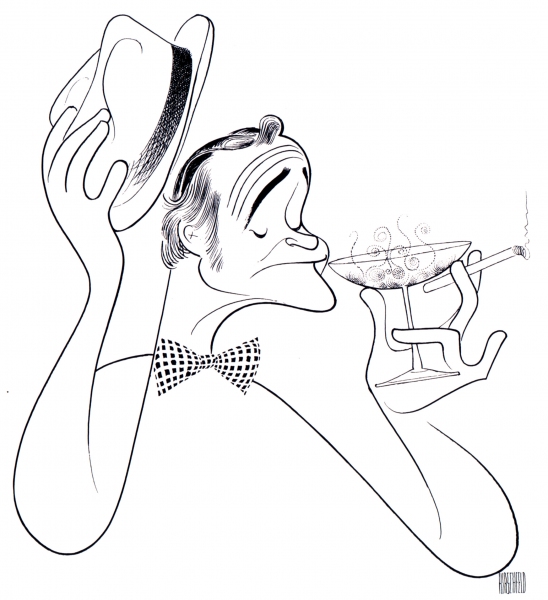 Jack Lemmon in Tribute, 1979

My Fair Lady window card, 1956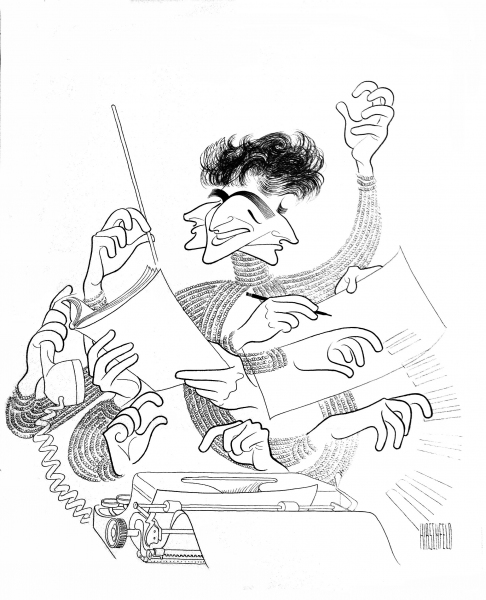 Leonard Bernstein, date unknown

Cakewalk, 1970 Lithograph from the Rhythm series portfolio

Charleston Lithograph from the Rhythm series portfolio, 1970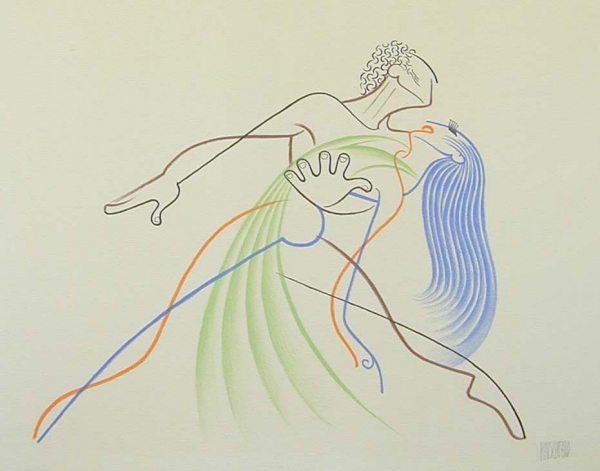 Pas De Deux, 1970 Lithograph from the Rhythm series portfolio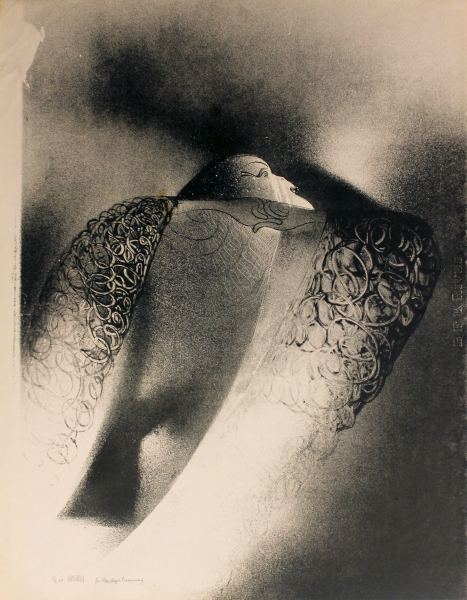 Martha Graham, 1969