Photos: Manhattan Madcaps of 1924
Manhattan Madcaps of 1924
is the first offering of Symphony Space's new Summer Stock on Broadway, an annual series to be held in the
Leonard Nimoy
Thalia at Symphony Space (Broadway at 95th Street).  "This newly discovered 'lost' Rodgers and Hart musical will run from July 6 - 23, and has music by Richard Rodgers, lyrics by Lorenz Hart and new libretto by Jerzy Turnpike," according to press notes.  Annette Jolles directs; musical arrangement is by Lanny Meyers and the choreographer is Regina Larkin. The show opens on Thursday, July 13.Katie Allen, Ivy Austin (
Raggedy Ann
), Christine Bokhour (
Chicago
on Broadway and on tour), Sydney J. Borgoyne, Michael Simon Hall, Howard Kay (
Miss Saigon, Silence!
at FringeNYC), Staci Rudnitsky and Nick Verina will star in the show.  "Long before Rodgers and Hammerstein explored the hills of Austria, the kingdom of Siam and the South Pacific islands, the young Richard Rodgers showcased his hometown of New York City.  Considered lost by theater historians, Symphony Space Artistic Director
Isaiah Sheffer
, abetted by the nimble book-writer Jerzy Turnpike, has 'rediscovered' this missing piece of musical history, which explores New York and Sheffer-like themes of love, mayoral politics and the quest for a decent apartment," state press notes on the fictional-historical revue.  Among the songs included will be "City" (from
Me for You,
1929); "Gotta Get Back to New York" (from
Hallelujah I'm A Bum,
1933); "Where the Hudson River Flows" (from
Dearest Enemy
, 1925); "Way Out West (on West End Avenue)" (from
Babes in Arms
, 1937); "Any Old Place With You" (from
Fly With Me
, 1920); "At The Roxy Music Hall" (from
I Married an Angel,
1938), and many others.
Manhattan Madcaps of 1924
will run Wednesday – Saturday evenings at 8:00 pm, and Saturdays at 2:00pm and Sundays at 3:00pm, July 6 – 23.  (Note: There is no performance on Wednesday, July 12). Tickets are $19 and are available by visiting the Symphony Space Box Office at Broadway and 95th Street or by calling 212-864-5400, Wednesday-Sunday, noon to 6 pm, or on-line at
www.symphonyspace.org
. For more information, call (212) 864-1414 or send an e-mail to info@symphonyspace.org.
Photo by C. Elliott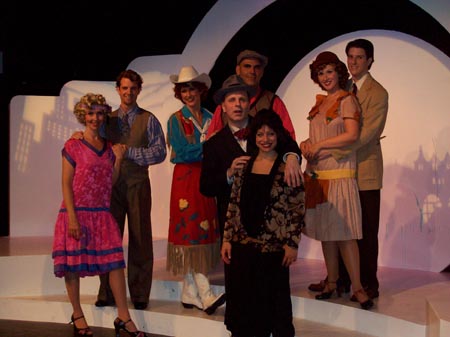 Ivy Austin, Michael Simon Hall, Christine Bokhour,
Howard Kaye
, Katie Allen, Nick Verina (front); Sydney J. Borgoyne, Staci Rudnitsky (back)