Photo Flash: Lunch with John Lloyd Young for BC/EFA
A Good Friday, indeed! On April 14th, Hoboken, NJ resident Kara Angelastro was the first winner of a BC/EFA auction with "Jersey Boy" John Lloyd Young with a lunch at Broadway's Tony's Di Napoli restaurant on West 43rd Street. BroadwayWorld was on hand to document the event, the first of several lunches Mr. Young will be having this spring.
When Ms. Angelastro found out she provided the winning bid she was beside herself. She said, "I am always thrilled to help out a good cause especially because seeing 'Jersey Boys' provided such a positive experience for my family! We took my mom to see 'Jersey Boys' for Christmas while she was going through a rough time, not only could she identify with the play since we all grew up in Jersey but it brought us all closer together and gave us something to talk about! So helping a cause John Lloyd Young supports is the least I can do to say thank you!"
As of this writing John Lloyd has received over $3,100 in donations from fans in support of this year's Easter Bonnet competition!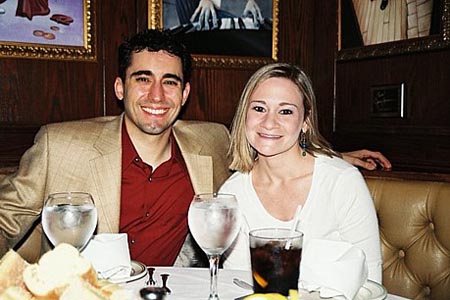 John Lloyd Young and Kara Angelastro