Photo Flash: Joanna Kotze Honored with 2013 Bessie Award for Outstanding Emerging Choreographer
The Bessies, NYC's premiere dance awards honoring outstanding creative work in the field, announces Joanna Kotze as the recipient of the 2013 New York Dance and Performance Award for Outstanding Emerging Choreographer. Beth Gill, 2011 Outstanding Emerging Choreographer, presented the award during the 2012-2013 Bessie Award nominee press conference held at Gibney Dance Center. Scroll down for photos of Kotze after the announcement!
Kotze was nominated for her work It Happened It Had Happened It Is Happening It Will Happen, presented at Danspace Project. Other nominees were: Justin Peck for Year of the Rabbit, presented by New York City Ballet; Molly Lieber and Eleanor Smith for Tulip, presented at Roulette; and Ephrat Asherie for A Single Ride, presented at Dixon Place.
Hailed by the New York Times as "a mind capable of transforming a familiar space into something eerie and unrecognizable," Kotze challenges habitual movements and explores the body's potential through intense physicality and rigor in her It Happened, performed by Kotze herself, Stuart Singer and Netta Yerushalmy. Kotze, who has created her own choreographic work since 2004, seeks to juxtapose classifying, ordering and structuring with the unnamable, vulnerable and imaginable in her It Happened.
In accepting the award Kotze stated, "I feel honored just to be nominated amongst these amazing people and after so many years being on the scene as a dancer. I never really imagined this would happen for me now. When you make work, you never know what it's going to turn out to be, and I'm so glad it's been accepted by the dance community."
Joanna Kotze's choreography has been presented at Danspace Project, Jacob's Pillow Inside/Out, New York Live Arts Studio Series, Dance New Amsterdam, Movement Research at the Judson Church, Roulette, Dixon Place, 92nd Street Y, WAXworks, Lu Magnus Gallery in collaboration with visual artist Jonathan Allen and as part of Soho20 Gallery's Savoir Faire Fall 2010 Performance Series with installation artist Asuka Goto. Joanna is a 2013 Movement Research Artist-in-Residence and a fall 2013 Djerassi Resident Artist. She was a spring 2013 Bogliasco Foundation Fellow and was recently awarded the 2013 Yellowhouse Educational Stipend. She was the fall 2012 boo-koo space grant recipient at Gibney Dance Center and has participated in Sarah Maxfield's One-Shot, a web-based solo performance relay.
The Bessies, termed by The New York Times as "the dance world's version of the Academy Awards," will take place on Monday, October 7, 2013 at 8:00pm at the legendary Apollo Theater in New York City. The 2013 ceremony will mark The Bessie Awards' third year at the Apollo Theater.
Produced in partnership with Dance/NYC, the NY Dance and Performance Awards have saluted outstanding and groundbreaking creative work by independent dance artists in NYC for 29 years. Known as "The Bessie" in honor of revered dance teacher Bessie Schoenberg, the awards were established in 1983 by David White at Dance Theater Workshop. They recognize exceptional work in choreography, performance, music composition and visual design. A 40-member selection committee comprised of artists, presenters, producers, and writers choose nominees. All those working in the dance field are invited to join the NY Dance and Performance League-members participate in annual discussions on the direction of the awards and nominate members to serve on the selection committee.

Joanna Kotze

Beth Gill presented 2013 award to Joanna Kotze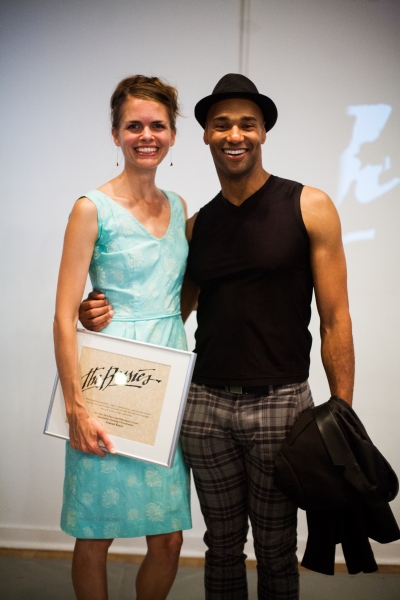 Joanna Kotze and Darrell Jones