Photos: Inside Opening Night of A Noise Within's ALL MY SONS
A Noise Within (ANW), the acclaimed classical repertory theatre company, presents Arthur Miller's All My Sons, as part of the 2015-2016 BREAKING AND ENTERING season, directed by Geoff Elliott, now playing through November 21, 2015).
The play opened on Saturday, October 17 - the exact day and date of Miller's 100thbirthday (Miller was born on October 17, 1915.) That evening, A Noise Within honored former Mayor of Pasadena and U.S. Air Force veteran Bill Bogaard for his service to the city during his four mayorships, and to his country as a Captain in the US Air Force. Known for his work with local non-profits, Bogaard was instrumental in making Pasadena A Noise Within's permanent home in Southern California. Julia Rodriguez-Elliott and other board members and donors toasted to Miller on his 100th birthday and to Mayor Bogaard for his contributions to Pasadena and the non-profit arts community he fostered there while in office. Single ticket prices for All My Sons start at $44.00. Contact the A Noise Within box office in person, via phone at 626-356-3100, or online at www.ANoiseWithin.org for updated pricing and seat availability. A Noise Within is located on the corner of Foothill Boulevard and Sierra Madre Villa Avenue at 3352 East Foothill Blvd., Pasadena, CA 91107. In All My Sons, it's 1947 in the backyard of the Keller home.
Joe Keller
's son Chris has returned from active duty and wants to marry Ann Deever, their former next-door neighbor and daughter of the disgraced Steve Deever, Joe's former business partner. Ann has severed ties with her father, and was previously involved with the Keller's older son Larry, who became a fighter in World War II, still missing in action. Ann's brother George accompanies Ann to confront the Kellers, after he visits his father in prison. George believes that
Joe Keller
is equally responsible for the deaths of airmen whose planes crashed because of defective parts that Keller's company manufactured during the war.
Geoff Elliott
, Director of Sons and ANW Artistic Director said, "In the Spring, when we were selecting the season, we chose All My Sons for its enduring power as a drama of family dynamics and secrets. Six months later, we find that the play is stunning, even frighteningly, topical: it deals with the kind of corporate malfeasance that has thrust Volkswagen--and earlier, General Motors--into the news. Miller's genius lies in his ability to create a story that has such universal themes that it ends up being prophetic, even seven decades after it won the Pulitzer Prize. "All My Sons is really about all of us. Anyone who has ever had a family will see themselves or their loved ones on stage. It asks these timely questions: What responsibilities do we owe each other, and what do we owe to society at large? Where does our personal identity begin and end? Themes of self-obsession vs. generosity are always timely - Volkswagen is just one of many news stories in which high-level executives or politicians manipulate, and embezzle, or commit other acts of self-preservation. 'What and whom am I responsible for?' and 'How are my actions going to affect the future?' are never-ending questions that most people grapple over on a daily basis." The cast includes
Geoff Elliott
* as
Joe Keller
,
Deborah Strang
* as
Kate Keller
,
Rafael Goldstein
* as Chris Keller,
Maegan McConnell
* as Ann Deever,
Aaron Blake
ly* as
George Dee
ver, Jeremy Rabb*as
Jim Bay
liss, June Carryl* as Sue Bayliss, E. K. Dagenfield as Frank Lubey, Natalie Reiko as Lydia Lubey and Vega Pierce-English as Bert. * Denotes member of Actors' Equity. The engagement of All My Sons includes post-performance conversations with the artists on Friday, October 30 at 8:00 pm, Friday, November 6 at 8:00 pm and Sunday, November 15 at 2:00 pm.
Photos by Tom Quelly

Mayor Bill Bogaard and ANW Co-Producing Artistic Director Julia Rodriguez-Elliott

Vicky Degtyareva and ANW Managing Director Michael Bateman

Mayor Bill Bogaard, Margaret Sedenquist, and ANW Co-Producing Artistic Director Julia Rodriguez-Elliott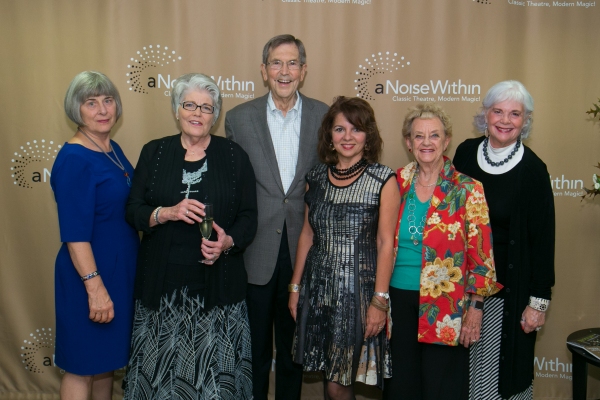 Sandra Greenstein, Jan Sanders, Mayor Bill Bogaard, ANW Co-Producing Artistic Director Julia Rodriguez-Elliott, Margaret Sedenquist and Diana Peterson-Moore