Photo Flash: Get A First Look At American Ballet Theatre's GISELLE
American Ballet Theatre's 2018 Spring Season opens with eight performances of Giselle beginning Monday evening, May 14, led by Hee Seo in the title role, opposite Roberto Bolle as Albrecht and Gillian Murphy as Myrta. Guest Artist Natalia Osipova will perform the title role on Friday, May 18 opposite David Hallberg as Albrecht.
Check out photos below!
Set to music by Adolphe Adam, with scenery by Gianni Quaranta, costumes by Anna Anni and lighting by Jennifer Tipton, Giselle features choreography after Jean Coralli, Jules Perrot and Marius Petipa and has been staged for ABT by Artistic Director Kevin Mckenzie. The world premiere of Giselle, one of the oldest continually - performed ballets, occurred at the Theatre de l'Academie Royale de Musique in Paris on June 28, 1841.
The ballet was first presented by ABT ( then Ballet Theatre ) at the Center Theatre in New York City on January 12, 1940 with choreography by Anton Dolin and scenery and costumes by Lucinda Ballard. The leading roles were danced by Annabelle Lyonand Anton Dolin. American Ballet Theatre's sixth production, featuring scenery by Gianni Quaranta and costumes by Anna Anni, was created for the film Dancers, produced in 1987 by Cannon Films. This production's first public performance was given on March 20, 1987 at the Shrine Auditorium in Los Angeles, California, with Marianna Tcherkassky as Giselle and Kevin Mckenzie as Albrecht.
The current staging is by McKenzie, using the Quaranta and Anni designs. The first of seven performances of La Bayadère on Tuesday, May 29 will be led by Hee Seo as Nikiya, Guest Artist Kimin Kim as Solor and Gillian Murphy as Gamzatti. Choreographed by Natalia Makarova after Marius Petipa, La Bayadère is set to music by Ludwig Minkus, specially arranged by John Lanchbery, and features scenery by PierLuigi Samaritani, costumes by Theoni V. Aldredgeand lighting by Toshiro Ogawa. The full - length La Bayadère received its World Premiere by the Imperial Ballet at the Bolshoi Kamenny Theatre in St. Petersburg on February 4, 1877. La Bayadère, Act II ( The Kingdom of the Shades ) was first performed in the West by the Leningrad - Kirov Ballet in 196l.
Natalia Makarova first staged The Kingdom of the Shades scene for American Ballet Theatre in 1974, and it received its premiere at the State Theater in New York City onJuly 3 of that year, danced by Cynthia Gregory as Nikiya and Ivan Nagy as Solor. Makarova subsequently produced and choreographed the complete version of La Bayadère ( in three acts ) for American Ballet Theatre, which received its World Premiere on May 21, 1980 with Natalia Makarovaas Nikiya, Anthony Dowell as Solor and Cynthia Harvey as Gamzatti.
The epitome of Romantic ballet, this heart-rending tale of unrequited love, remorse and forgiveness perfectly fuses music, movement and drama. The role of Giselle requires an exquisite stylist with daring dramatic and technical skills to create a compelling portrait of the innocent, yet ultimately noble, village maiden. In this universally acclaimed production, ABT's unrivalled roster of international ballet stars brings Giselle's mystery and ethereal beauty vividly to life.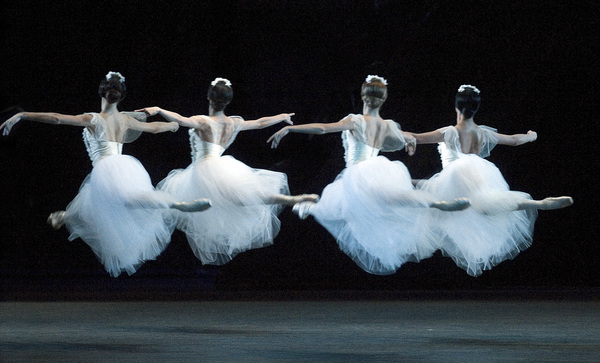 Scene from Giselle. Photo by Gene Schiavone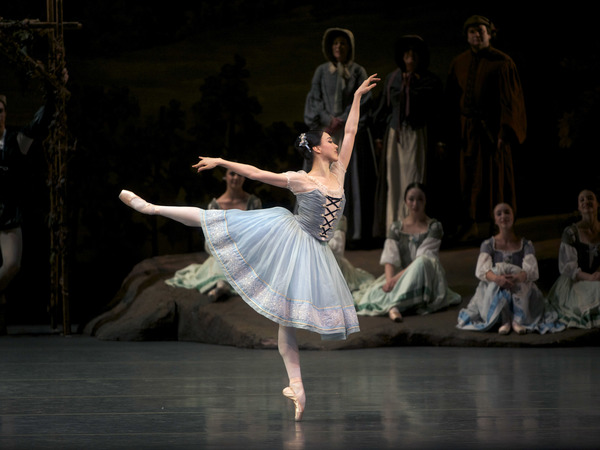 Hee Seo in Giselle. Photo by Gene Schiavone

Sarah Lane and Daniil Simkin in Giselle. Photo by Erin Baiano

Stella Abrera in Giselle. Photo by Rosalie O'Connor