Click Here for More Articles on SWEET CHARITY
Photos: First Look at the SWEET CHARITY Cast in Costume!
Following previews last week, The New Group just announced that SWEET CHARITY has been extended again through January 8! This is now the third time the show has been extended. Check out a sneak peek of the cast in costume, as shared on Instagram, below!
@thenewgroupnyc: Happy first preview to the cast, crew, musicians, @silverleigh, Josh Bergasse, and the entire village that has worked on getting us to tonight!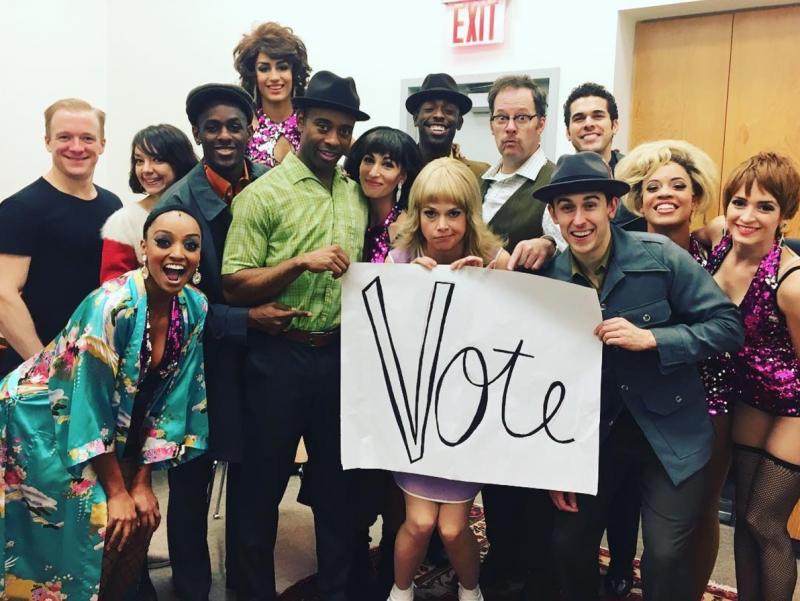 @missempadgett: The Cast of Sweet Charity wants to remind EVERYONE that TOMORROW is the big day!!! Go and Vote!!! Make your voice heard!!! #vote #election2016 #rockthevote #imwithher
---
SWEET CHARITY features Yesenia Ayala, Darius Barnes, JAmes Brown III, Asmeret Ghebremichael, Shuler Hensley, Sasha Hutchings, Donald Jones, Jr., Nikka Graff Lanzarone, Emily Padgett, Joel Perez, Cody Williams, and as Charity Hope Valentine, two-time Tony Award winner Sutton Foster.
This production of the classic musical Sweet Charity (Book by Neil Simon; Music by Cy Coleman; Lyrics by Dorothy Fields), stars two-time Tony Award winner Sutton Foster("Younger," Violet, Anything Goes) as Charity Hope Valentine, the sassy, diehard romantic dancehall hostess whose naivety and overeager embrace of every man she meets keeps getting her in hot water. Performed in an intimate setting with original choreography by Joshua Bergasse (On the Town), this production of Sweet Charity will be given a fresh, modern perspective by director Leigh Silverman (Violet, Well).
The company of Sweet Charity includes Yesenia Ayala (Ensemble), Darius Barnes (Ensemble), JAmes Brown III (Ensemble), Lori Ann Ferreri (Swing), Sutton Foster (Charity Hope Valentine), Asmeret Ghebremichael (Nickie), Shuler Hensley (Oscar), Sasha Hutchings (Rosie / Ensemble), Donald Jones, Jr. (Ensemble), Nikka Graff Lanzarone (Ursula / Ensemble), Emily Padgett (Helene), Joel Perez (Herman / Vittorio / Daddy Brubeck), Cody Williams (Ensemble) and Ryan Worsing (Swing); and in the band, Georgia Stitt (Music Director / Keyboard), Elizabeth Hagstedt (Bass), Janna Graham (Drums), Alexa Tarantino (Reeds), Elana Arian (Guitar), and Nioka Workman (Cello).