Photo Flash: First Look at THE RESOLUTE at Wyoming Theater Festival
Gabrielle Sinclair's new play The Resolute - about the formation of a women's baseball team on the campus of Vassar College in the 19th century - plays Sept. 7-15 at Wyoming Theater Festival in Sheridan, WY. Colleen Britt directs. BroadwayWorld has a first look at the cast in action below!
The North Carolina-based playwright was in residence when rehearsals began for the off-book workshop production. The Resolute plays six performances at the black box Mars Theatre in the WYO Theatre in downtown Sheridan.
The cast includes Laurel Anderson, Malin Barr, Katya Collazo, Erin Kranz, Claire Allegra Taylor and Kelly Teaford. Ashley Adelman is dramaturg and assistant-directs. Robyn Monkarsh stage manages. Abigail Manoucheri assists the assistant director. The production team includes costume designer Dee Sullivan; production manager Jerry Dougherty; tech director/designer Christina Barrigan. DannyLee Hodnett is artistic director of Wyoming Theater Festival.
Get more information at wyotf.com.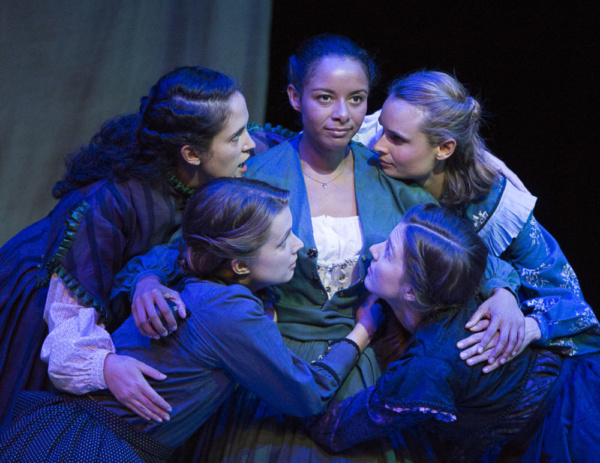 Katya Collazo (center) surrounded by (from top right) Malin Barr, Kelly Teaford, Laurel Andersen and Claire Allegra Taylor in Gabrielle Sinclair's The Resolute in the 2017 Wyoming Theater Festival. Photo by H. Michael Roberts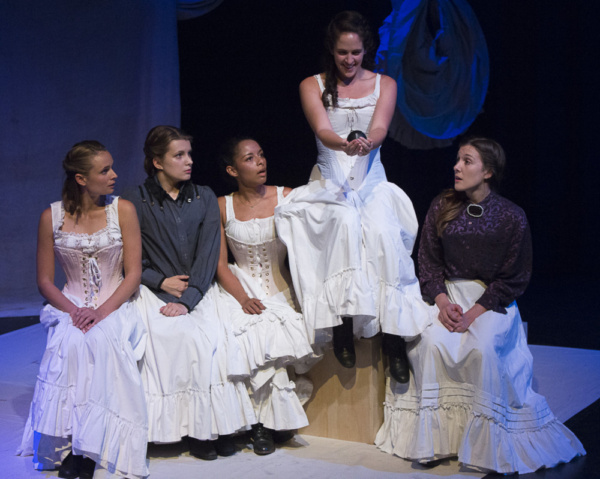 L-R, Malin Barr, Laurel Andersen, Katya Collazo, Claire Allegra Taylor and Kelly Teaford in Gabrielle Sinclair's The Resolute in the 2017 Wyoming Theater Festival. Photo by H. Michael Roberts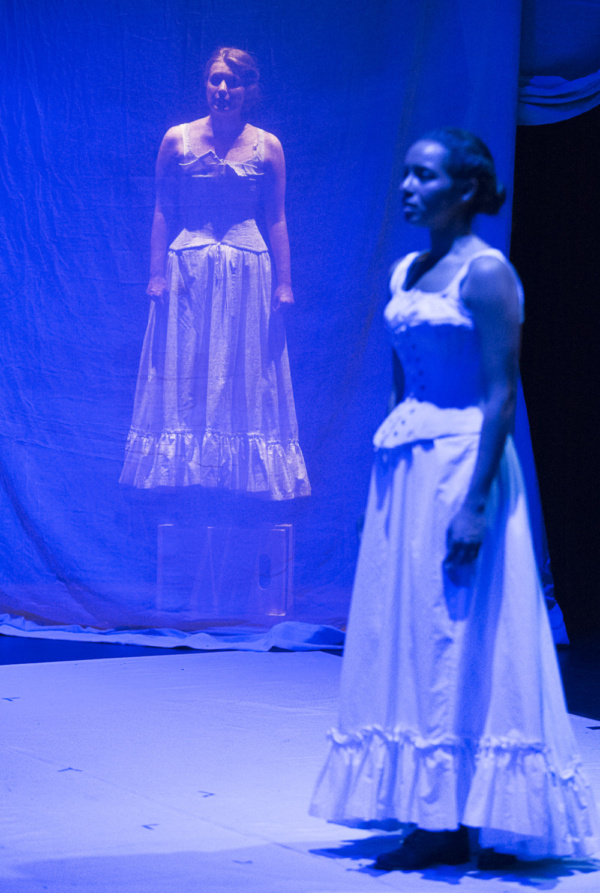 Laurel Andersen and Katya Collazo in Gabrielle Sinclair's The Resolute in the 2017 Wyoming Theater Festival. Photo by H. Michael Roberts

L-R, Claire Allegra Taylor, Katya Collazo (pointing), Laurel Andersen (with book), Malin Barr, Kelly Teaford in Gabrielle Sinclair's The Resolute in the 2017 Wyoming Theater Festival. Photo by H. Michael Roberts

L-R, Katya Collazo, Claire Allegra Taylor, Kelly Teaford, Erin Kranz (center), Malin Barr and Laurel Andersen in Gabrielle Sinclair's The Resolute in the 2017 Wyoming Theater Festival. Photo by H. Michael Roberts

Claire Allegra Taylor held aloft by the company of Gabrielle Sinclair's The Resolute in the 2017 Wyoming Theater Festival. Photo by H. Michael Roberts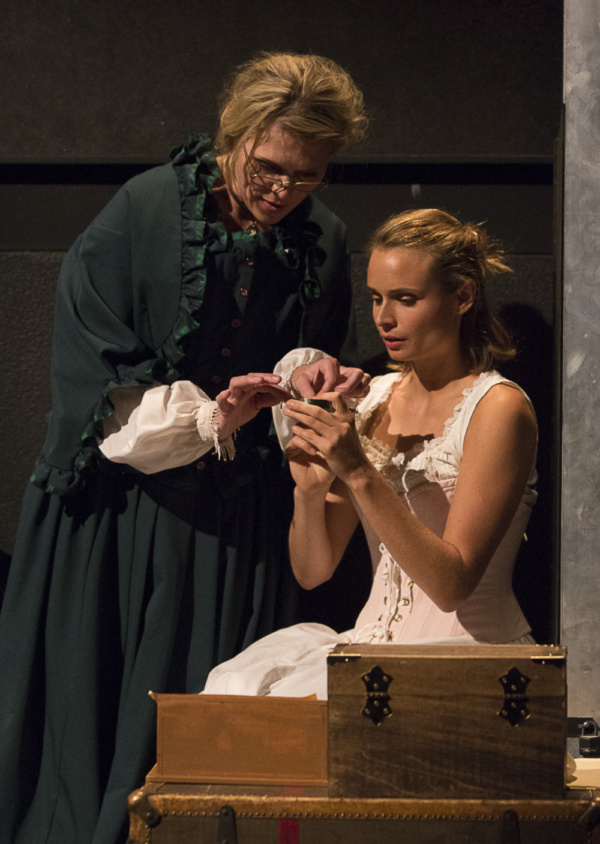 Erin Kranz and Malin Barr in Gabrielle Sinclair's The Resolute in the 2017 Wyoming Theater Festival. Photo by H. Michael Roberts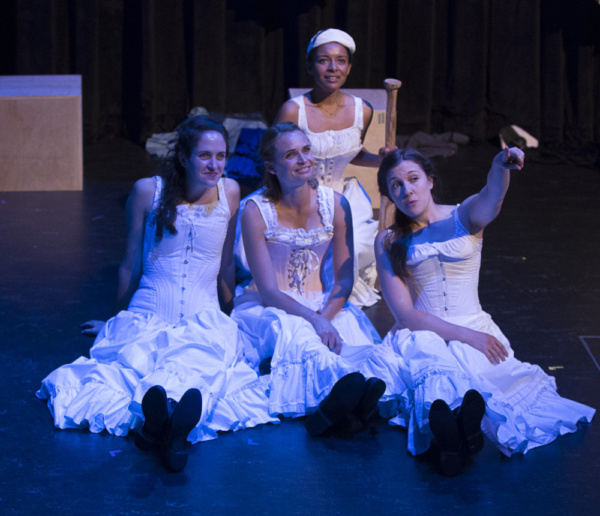 L-R, Claire Allegra, Malin Barr, Katya Collazo (with cap), Kelly Teaford in Gabrielle Sinclair's The Resolute in the 2017 Wyoming Theater Festival. Photo by H. Michael Roberts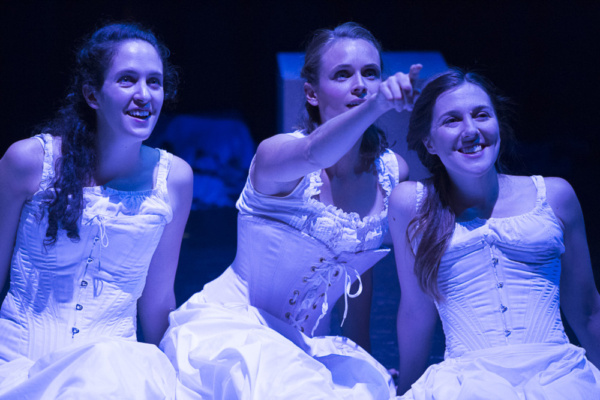 L-R, Claire Allegra Taylor, Malin Barr and Kelly Teaford in Gabrielle Sinclair's The Resolute in the 2017 Wyoming Theater Festival. Photo by H. Michael Roberts