Photo Flash: Celebrates Opening Night of HELLO, FROM THE CHILDREN OF PLANET EARTH
The World Premiere of Don Nguyen's Hello, From the Children of Planet Earth opens tonight, on March 7 at The Duke on 42nd Street, a New 42nd Street project. Presented by The Playwrights Realm (Katherine Kovner, Founding Artistic Director; Roberta Pereira, Producing Director) and directed by Jade King Carroll, this philosophical, and tender comedy is split between the perspectives of a lesbian couple trying to conceive, and their potential-sperm-donor/aerospace engineer friend as they're stretched to contemplate the unknowns of their future.
Betsy (Kaaron Briscoe) and Shoshana (Dana Berger) are looking for a sperm donor to participate in this emotionally confusing and intimate process. They contact a friend from Betsy's past, William (Jeffrey Omura), an aerospace engineer tasked with tracking Voyager 1 as it journeys to the edge of our solar system. The idea of being responsible for a fragile object millions of miles away is dizzying-but it turns out, so is being asked to create an individual, and to wait, uncertain as to whether it will even work at all. Hello, From the Children of Planet Earth finds mystery and depth by juxtaposing the microscopic intimacies of creating life against the vastness of space. The highly unpredictable journeys of space exploration and conception provoke a raw whirlwind of emotion for all.
Joining Brisco, Berger and Omura in the cast are Jon Hoche, and Olivia Oguma. The creative team includes Kimie Nishikawa (Set Designer), Nicole Pearce (Lighting Designer), Elisheba Ittoop (Sound Designer), and Ari Fulton (Costume Designer). Kara Kaufman is Production Stage Manager, and Lily Perlmutter is Assistant Stage Manager.
Nguyen was himself presented with this experience of being asked by two friends to be a sperm donor, and this play is inspired by that event, featuring characters brought forward in time from another of his works: William and Betsy's high school friendship is explored in his earlier play The Commencement of William Tan (which premiered at Yale Cabaret in 2015). As he did with that work, about an Asian American high schooler in Nebraska in the '80s (Nguyen was born in Vietnam, and moved to Nebraska with his family as refugees of the Vietnam War when he was three), Nguyen likewise laces Hello, From the Children of Planet Earth with questions from his own life. To get a more lucid understanding of his own situation, he decided to evolve these characters along with him-tracking their lives as career and family threaten to become mutually exclusive, as idealism starts giving way to realism. "I had to take stock of my entire life and ask myself questions I didn't think I was ready to ask. What I found is artificial insemination is not an easy thing-there are complications involved that you really have to discuss," says Nguyen.
From childhood to adulthood, Nguyen has consistently been a "space geek." When he was young, he kept a scrapbook documenting the journeys of every Space Shuttle, until the explosion of the Challenger-then took to more fictional versions of space travel with Star Wars and Star Trek obsessions. Referencing the backdrop of space here, Nguyen adds, "I always like to take two disparate ideas and find connections between them - a lot of my plays are like that. I like the challenge of it. So the play became about surrogacy and space."
Nguyen has channeled the sense of wonder children affiliate with space travel into this play, in a manner that's sneakily philosophical, by setting it a few years back, when the Voyager I was on the cusp of reaching interstellar space. Nguyen wrote his character William as the person in charge of the spacecraft's tracking software, which essentially gives Voyager 1 a "heartbeat," evocative of an ultrasound, proving to people back on earth that this isolated object in the dark is still alive. Says Nguyen, "It's fascinating to think of humans in 1977, when the Voyager I was launched, visualizing how, 40 years later, their space probe could survive and send back this signal."
Hello, From the Children of Planet Earth sets its own precedent at The Playwrights Realm: it's their first production by a former fellow that did not originate in the program-another opportunity for the organization to help actualize Nguyen's work and be a continued champion of his exciting career. The cornerstone of the company's work is its Page One Residency, and 2017-18 is the first season in which the Realm has supported two Page One residents, both Nguyen and Michael Yates Crowley, whose The Rape of the Sabine Women, by Grace B. Matthias premiered last August. Also this year, in an effort to increase theater accessibility and affordability, the company expanded their $1to5 Ticket Drive, which offers tickets for up to $5 for previews. Having added two dates to the initiative, making seven performances total, the drive is already completely sold out.
Hello, From the Children of Planet Earth will run from February 24 to March 24 (see above schedule) at The Duke on 42nd Street (229 W 42nd Street, Manhattan). Critics are welcome as of March 5 at 8pm for an official opening on March 7 at 7:30pm. General tickets are on sale at $30-$60; tickets for students with valid ID are $15, and group tickets are $25 per seat for groups of six or more. To purchase, please visit http://dukeon42.org/ or call 646-223-3010. For more details, please visit playwrightsrealm.org.
About the Artists
Don Nguyen's full length plays include: Sound (Azeotrope/ACT Seattle), Red Flamboyant (Firebone Theatre Company), The Commencement of William Tan (Yale Cabaret), The Man From Saigon (ACT New Strands Festival), The Supreme Leader (Roundabout Underground Reading Series). Don is the recipient of the 2015 GAP Prize from the Aurora Theatre, a New York Stage & Film Founder's award and has been a finalist for The O'Neill National Playwrights Conference, The Princess Grace Award, and The Woodward International Playwriting Prize. Don is a member of the Ma-Yi Writers Lab, an alumni of The Public Theater's Emerging Writers Group and The Civilians R&D Group, and a co-founder of Mission to (dit)Mars, a Queens based theatre arts collective.
Jade King Carroll received the Paul Green Award for Outstanding Emerging Theatre Professional. Past Fellowships & Awards: New York Theatre Workshop, Van Lier, Second Stage Theatre, Women's Project, McCarter Theatre, SUNY 40 under 40, TCG New Generations Future Leader, and Gates Millennium Scholar. Past productions include: Skeleton Crew (Marin Theatre Company), Intimate Apparel and The Piano Lesson (McCarter Theatre), The Piano Lesson (Hartford Stage), Having Our Say (Long Wharf Theatre), Sunset Baby (City Theatre), Autumn's Harvest (Lincoln Center Institute), Mr. Chickee's Funny Money (Atlantic Theater), The Etymology of Bird (CitiParks Summer Stages), The Children's Monologues(Carnegie Hall). Associate Director for A Streetcar Named Desire and The Gin Game (Broadway).
About the Cast
Kaaron Briscoe (Betsy) is a New Orleans native with an MFA from ART/MXAT/IATT at Harvard University. She has performed on international stages, on film, and national commercials. Other NY Theater: Untitled American Flag Crafting Project (The Brick), Pocahontas and/or America (Little Lord). Other: House of Gold (Woolly Mammoth Theater), Ajax(American Repertory Theater). Briscoe was a 2015 fellow for Target Margin Theater's Institute for Collaborative Theater Making, and is a member of the 52nd Street Project.
Dana Berger (Shoshana) NY stage credits include Streepshow! (The Tank), Washing Machine (Fist in the Pocket), As Far As The Day Goes (Clubbed Thumb), The Tutors (Attic Theater Company), This Is The Peaceable Kingdom (Target Margin), The Capables (The Gym at Judson). Regional Theater: Sherlock Holmes & The Case of The Jersey Lily (Dorset Theatre Festival), Seminar (Kitchen Theatre), One Slight Hitch (Human Race), The House (Kitchen Theatre). TV: "Orange Is The New Black" (Recurring, Season 6), "Elementary." Film: Congratulations, Debby. Training: LaGuardia High School for the Performing Arts (Drama Major), Duke University. www.DanaBerger.com
Jon Hoche (Freddy) Off-Broadway: Vietgone (Manhattan Theatre Club); Soul Samurai (Ma-Yi Theater); The Inexplicable Redemption of Agent G. (Ma-Yi Theater). North American Tour: War Horse (National Theatre). Other select credits: Vietgone (South Coast Repertory); Seven Homeless Mammoths Wander New England (Two River Theater); Dracula (Premiere Stages); Macbeth, Romeo and Juliet, Othello and Titus Andronicus (American Globe Theater); Little Shop of Horrors (The Gateway Playhouse). Participant in the first diversity puppetry workshop at The Jim Henson Company. Artistic Associate of Vampire Cowboys Theater Company. Up next: Soft Power by David Henry Hwang and Jeanine Tesori (CTG) www.JonHoche.com
Jeffrey Omura (William) Off Broadway: Hamlet, Romeo and Juliet (Public/NYSF); House Rules (Ma-Yi); Charles Francis Chan, Jr.'s Exotic Oriental Murder Mystery (NAATCO); Joe Iconis' The Plant That Ate Dirty Socks (Theatreworks/USA). Other NY Theater: These Seven Sicknesses, King Lear (EPBB); Yes We Can (Down Payment); Carnival Kids (Lesser America). Other: Midsummer (St. Louis Rep); La Dispute, Macbeth (Hartford Stage); Take Me Out (barebones). Film: Sex & the City 2; Hairbrained. TV: "Gossip Girl"; "White Collar"; "Georgetown"; "Damages"; "Blue Bloods"; "The Michael J. Fox Show"; "High Maintenance"; "Limitless"; "The Blacklist"; "The Interestings"; "Gone"; "Elementary".Founding member of Exit, Pursued by a Bear. Education: Carnegie Mellon. www.jeffreyomura.com.
Olivia Oguma (Farthest Explorer) Off-Broadway: Luce (LCT3) Emotional Creature (Signature), BFE (Playwrights Horizons), The Dispute (NAATCO). Regional: Miss You Like Hell(LaJolla Playhouse), Emotional Creature (Berkeley Rep.), Snow Falling on Cedars (Portland Center Stage), BFE (Long Wharf, CT Critics Circle Award- Best Debut Performance), The Vagina Monologues (Bucks County Playhouse), Spelling Bee (Papermill Playhouse), The Skin of Our Teeth (Bristol Riverside). Film: This is Where I Leave You, Strangers with Candy, The Flamingo Rising, Like Father (2018). TV: "Odd Mom Out", "Younger" "Great News" "The Good Wife" "The Big C," "Law & Order," "The New Electric Company", "Last Week Tonight with John Oliver".
About The Playwrights Realm
Hailed as "invaluable" by The New York Times' Ben Brantley, The Playwrights Realm (Katherine Kovner, Founding Artistic Director; Roberta Pereira, Producing Director) is devoted to supporting early-career playwrights along the journey of playwriting, helping them to hone their craft, fully realize their vision and build meaningful artistic careers. To serve this mission, The Playwrights Realm provides comprehensive support to playwrights through its Page One Residency, Alumni Playwrights Program, Writing Fellowship, Scratchpad Series and, of course, productions. Previous productions by The Realm include Sarah DeLappe's The Wolves (Pulitzer finalist in Drama 2017, Lortel, Drama League, Outer Critics Circle nominations, Obie award and Drama Desk special award for outstanding ensemble), Jen Silverman's The Moors, Mfoniso Udofia's Sojourners, Anna Ziegler's A Delicate Ship, Anton Dudley's City Of, Elizabeth Irwin's My Mañana Comes, Lauren Yee's The Hatmaker's Wife, Ethan Lipton's Red-Handed Otter, Jen Silverman's Crane Story, Gonzalo Rodríguez Risco's Dramatis Personae, Christopher Wall's Dreams of the Washer King, Anna Ziegler's Dov and Ali, and Anton Dudley's Substitution.
www.PlaywrightsRealm.org
Follow The Playwrights Realm
On Twitter: @RealmTheatre
On Facebook: ThePlaywrightsRealm
On Instagram: @PlaywrightsRealm
About The New 42nd Street
Founded in 1990, The New 42nd Street is an independent nonprofit organization charged with the continuous cultural revival of 42nd Street between 7th and 8th Avenues, building on the foundation of seven historic theaters to make extraordinary performing arts and cultural engagement part of everyone's life. The New 42nd Street fulfills this purpose by ensuring the ongoing vibrancy of 42nd Street's historic theaters; supporting performing artists in the creation of their work at the New 42nd Street Studios and The Duke on 42nd Street; creating arts access and education at The New Victory Theater, New York's premier theater for kids and families; and through the New 42nd Street Youth Corps, its model youth development initiative, which pairs life skills workshops and mentorship with paid employment in the arts for NYC youth.Inspired by the city it serves, The New 42nd Street is committed to the transformational power of the arts.
About The Duke on 42nd Street
The Duke on 42nd Street is a centrally-located black box theater rental that offers nonprofit and commercial companies the opportunity to perform on famed 42nd Street. Housed within the New 42nd Street Studios, The Duke on 42nd Street is a fully-staffed facility featuring customizable, state-of-the-art seating in various configurations and full light, sound and support systems. The venue has hosted such companies as The Playwright's Realm, Red Bull Theater, Primary Stages, Transport Group, Theatre for a New Audience, Lincoln Center Theater LCT3, The Royal Court Theatre, Steppenwolf Theater Company, Armitage Gone! Dance, Chicago Shakespeare Theater, Naked Angels, Classical Theater of Harlem and the National Theater of Great Britain.
This program is supported, in part, by public funds from the New York City Department of Cultural Affairs in partnership with the City Council.
This production is made possible by the New York State Council on the Arts with the support of Governor Andrew Cuomo and the New York State Legislature.

Jacob Padron (Sol Project)

Kimie Nishikawa (set designer) + Loren Shaw (Farthest Explorer Costume Designer)

Mike Donahue (director) + Jess Chase (Director of Artistic Production and Development, MCC) + Michael Thurber (Composer)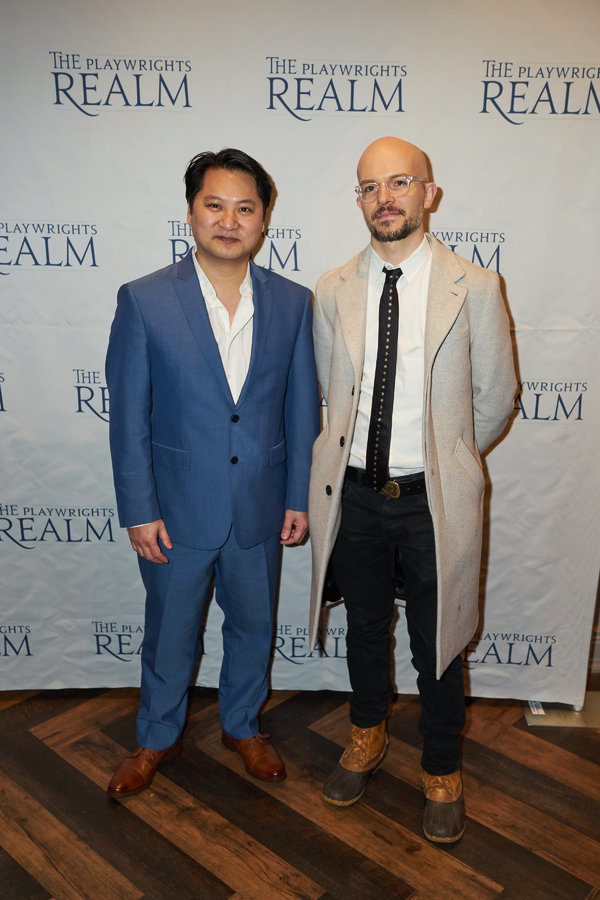 Page One Resident Playwrights: Don Nguyen and Michael Yates Crowley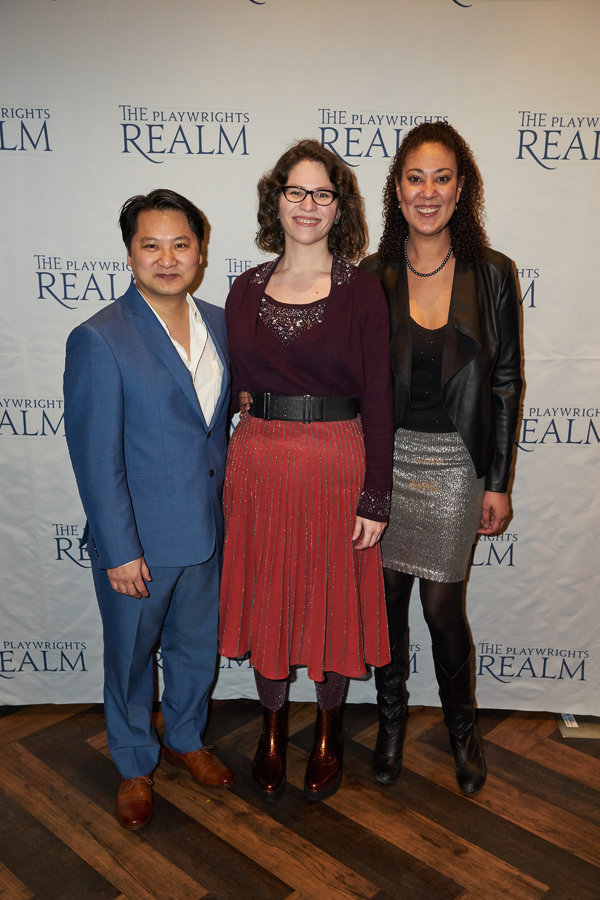 Don Nguyen, Katherine Kovner, Jade King Carrol

Don Nguyen + Jade King Carroll

Roberta Perreira, Don Nguyen, Katherine Kovner, Michael Yates Crowley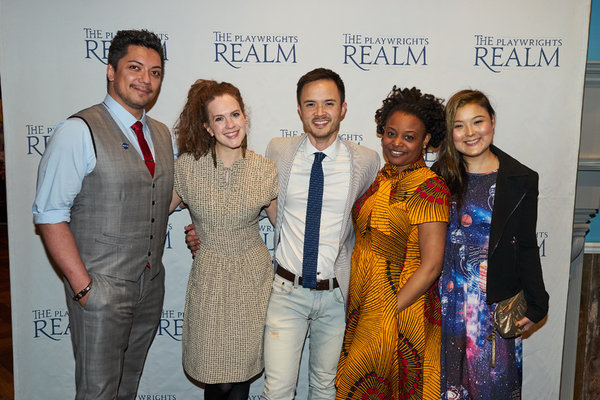 Jon Hoche, Dana Berger, Jeffrey Omura, Kaaron Briscoe, Olivia Oguma

(back row) Jade King Carroll, Jon Hoche, Robert Perreira, Kaaron Briscoe, Katherine Kovner, Olivia Oguma, Don Nguyen (front row) Dana Berger, Jeffrey Omura

Chelsea Williams + Jonathan Payne (The Playwrights Realm former Writing Fellow)