Photo Flash: Broadway Kids Care Make Halloween Pails for Freedom House
Broadway Kids Care (BKC), the organization of theater kids for kids (and others), hosted its 2nd annual Halloween Festival. Kids from such Broadway shows as 13, All My Sons, Mary Poppins, South Pacific, Gypsy, The Little Mermaid, A Tale of Two Cities, The Lion King and more got together between their matinee and evening performances on Wednesday, October 29, 2008 to celebrate Halloween and to create pails for the children of Freedom House NYC and its adjacent facility, Secret Garden.

Broadway Kids Care was founded in 2007 by Kelly Gonda, President of East of Doheny as a way to bring together children from current and past Broadway shows while allowing them the opportunity to perform community service. During its brief history, BKC's members have participated in a variety of charitable works. In addition to hosting Halloween and Easter events, they have knitted scarves for the residents at the Lillian Booth Actor's Home, made peace/friendship bracelets for the troops in Iraq, created hats for children undergoing chemotherapy at the Morgan Stanley Children's Hospital and raised money for UNICEF and Pampers' One Pack = One Vaccine program, among other projects. BKC supports Freedom House, a New York City shelter for disabled women and children who are victims of domestic violence. Freedom House is the only shelter in the U.S. that is completely handicapped accessible, offering in-house day care, psychiatrist services, an occupational therapy specialist and a nurse on staff.BKC's dream is to become a nationwide organization, and ultimately, a global one. For more information about Broadway Kids Care, visit their website at www.bwaykidscare.com. For more information about Freedom House, please call (212) 677-6668 or visit http://www.bflnyc.org/
.
The kids of Billy Elliot including Billy himself, Kiril Kulish)

South Pacific's Laurissa Romain and The Little Mermaid's Trevor Braun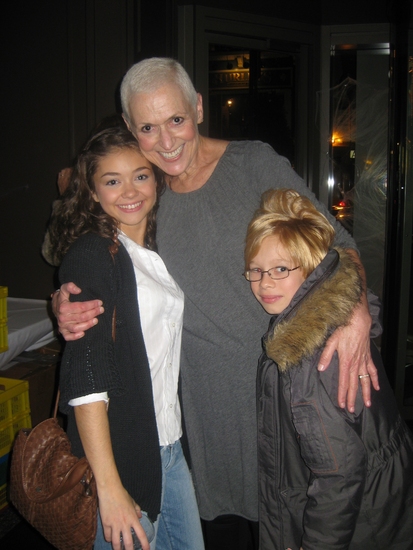 Sarah Highland, Kelly Gonda, and Matthew Nardozzi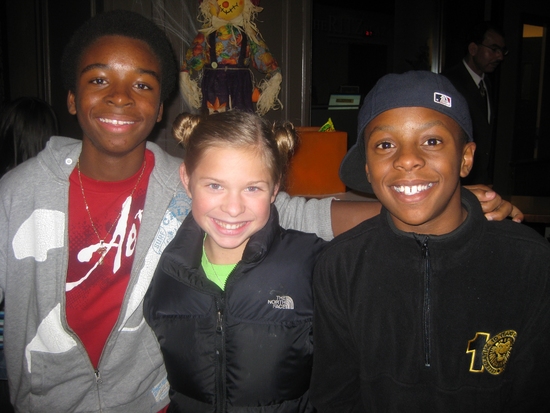 J.J. Singleton (The Little Mermaid), Gabby Malek (Chitty Chitty Bang Bang), Guy Barfield III (The Lion King)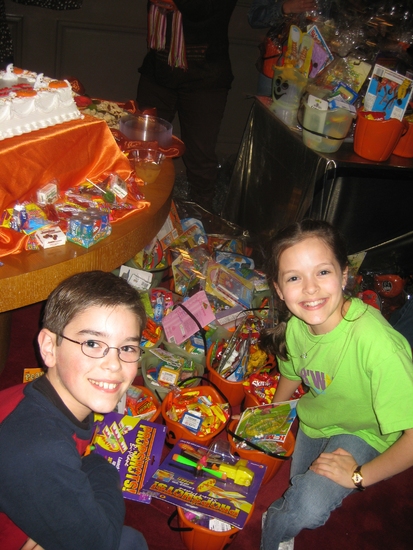 Rider Stanton (Gypsy) and Kelsey Fowler (Mary Poppins)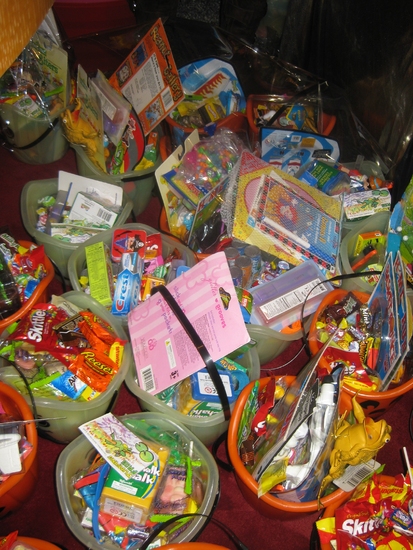 A look at the Halloween pails the kids made for the children of Freedom House NYC.
Photos by Amanda Dekker