Click Here for More Articles on AVENUE Q
Photos: York Theatre Company's NEO3 Concert
The York Theatre Company presented "NEO3," a benefit concert celebrating emerging musical theatre writers tonight, on Monday, June 11th at its home in the Theatre at Saint Peter's (54th Street, just East of Lexington). 
Performers included:
Judith Blazer
(
LoveMusik
),
Tituss Burgess
(
The Little Mermaid
),
Edwin Cahill
(
LoveMusik),
Matt Cavenaugh
(
Grey Gardens
), Robyn S. Clark (Ravinia's
Gypsy
),
Adam Heller
(
Caroline, Or Change
), Shaun Taylor-Corbett (
In The Heights, Altar Boyz
),
Ana Gasteyer
(
The Threepenny Opera, Wicked
),
Tom Gualtieri
(
The Night of the Hunter
),
Jaclyn Huberman
(
I Love You Because
),
Doug Kreeger
(
Les Misérables
),
Megan Lawrence
(
The Pajama Game
),
Jeanne Lehman
(
Beauty and the Beast
),
Jenny Powers
(
Grease
),
Michele Ragusa
(
Adrift in Macao
),
Kate Reinders
(
Wicked
),
Seth Rudetsky
(Broadway Chatterbox),
Will Swenson
(
110 in the Shade
),
Yuka Takara
(
A Chorus Line
),
Jim Weitzer
(
Little Women
), Lynne Wintersteller (
Closer Than Ever
),
Chip Zien
(
Chitty Chitty Bang Bang
) and students from the Marymount Manhattan at the York Summer New Musical Theatre Intensive.
"'NEO' (an acronym for 'New, Emerging, Outstanding') celebrates some of the songwriters primed to pen the next generation of musicals, and supports the York's work with new musicals and their creators.  Since the first 'NEO' concert four years ago, musical theatre fans and York supporters have eagerly anticipated each new incarnation. 'NEO3' included songs by many new writers including: Kristen Anderson-Lopez & Lisa DeSpain, Leslie Arden, Stephen Cole and David Krane, Jim Colleran, Rick Crom, Miriam Daly, Jeremy Desmon and Vadim Feichtner, Harris Doran and Arthur Lafrentz Bacon, Michelle Elliott and Danny Larsen, Adam Gwon, Tim Huang, Tom Kenaston, Paul Libman and Dave Hudson, Benj Pasek and Justin Paul, Kyle Rosen, Laurence Holzman and Felicia Needleman, Joy Son and Steve Routman, Robby Stamper and Arianna Rose," according to press materials.  "NEO3" was hosted by Robert Lopez (Tony Award winning composer/lyricist, Avenue Q) and Ann Harada (Les Misérables, Avenue Q), directed by Annette Jolles (That Time of The Year), with musical direction by Matt Castle (Company).
For more information, visit
www.yorktheatre.org
or call 212-935-5820.
Photos by Josh Merwin
The concert

Robert Lopez and Ann Harada – the hosts of the evening

 Adam Heller and Chip Zien performing "Road to Qatar" (Books and lyrics by Stephen Cole, Music by David Krane)

Ana Gasteyer performing "Ain't My Business" (Lyrics by Kristen Anderson-Lopez, Music by Lisa DeSpain)

Kate Reinders with Vadim Feichtner at the piano, performing "Waiting in the Wings" (Music by Vadim Feichtner, Lyrics by Jeremy Desmon)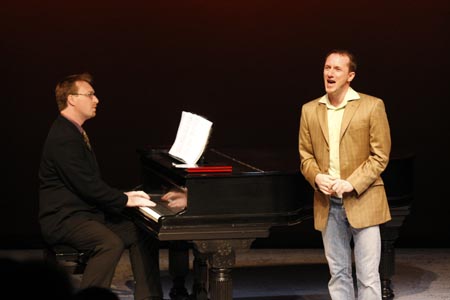 Matt Castle (at the piano) and Tom Gualtieri performing "Venice" (from The Fisher King, Music by Joy Son, Music & Lyrics by Steve Routman, adapted from the Richard LaGravenese screenplay)
Matt Cavanaugh and
Megan Lawrence
performing "I Blame You" (from
Bonnie & Clyde,
Book by
Hunter Foster
, Music & Lyrics by
Rick Crom
)

  Tituss Burguss performing "Wake Up" (Book & Lyrics by Harris Doran, Music by Arthur Lafrentz Bacon)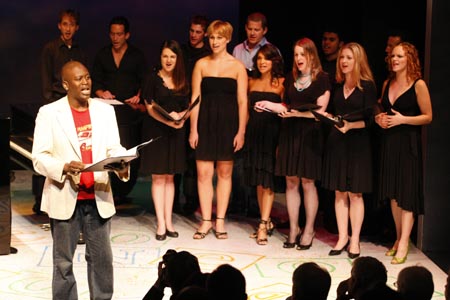 Tituss Burgess and the students from the Marymount Manhattan at the York Summer New Musical Theatre Intensive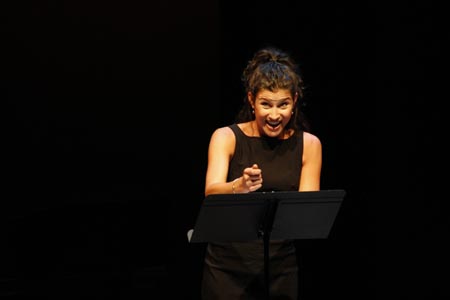 Jenny Powers performing "Man in the Dunkin' Donuts" (Music and Lyrics by Miriam Daly)
Judy Blazer and Lynne Wintersteller performing Apology (From "A Meeting of Minds," Music and Lyrics by
Leslie Arden
)

Seth Rudetsky performing "In Short" (by Benj Pasek and Justin Paul)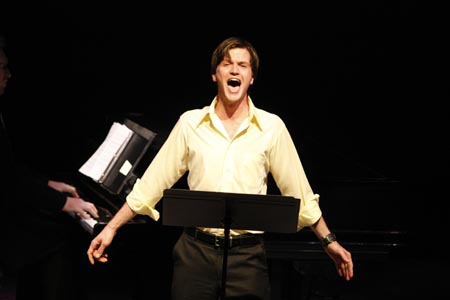 Doug Kreeger performing "Bigger Than We Imagine" (From Ethan From, Book by Michael Ruby, Music and Lyrics by Adam Gwon)
NEO Reception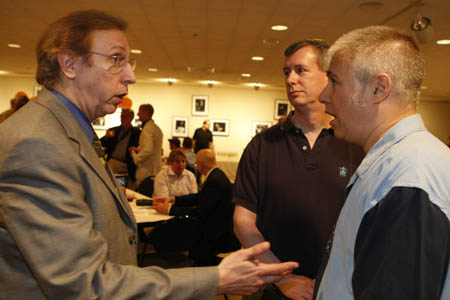 Rick Crom and John Kenrick

Tony Walton, Margot Astrachan and Deidre Gagion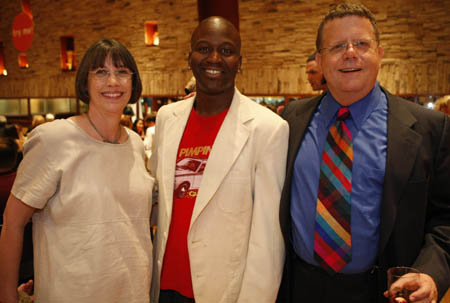 Pat Simon, Tituss Burgess and James Morgan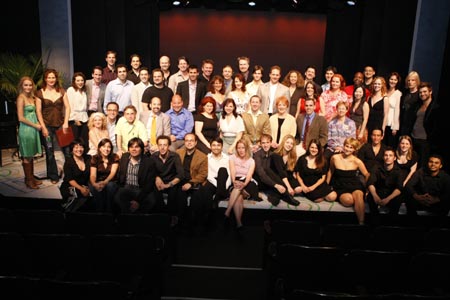 The company and writers