Photo Coverage: 'New York Stories' Cabaret
The Museum of the City of New York (MCNY), situated across from Central Park at East 103rd Street, presented a showtune homage to the Big Apple on Saturday and Sunday that included a special salute to West Side Story on the 50th anniversary of its premiere season on Broadway.
The performances were part of the museum's cabaret series, which features Broadway stars in musical programs with a connection to current exhibitions at the museum. In the cast of this weekend's cabaret, titled "New York Stories," were Stephen Bogardus, Angel Desai, Michael Winther and Brigid Brady. Patricia Birch, who played Anybodys in the original run of West Side Story before going on to a heralded career as a choreographer and director, came onstage to offer reminiscences and reflections on the landmark musical.
The "New York Stories" cabaret was inspired by two exhibits that opened this winter at the museum—"Setting the Stage: Scenic Designs by Donald Oenslager" and "Under New York Skies: Nocturnes by Yvonne Jacquette." The latter comprises paintings of nighttime NYC scenes, from an aerial viewpoint, that Jacquette has done over the last 30 years, and is on display through May 11. "Setting the Stage," which closed Sunday, featured sketches and models of set designs by Tony winner Oenslager, whose Broadway career lasted from the 1927 debut of the musical Good News through its 1974 revival. Songs from Good News and such other Oenslager-designed shows as Girl Crazy and America's Sweetheart were on the program.
For more about exhibitions and performances at the Museum of the City of New York, visit www.mcny.org or call 212-534-1672.

Stephen Bogardus, Angel Desai and Michael Winther during the opening number, "New York's My Home." It was written in the 1940s by Gordon Jenkins, a Broadway songwriter and orchestrator better known for his arrangements for Judy Garland, Frank Sinatra, Ella Fitzgerald and other popular music legends.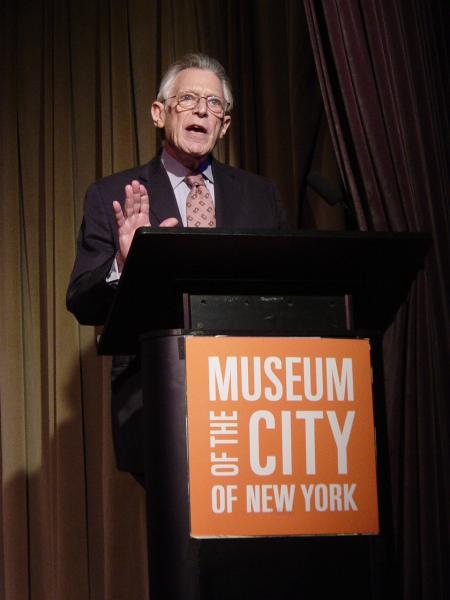 Michael Montel, founder of the MCNY cabaret series, directed and hosted the production. He said that the Yvonne Jacquette paintings on exhibit in the museum and the songs featured in the cabaret are both examples "of the city's enduring ability to inspire and attract."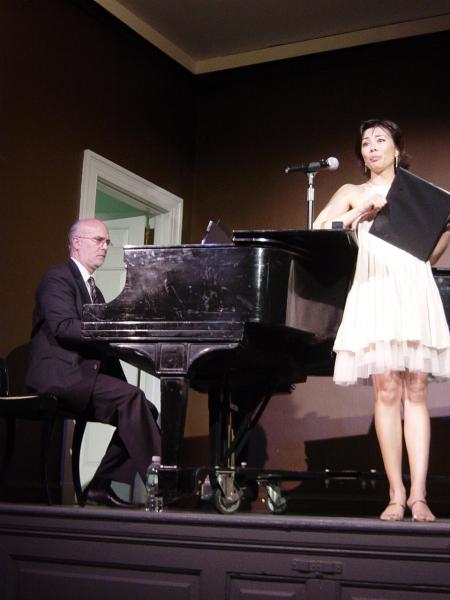 Angel Desai performs "Just Imagine" from Good News.
Lawrence Yurman was accompanist, musical director and arranger for the cabaret.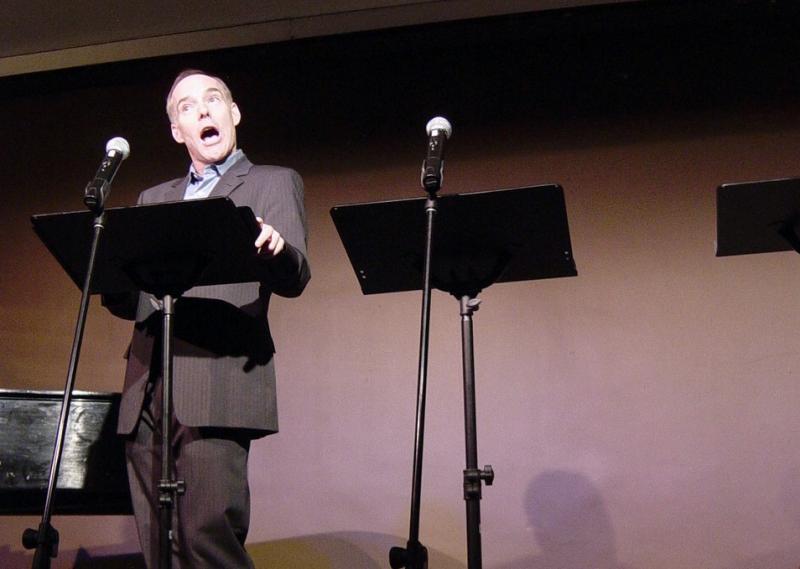 With Brigid Brady out of Sunday's performance because of inflamed vocal cords, Michael Winther sang the duet "I've Got Five Dollars" solo. He moved to the other mike for the parts that Brady would have sang...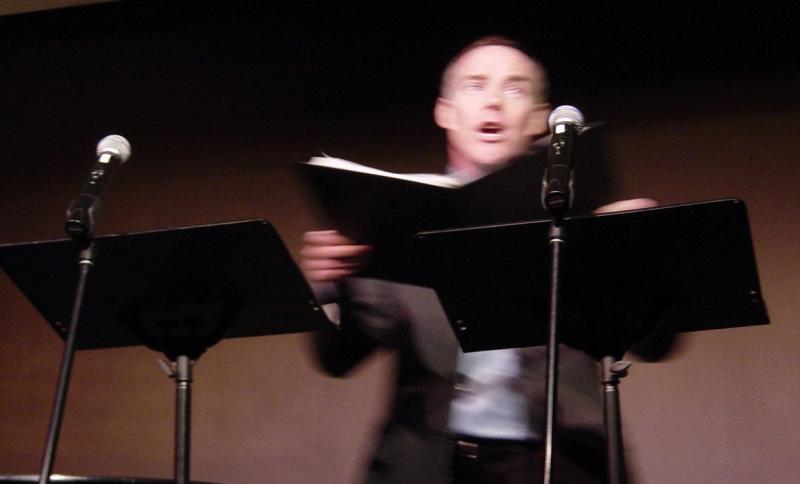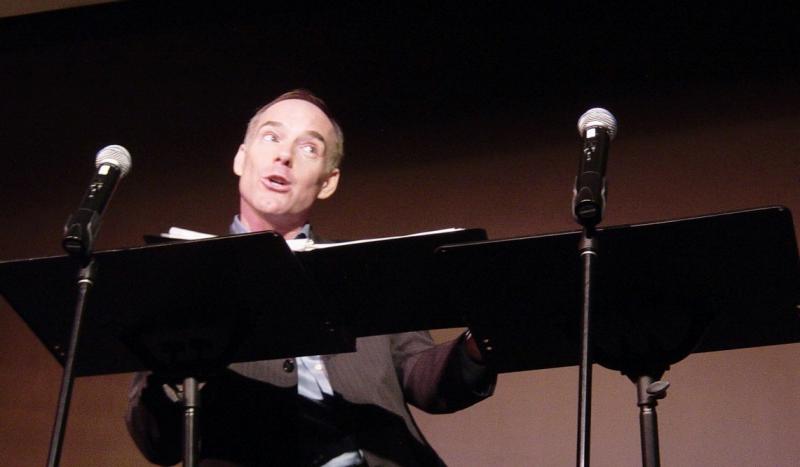 ...and by the end of the song was hopping back and forth between mikes to great comic effect.

Handsome man sings love song: Isn't this what musical theater is all about?
Stephen Bogardus on "Embraceable You" (from the Gershwins' Girl Crazy).

To demonstrate that Manhattan is not the only place in New York City that inspires songwriters, tunes of other boroughs were included. Representing Brooklyn (left): "Nesting Time in Flatbush" from the 1917 Jerome Kern/P.G. Wodehouse collaboration Oh, Boy! "Nellie Kelly, I Love You" (right) is about a belle of the Bronx.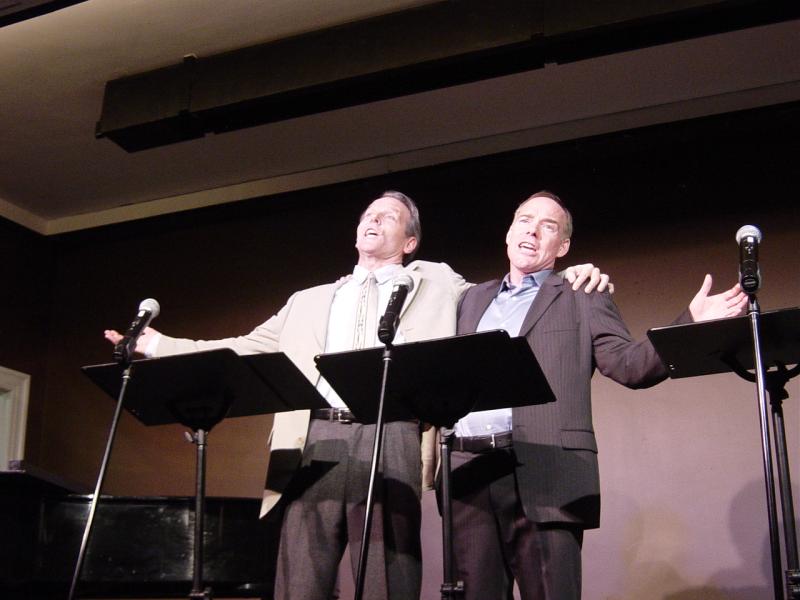 Bogardus and Winther teaming on George M. Cohan's "Nellie Kelly, I Love You." Bogardus was on Broadway in a nonmusical capacity earlier this season in the Old Acquaintance revival; Winther received a 2006 Drama Desk Award nomination for his solo turn in Songs From An Unmade Bed at New York Theatre Workshop.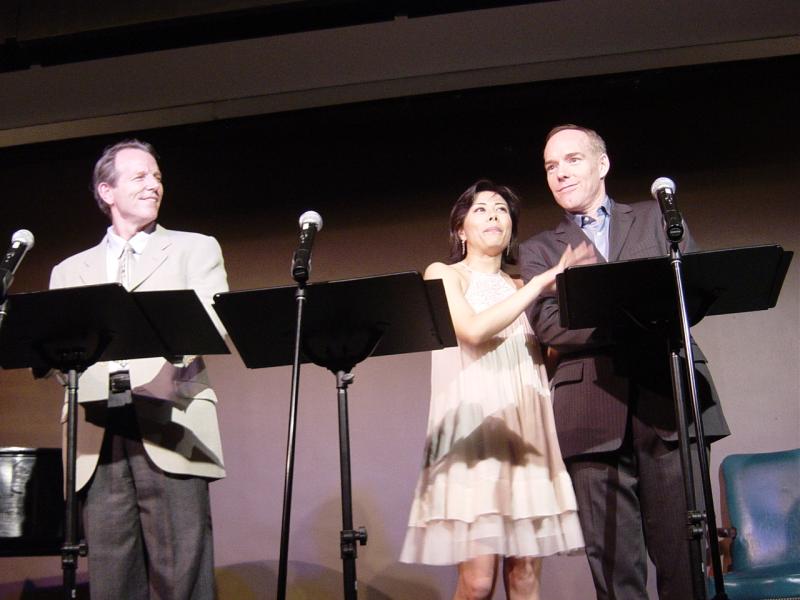 "You're the Top" was performed as a romantic rivalry. The song was on the bill because it's from Anything Goes, which had scenic design by Donald Oenslager, and host Michael Montel shared this factoid about the Cole Porter show: It had to be reset from a Caribbean cruise to a transatlantic crossing after the real-life sinking of the Caribbean-bound steamer Morro Castle during previews in September 1934.

Angel Desai reprises "Another Hundred People," which she sang on Broadway as Marta in the recent Company revival. Introducing her, Michael Montel said the show was "not just a portrait of the city, but the city at a very particular time in its emotional history." He continued: "It opened in 1970 but such was its depth, and so sharp its wit, that it thrilled audiences all over again last season."

With Yurman at the piano, Bogardus sings the Rodgers and Hart ballad "A Tree in the Park."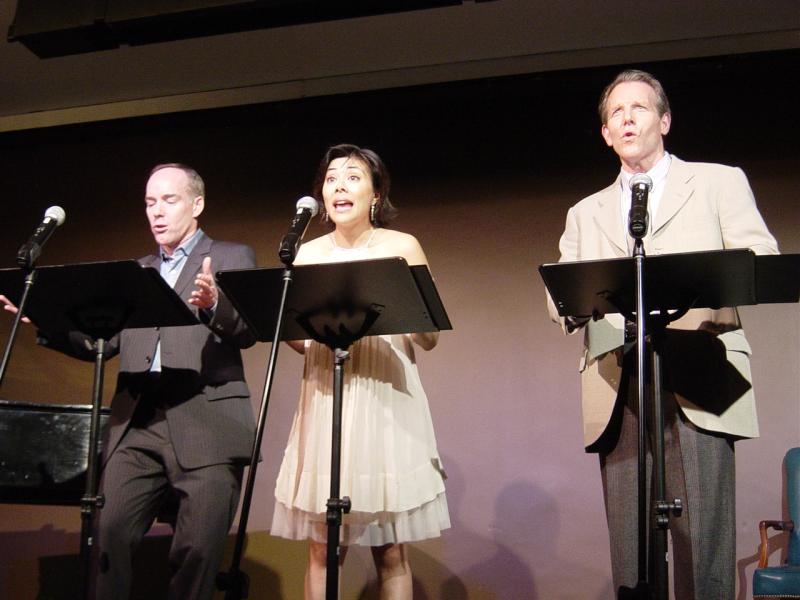 Everyone gets in on "Manhattan Madness," from Irving Berlin's Face the Music.

Patricia Birch was questioned by Michael Montel about her West Side Story experience as the singers looked on. Birch, who trained with Martha Graham as a child, auditioned for the original cast of West Side Story but didn't get in. She won the role of Anybodys for the play's return engagement on Broadway in 1960, just 10 months after the first run had ended.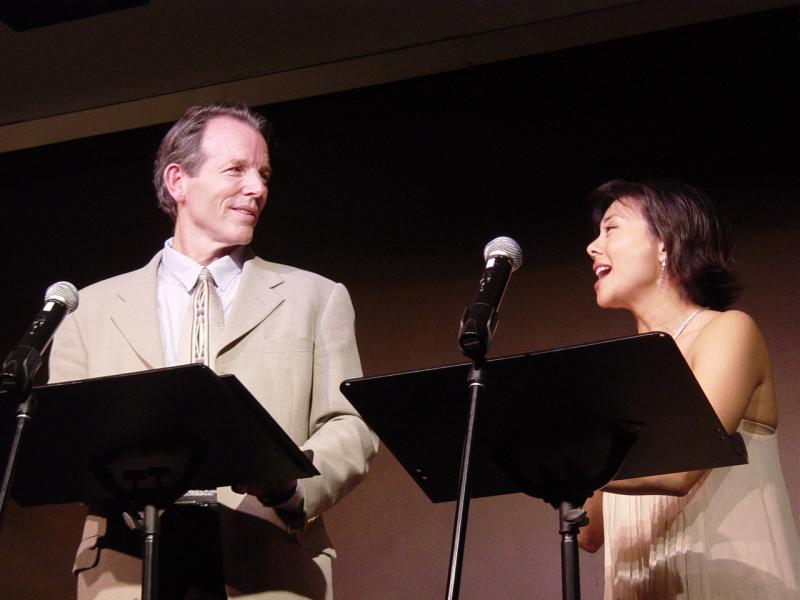 Stephen Bogardus and Angel Desai have their chance with one of Broadway's most romantic moments of all time: "Tonight" in West Side Story. Bogardus also performed "Something's Coming."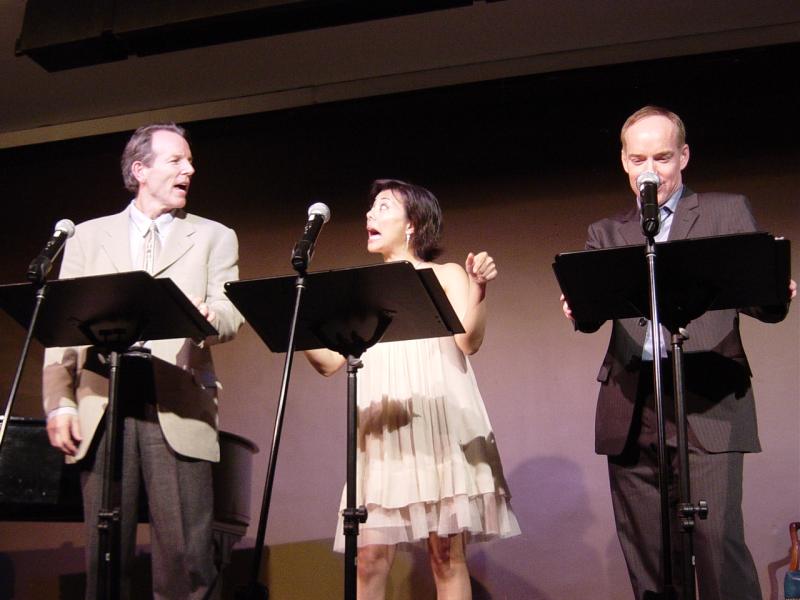 Brigid Brady's absence necessitated some improvising on "America," which Brady was supposed to sing with Angel Desai. Instead, the very Anglo-looking Stephen Bogardus and Michael Winther took on roles meant for Puerto Rican women.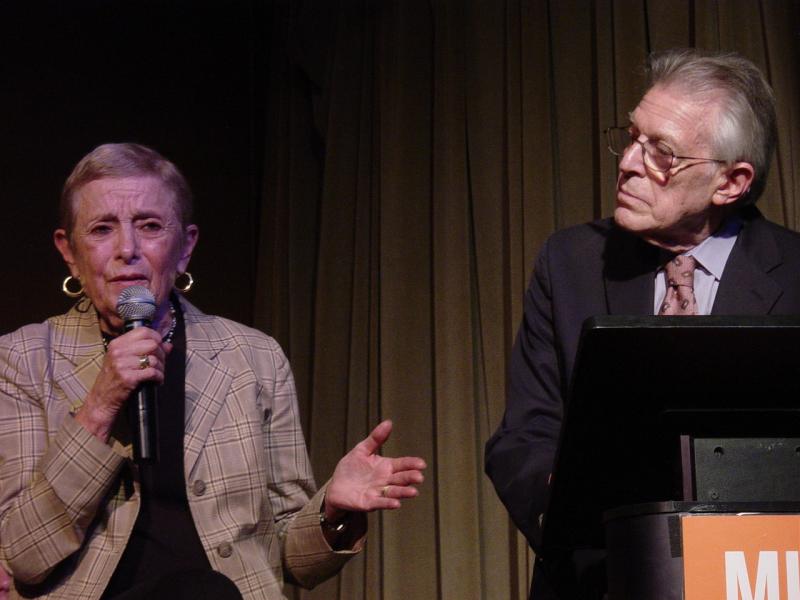 Birch described her character Anybodys to Montel as a misfit who metaphorically "got kicked around a lot," and added that in performance she was literally "really kicked, in the butt. In 'The Dance at the Gym'—really kicked." She revealed that "Cool" was "the hardest dancing ever."

Birch praised choreographers like Bill T. Jones (Spring Awakening) and Twyla Tharp (Movin' Out) for venturing into musical theater—as Jerome Robbins did from the ballet world for West Side Story. "It's about finding the language that's appropriate for the show," she said. "I think that's the most important thing of what's going on in terms of more modern choreography [in the theater]." She also drew a line from West Side Story to Gossip Girl: "There are always young people wanting to be in groups."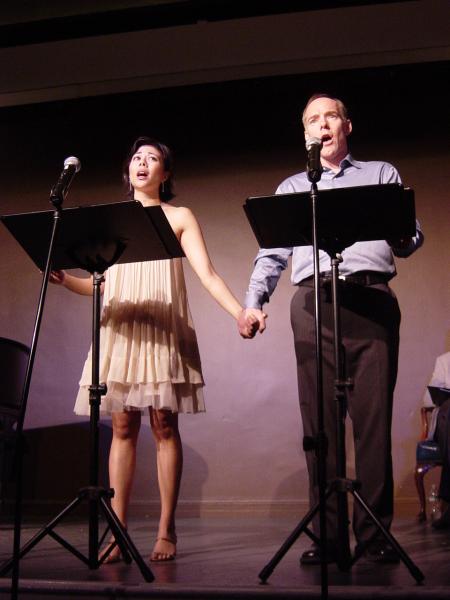 "One Hand, One Heart," which Montel called "one of the most beautiful songs about people reaching out across the divide."

Bogardus, Desai and Winther sing the finale, Cole Porter's "I Happen to Like New York," as Birch and Montel listen from the stage.

Lawrence Yurman, who's worked on most of the MCNY cabarets since they began in 2004, was music director and conductor of Grey Gardens on Broadway.

The whole cast poses after the performance: (from left) Michael Winther, Patricia Birch, Lawrence Yurman, Angel Desai, Stephen Bogardus and Michael Montel.
Related Articles

Adrienne Onofri has been writing for BroadwayWorld since it was launched in 2003. She is a member of the Drama Desk and has moderated panels (read more...)