Click Here for More Articles on LEGALLY BLONDE
Photos: LEGALLY BLONDE's Natalie Joy Johnson Makes West Coast Solo Debut at Upright Cabaret
On Monday, Aug 31, 2009, Natalie Joy Johnson, currently starring as Paulette in Legally Blond at the Pantages Theatre, made her West Coast premiere at Upright Cabaret on Vermont to a sold-out audience of adoring fans.
Known for her roles in the original Broadway cast of Legally Blond (Enid Hoopes and Paulette) and off-Broadway in Bare: a pop opera (Nadia) and But I'm a Cheerleader (Sinead), this impressive belter took the audience on a wild ride of Broadway tunes to 80's Power Ballads by the likes of Whitney Houston, Amy Winehouse and Diana Ross. Surprise performances by John Hill (Hairspray, The Boy from Oz) and genre-bender Our Lady J (who plans to make her debut at Upright Cabaret this Friday, Sept 4 with her gospel choir) made for an all together impressive evening directed by Ben Rimalower.
Natalie Joy Johnson returns for one more performance on Mon, Sept 7 at 9pm at Upright Cabaret before continuing on with the first national tour of Legally Blond.
AN EVENING WITH Natalie Joy Johnson
with special guest John Hill and Music Director Our Lady J
Directed by Ben Rimalower
ONE MORE NIGHT!!!
Mon, Sept 7, 2009 at 9pm
Upright Cabaret on Vermont,
1714 N. Vermont Avenue, Los Angeles, CA 90027, (310) 652-5252
Tickets: $20 Main, Available online at www.uprightcabaret.com/events or $25 at the door (if available). Table minimums apply.
For more info about Upright Cabaret including show times, tickets and scheduled performers, please visit us at www.uprightcabaret.com
Natalie Joy Johnson is thrilled to be in the Legally Blonde: The Musical family, originating the role of 'Paulette,' the hairdresser in the National Tour and the role of 'Enid Hoopes,' the Law School lesbian, on Broadway. Other NY credits include bare: a pop opera (Nadia), But I'm a Cheerleader (Sinead), Joy (Kegan), and the national tour of Godspell (Bless The Lord). Her concert act, Natalie Joy Johnson with Our Lady J and the Pink Champagne Orchestra featuring the Bubblies has been selling out shows at Joe's Pub, Ars Nova, and the Cutting Room. www.nataliejoyjohnson.com

OUR LADY J is a New York based singer/songwriter known for her visionary gospel stylings and powerhouse piano playing. She has been described as "virtuosic" (Time Our New York), "stunning" (New York Magazine) as well as "dazzling, talented and deliciously playful" (Metro UK). Along with The Pink Champagne Orchestra and The Train-To-Kill Gospel Choir, Our Lady J has performed at NYC's The Zipper Factory, Ars Nova and The Beechman Theatre. She has also traveled the US, Ireland and England as music director for Justin Bond's critically acclaimed production of "Lustre." This year, Out Magazine named her as one the "OUT100", a list of men and women who helped shape LGBT culture in 2008. Before her work with The Pink Champagne Orchestra, Our Lady J (aka Jonnah Speidel) musical directed and performed with some of NYC's most colorful talents in hot spots including AlIce Tulley Hall, Birdland, Carnegie Hall, Caroline's on Broadway, The Cutting Room, Feinstein's at the Regency, Joe's Pub, Makor, The Metropolitan Room, Radio City Music Hall and The Town Hall. As a pianist, she has accompanied the NYC Gay Men's Chorus, American Ballet Theatre, Alvin Ailey American Dance Theatre, and the Mark Morris Dance Group, where she was a featured performer in the MMDG Music Ensemble.
John Hill is best known to Broadway audiences for his roles as Fender in the original cast of Hairspray, Mark Herron in The Boy From Oz, and Jason in Bare. He wrote and starred in the critically acclaimed (lol) one-man performance art show Whiskers on Kittens and the deeply hated Skinny Corpse, directed by Ben Rimalower. After his days as a Broadway slut, he went on to serve as a producer on the television shows "Tori and Dean,", "Project Runway" (Emmy Nomination), "Top Chef", "Dance on Sunset", "Step It Up And Dance", "MTV Show Choir" (which was shelved due to teacher pedophilia), "Attack Of The Show", "Ninja Warrior", and "Kathy Griffin: My Life On The D List".
Ben Rimalower is a director and producer working in theatre in New York. He directed The Fabulous Life of a Size Zero (Daryl Roth/DR2 Theatre), Joy (Actors Playhouse, Out Magazine: "Top Ten Theatre" & HX Award nomination), Snoopy! (Symphony Space, starring Sutton Foster), And/or (Dixon Place Hot Festival) and Sodom the Musical (Kraine Theatre) as well as staged readings for Second Stage, The York and Ensemble Studio Theatre. He conceived and directed Leslie Kritzer is Patti LuPone at Les Mouches (Time Out New York Award) and subsequently produced Sh-K-Boom/Ghostlight Records' long-awaited recording, "Patti LuPone at Les Mouches" (#25 on Billboard "Heatseekers" Chart), digitally restored from archival tapes of LuPone's legendary 1980 performances. In venues such as Joe's Pub, Ars Nova and The Zipper Factory, Ben has helmed a slew of solo shows for artists including Alec Mapa, Natalie Joy Johnson, Lindsey Alley, Wendy Ho and John Hill. Ben writes the weekly blog "The New Old Gay" for the website akawilliam.com. Assistant Director credits include Lonny Price's productions of A Class Act (Manhattan Theatre Club, Broadway and Tokyo) and A Little Night Music (starring Patti LuPone, George Hearn and Zoe Caldwell) as well as the Emmy-winning Sweeney Todd. Ben studied Theatre Arts at U.C. Berkeley where he was the founding Artistic Director of BareStage (now celebrating its 13th anniversary).
Upright Cabaret at Vermont is located at 1714 Vermont Ave., Los Angeles, CA 90027. For more information, visit www.uprightcabaret.com.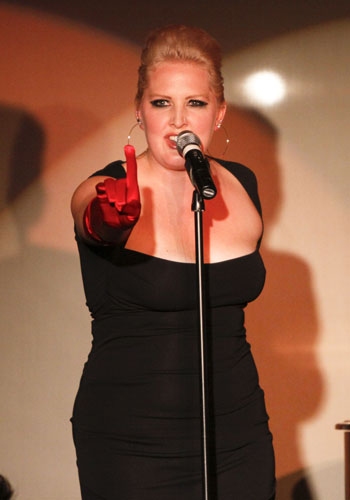 Natalie Joy Johnson at Upright Cabaret

Natalie Joy Johnson at Upright Cabaret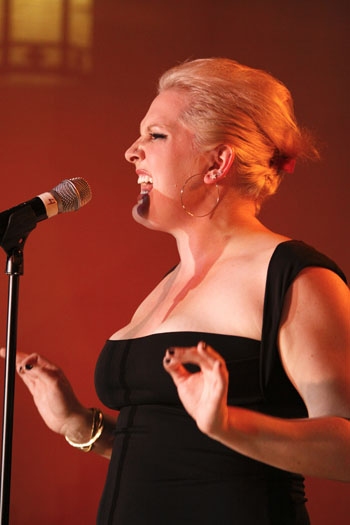 Natalie Joy Johnson at Upright Cabaret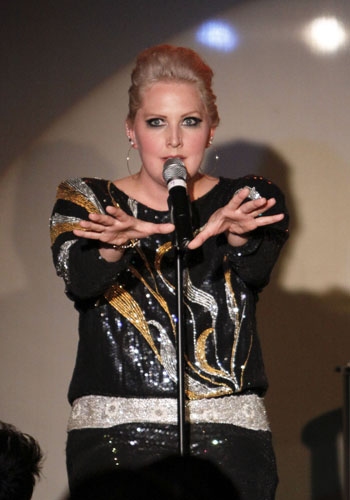 Natalie Joy Johnson at Upright Cabaret

Natalie Joy Johnson and Our Lady J at Upright Cabaret

Natalie Joy Johnson at Upright Cabaret

John Hill plays Upright Cabaret

Our Lady J plays Upright Cabaret

Bare reunion at Upright Cabaret - John Hill, Jenna Leigh Green, Natalie Joy Johnson and Michael Arden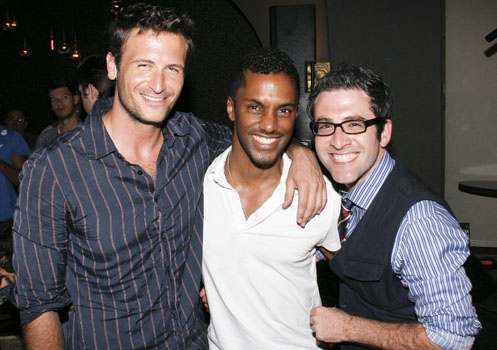 John Hill, Daryl Stephens, Ben Rimalower at Upright Cabaret

Natalie Joy Johnson, Our Lady J, Jenna Leigh Green at Upright Cabaret

Michael Marcotte and Michael Arden at Upright Cabaret

Natalie Joy Johnson and Ben Rimalower at Upright Cabaret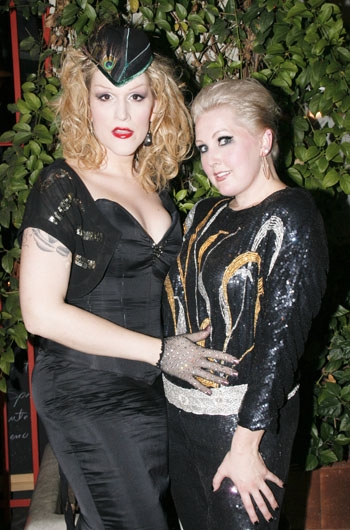 Our Lady J and Natalie Joy Johnson at Upright Cabaret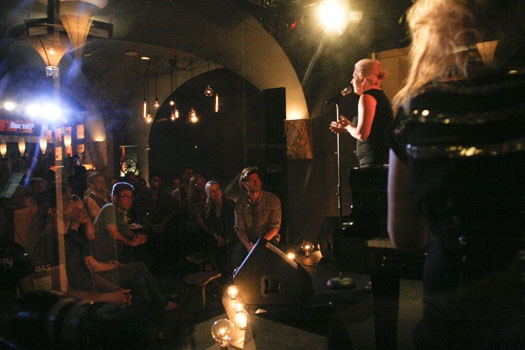 Natalie Joy Johnson performing at Upright Cabaret