Click Here for More Articles on SIDE SHOW
Photo Coverage: In the Recording Studio with the Cast of SIDE SHOW
The all-new Broadway cast recording of Side Show will be released on Broadway Records early next year. Boasting Side Show's legendary and beloved score, which now includes new music, and featuring the acclaimed vocal performances of the recently-revealed Broadway cast of the upcoming, totally reimagined production, the new original Broadway cast recording of Side Show is produced by six-time Grammy Award winning producer Frank Filipetti and will be released in the theater, stores and on iTunes in early 2015. Scroll down for photos of the cast in the recording studio!
Directed by Bill Condon, Side Show is currently in performance at Broadway's St. James Theatre. The musical includes new music by multiple Grammy Award winner and Academy Award, Golden Globe, and Tony Award nominee Henry Krieger (Dreamgirls), with book and lyrics by Tony Award nominee Bill Russell and additional book material by Bill Condon, and choreography by Tony and Olivier Award nominee Anthony Van Laast (Mamma Mia).
The cast of Side Show features Erin Davie and Emily Padgett, who reprise their leading roles as Violet and Daisy Hilton, will be Matthew Hydzik as Buddy Foster, Robert Joy as Sir, Ryan Silverman as Terry Connor, and David St. Louis as Jake. The ensemble of Side Show characters will include Brandon Bieber as the 3 Legged Man, Matthew Patrick Davis as the Geek, Charity Angel Dawson as the Fortune Teller, Lauren Elder as the Venus di Milo, Javier Ignacio as the Dog Boy, Jordanna James as the World's Tiniest Woman, Kelvin Moon Loh as the Half-Man Half-Woman, Barrett Martin as the Human Pin Cushion, Don Richard as the Reptile Man, Blair Ross as the Bearded Lady,Hannah Shankman as the Tattoo Girl, Josh Walker as the World's Tiniest Man, with Brandon Andrus, Con O'Shea-Creal, Derek Hanson, Michaeljon Slinger and DeLaney Westfall.
Side Show is inspired by the remarkable true story of the Hilton twins, Daisy and Violet, who were legends in their time and the highest paid performers on the vaudeville circuit. Side Show is their heartwarming search for first love and acceptance amidst the spectacle of fame and scrutiny under the spotlight.
The CD is available for pre-order at www.broadwayrecords.com/cds/side-show-2014.
Photo Credit: Kevin Thomas Garcia


Ryan Silverman, Emily Padgett and Erin Davie

The Cast of "Side Show"

The Cast of "Side Show"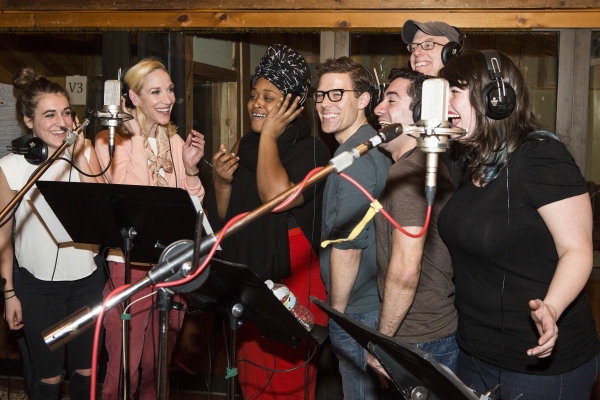 The Cast of "Side Show"
Related Articles
Kevin is a New York based photographer specializing in Headshots, Production Stills, Live Performance, Concerts and Events. His studio is located in Hell's Kitchen, right (read more...)