Photo Coverage: 'Chaperone' & Starbucks Spread Holiday Cheer
On Thursday, November 9th at 10:30 AM, Starbucks and the cast of The Drowsy Chaperone woke up Times Square with 8,000 acts of holiday cheer.  Tony Award-winner Beth Leavel and the cast of the five-time Tony Award-winning musical gave a performance outside the Marriott Marquis Hotel benefiting Broadway Cares/Equity Fights Aids.
In addition, Starbucks Coffee launched its season of spreading holiday cheer with a not-so-random act of kindness in the shape of a $10,000 donation to Broadway Cares/Equity Fights Aids. 
Thousands of New Yorkers were able to wake up to a flurry of fun as they commute through Times Square and receive random "acts of cheer," including bags of complimentary Starbucks® Christmas Blend coffee, Peppermint Chapstick, Metro cards, Starbucks Cards loaded with $5, and other goodies. They were also able to get their first taste of Starbucks delicious holiday beverages. 
Visit www.drowsychaperone.com, www.starbucks.com or www.broadwaycares.org for more information.

Drowsy Chaperone cast members treat Times Square  to a holiday carol outside the Marriot Marquis Theatre

Jennifer Smith and Linda Griffin

Garth Kravits and Troy Britton Johnson

Tom Viola of BC/EFA, flanked by Dan Lewis (Starbucks New York Metro Marketing Manager) and Suzanne DeChant (Starbucks Northeast Marketing Director) receives a check for $10,000 from Starbucks

Tom Viola thanks Starbucks for their donation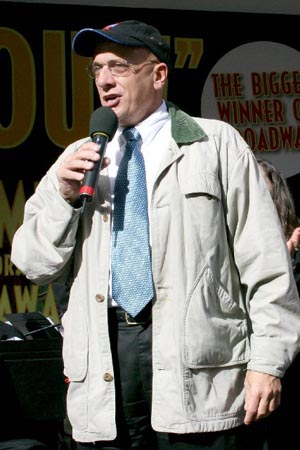 Tom Viola
 
Beth Leavel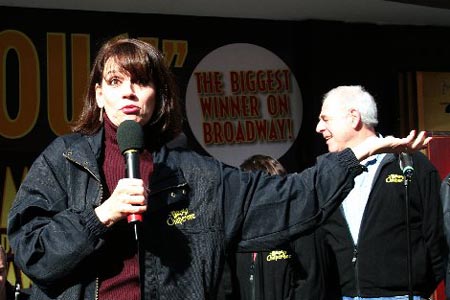 Beth Leavel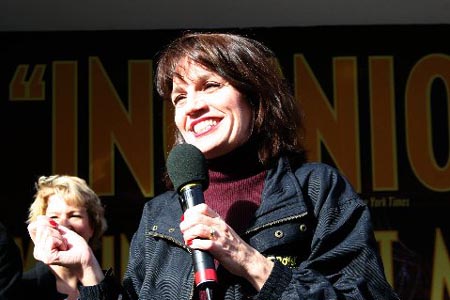 Beth Leavel
Beth Leavel
performs "As We Stumble Along"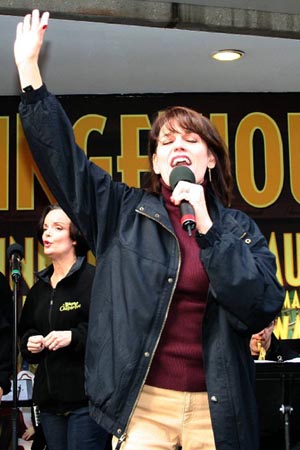 Beth Leavel

Beth Leavel takes a bow

The Starbucks "elves" delivering goodies to passers-by

Garth Kravits, Jennifer Smith, Beth Leavel, Linda Griffin and Troy Britton Johnson