Photo Coverage: 'Chaperone' Celebrates 500th Performance
Broadway's Tony Award-winning hit musical The Drowsy Chaperone celebrated 500 performances at the Marquis Theatre (1535 Broadway) on Thursday, July 12th.
The Drowsy Chaperone recently opened to critical acclaim at The Novello Theatre in the West End starring Tony Award-winning creator Bob Martin as "Man in Chair" opposite internationally acclaimed actress Elaine Paige in the title role.  The musical will launch a U.S. National tour on September 19, 2007 when the musical returns to Toronto, where it was the sleeper hit of the 1999 Toronto Fringe Theatre Festival prior to transferring to a hit commercial run at Toronto's Winter Garden Theatre. Following Toronto, the national tour will visit over 30 cities across the United States including Cleveland, Philadelphia, Cincinnati, Ft. Lauderdale, Tampa, Atlanta, Hartford, Pittsburgh, St. Paul, Houston and Los Angeles.
The show began previews April 3, 2006 and opened on Broadway on May 1, 2006 at the Marquis Theatre (1535 Broadway).  The show now stars John Glover, Beth Leavel, Janine LaManna and Danny Burstein, among others.
"To chase his blues away, a modern day musical theatre addict known simply as "Man in Chair" drops the needle on his favorite cast album – the 1928 musical comedy The Drowsy Chaperone. From the crackle of his hi-fi, the uproariously funny musical magically bursts to life on stage. We are instantly immersed in the hilarious tale of a glamorous bride and her uproarious wedding day, complete with thrills and surprises that take both the cast (literally) and the audience (metaphorically) soaring into the heavens. Man in Chair's infectious love of The Drowsy Chaperone speaks to anyone who has ever been transported by the theater," state press notes.
The musical is directed and choreographed by Tony Award-nominee Casey Nicholaw (Spamalot), with music and lyrics by Tony Award® winners Lisa Lambert and Greg Morrison and a book by Tony Award-winners Bob Martin and Don McKellar.  The show is produced by Kevin McCollum, Roy Miller, Boyett Ostar, Stephanie McClelland, Barbara Freitag, and Jill Furman.
Visit www.DrowsyChaperone.com for tickets and information.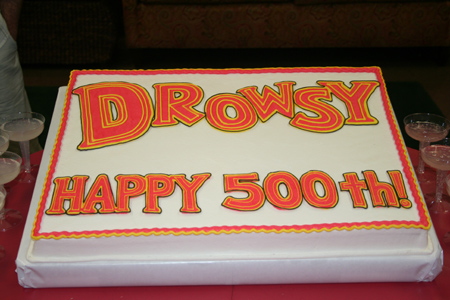 Beth Leavel (The Drowsy Chaperone) and Troy Britton Johnson (Robert Martin, The Bridegroom)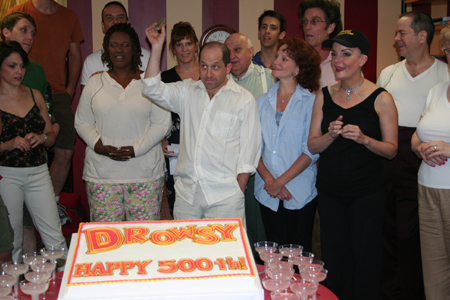 Cast member Jason Kravits (center) plays a voice mail message from Bob Martin congratulating the cast on their 500th. performance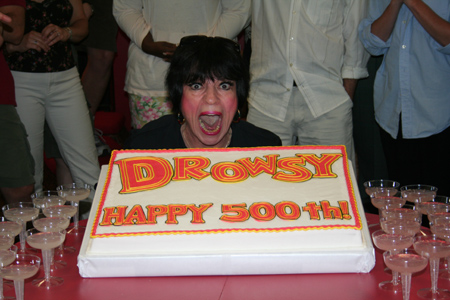 JoAnne Worley (Mrs. Tottendale)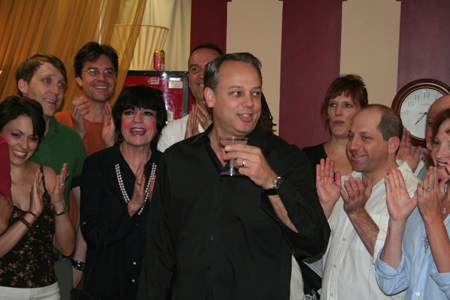 Producer Roy Miller (center) makes a toast to cast and company

The Drowsy Chaperone cast and company members celebrate!
Beth Leavel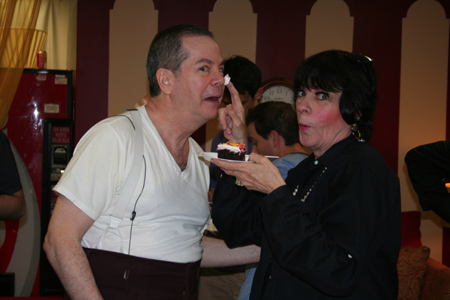 Peter Bartlett (Underling) and JoAnne Worley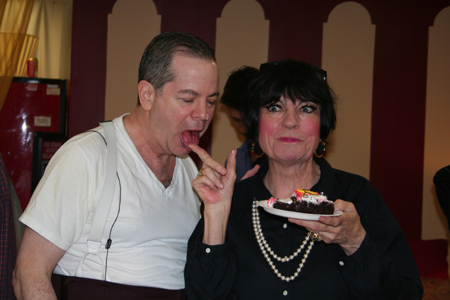 Peter Bartlett and JoAnne Worley

John Glover (The Man in the Chair) and Beth Leavel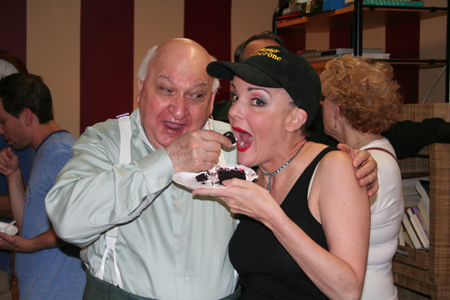 Gerry Vichi (Feldzieg) and Jennifer Smith (Kitty)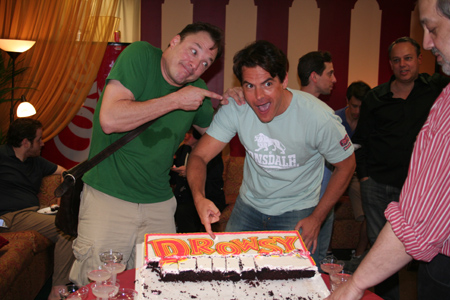 Patrick Wetzel (George, the Best Man) and Troy Britton Johnson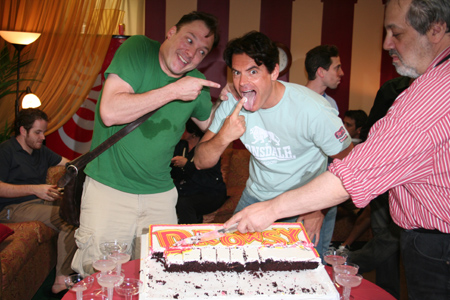 Patrick Wetzel and Troy Britton Johnson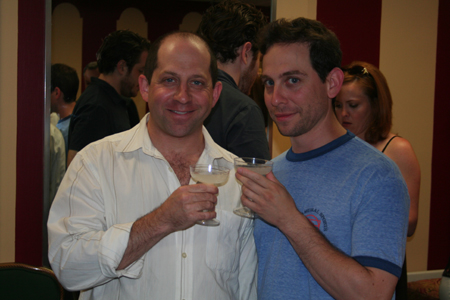 Jason Kravits (Gangster #1) and Garth Kravits (Gangster #2)

Front Row: Joanna Young (Ensemble), Andrea Chamberlain (Swing), Linda Gabler (Ensemble), Back Row: Dale Hensley (Ensemble), Kilty Reidy (Swing), Jay Douglas (Swing) and Brian Marcum