Click Here for More Articles on BC/EFA
Photos: Broadway Bears VIII
This year's BROADWAY BEARS auction took place on Sunday, February 20, 2005 at the B.B. King Blues Club & Grill in support of Broadway Cares/Equity Fights AIDS. 40 one-of-a-kind BROADWAY BEARS - each dressed in original, handmade costumes representing some of the theater's most legendary performers and/or performances were put up for auction, with the event hosted by
Bryan Batt
(
Beauty and the Beast
, Jeffrey, and La Cage Aux Folles).
This year's cast of forty bears featured autographed bears representing such shows as Avenue Q,, Dame Edna: Back With A Vengence, Thoroughly Modern Millie, A Year With Frog & Toad, Rent, Wicked, Cats, Bombay Dreams, I Am My Own Wife, The Frogs, A Raisin In The Sun, Movin' Out, Wonderful Town, Master Class, Tea And Sympathy, Sweeney Todd, Jelly's Last Jam, Beauty And The Beast, Anything Goes, Anna In The Tropics, Brooklyn, High Button Shoes and The Boy From Oz.
Broadway Cares/Equity Fights AIDS (BC/EFA) is the nation's leading industry-based, nonprofit AIDS fund raising and grant making organization. BC/EFA is the on-going, committed response from the American theater community to an urgent worldwide health crisis. By drawing upon the talents, resources and generosity of this community, BC/EFA raises funds for AIDS-related causes across the United States. Since it's founding in 1988, BC/EFA has distributed over $100 million for critically needed services for people with AIDS, HIV, or HIV-related illnesses. For more information, click here.

Broadway Bears has raised over 1 million dollars in its 8 years. Below are this year's bears, and what each won went for in the auctions.
Dame Edna-5.JPG" />
Dame Edna poses with her bear...
Dame Edna-7.JPG" />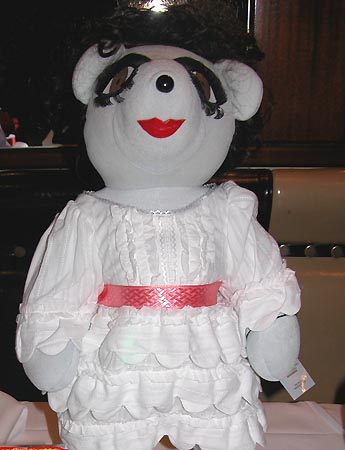 Lot#1 Pirates of Penzance--Mabel $800

Lot#2 No, No Nanette--Lucille Early $600

Eugene Barth1.JPG" />
Designer Eugene Barth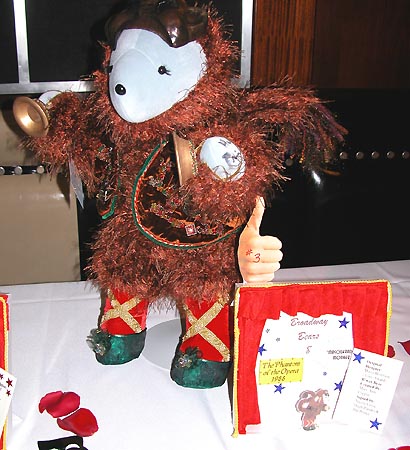 Lot#3 POTO-Masquerade Mondy--$1700

Lot#4 Vivat! Vita Regina!-Elizabeth I $3200--bought by Delta Burke

Lot#5 Jelly's Last Jam-Jelly Roll Morton $3750


Lot#6 A year with Frog and Toad---Toad $1200
Rent.JPG" />
Lot#7 Rent---Maureen Johnson--$2400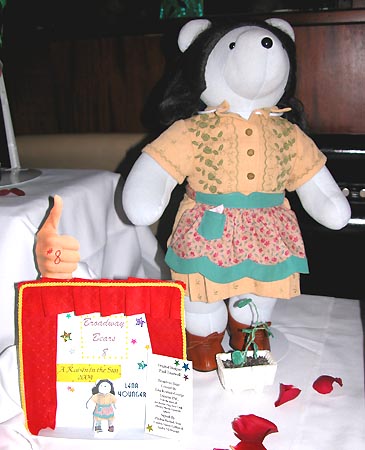 Lot#8 A Raisin in the Sun---Lena Younger---$2000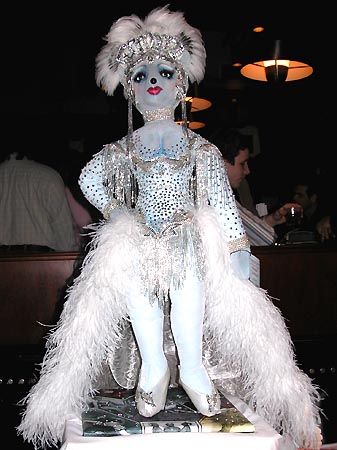 Lot#9 The Ziegfeld Follies---Showgirl---$4000
Bombay Dreams.JPG" />
Lot#10 Bombay Dreans---Rani----$4000

Lot#11 Wonderful Town--Ruth Sherwood $900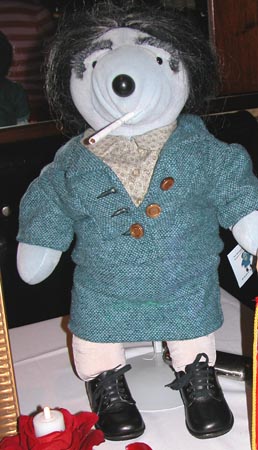 Lot #12 Golda's Balcony--Golda Meir $2200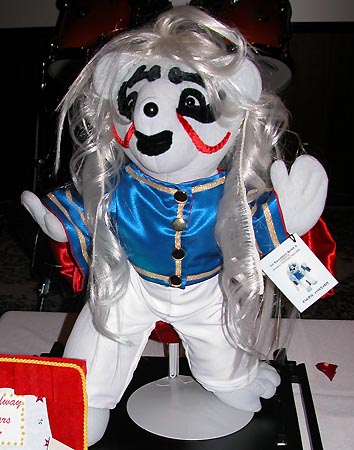 Lot#13 Pacific Overtures--Commodore Matthew Calbraith Perry---$1200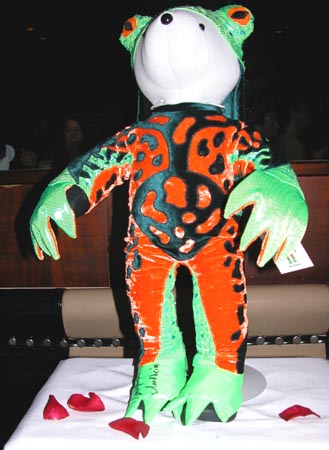 Lot #14 The Frogs---Fire Belly Bouncing Frog---$1200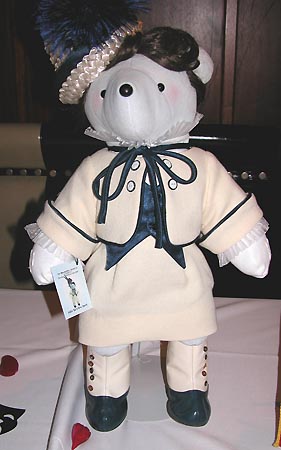 Lot #15 High Button Shoes--Sara Longstreet $1200

Lot#16 Les Liaisons Dangereuse---Le Vicomte De Valmont $2200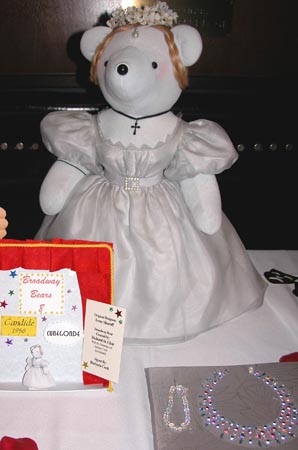 Lot#17 Candide---Cunegonde---$1500

Lot #18 Sunset Blvd.---Norma Desmond $2600

Lot #19 Purlie---Lutiebelle $1600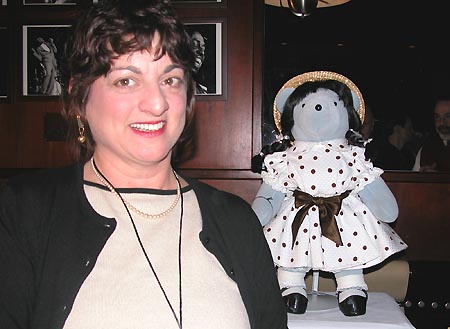 Dame Edna.JPG" />
Lot #21 Dame Edna-Back with a Vengence---Dame Edna Everage $2600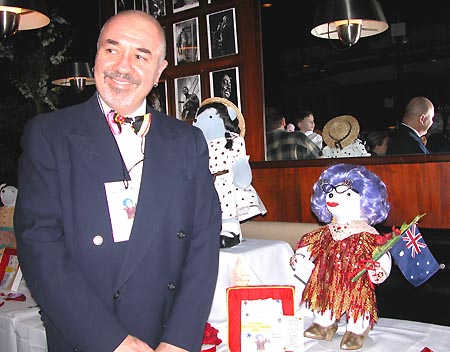 Larry Tarzy Poses with the bear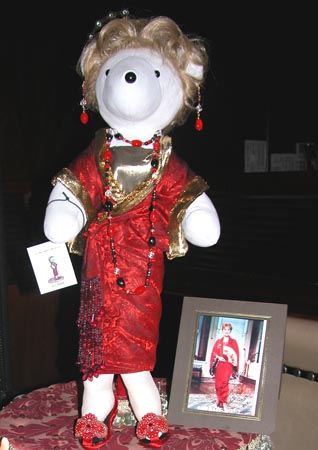 Lot#22 Hay Fever---Judith Bliss--$1000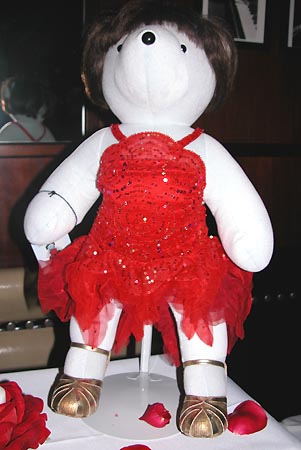 Lot#23 Thogoughly Modern Mille--Mille Dillmount--$2000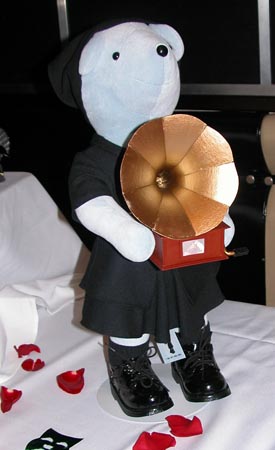 Lot#24 I am my own wife----Charlotte Von Mahlsdorf--$1200
Beauty and the Beast.JPG" />
Lot#25 Beauty and the Beast--Mrs. Potts---$3200

Lot #26 La Boheme--Musetta--$700

Lot #27 Anna in the Tropics---Juan Julian--$800

Lot#28 High Spirits--Elvira--$1200
Noel Noblitt.JPG" />
The bear's creator - Noel Noblitt

Lot#29-Movin' Out--Eddie---$4500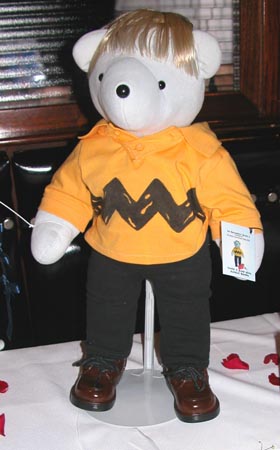 Lot#30 You're a good man, Charlie Brown---Charlie Brown---$2000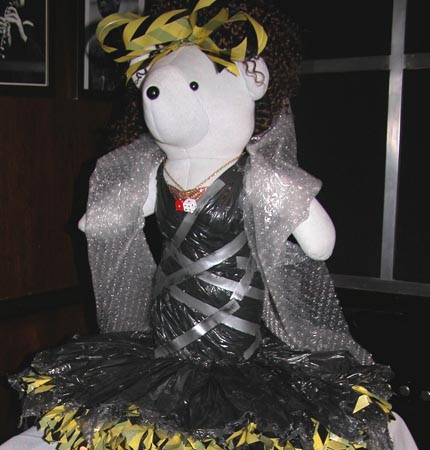 Lot#31 Brooklyn--Paradice---$1200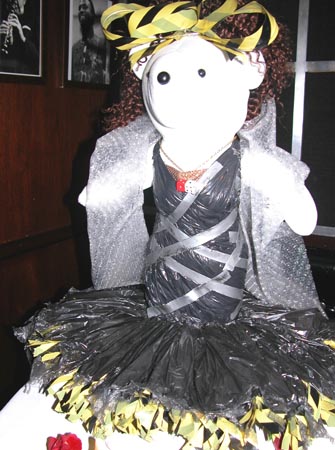 Nicolas Putvinski.JPG" />
Nicolas Putvinski poses with the Brooklyn bear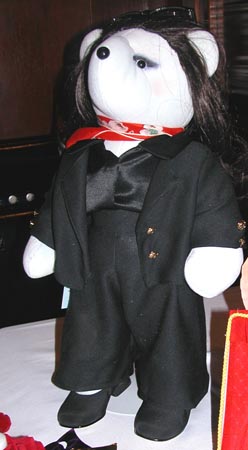 Lot#32 Master Class--Maria Callas--$2000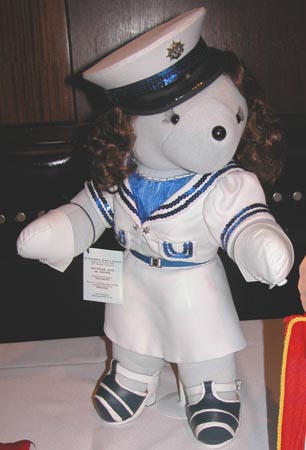 Lot#33 Anything Goes--Reno Sweeny---$1100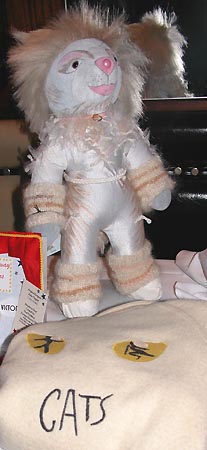 Lot #34 Cats---Victoria(the white cat) $2000

Lot #35 The Boy From Oz--Peter Allen---$4500

Lot#36 Mary of Scotland--Mary Stuart---$1800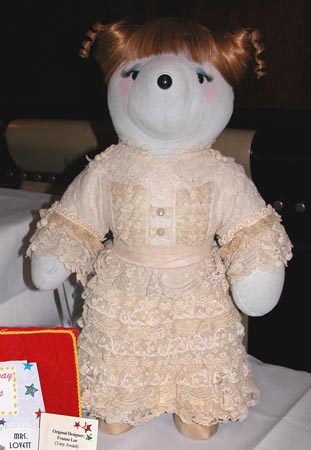 Lot#37 Sweeny Todd---Mrs. Lovett---$4250
Wicked-2.JPG" />
Lot#39 Wicked--Glinda---$6000

Lot#40 Ave.Q--Puppeteers Jennifer Barnhart and Rick Lyon with Trekkie Monster-$4000

Hedwig and the Angry Inch---Hedwig---$4000

Anything Goes---Reno Sweeney $1300

The Broadway Bears Bear!
Micky Dolenz-2.JPG" />
Micky Dolenz

Delta Burke-21.JPG" />
Delta Burke, soon to be appearing in Steel Magnolias

Richard Kind-Trekkie Monster.JPG" />
Richard Kind poses with Trekkie Monster
Tammy Grimes-2.JPG" />
Tammy Grimes