Photo Coverage: Al Hirschfeld Drawings Up for Auction & More for 108th Late Birthday
June 21st will mark the 108th birthday of the late, legendary artist Al Hirschfeld. This month, to mark the occasion, The Al Hirschfeld Foundation celebrates the life and legacy of the artist with three special events.
THE HIRSCHFELD SALE AT DOYLE NEW YORK will take place on Wednesday, June 22, 2011 at 10 a.m. The auction comprises over 100 lots of property from the Manhattan townhouse and studio of the famed caricaturist
Al Hirschfeld
(1903-2003), including memorabilia, artwork, accessories, books, furniture and decorations. Below, BroadwayWorld brings you a look at the items up for auction!
Highlights from the Al Hirschfeld Collection include a rare copy of Harlem as Seen by Hirschfeld (1941), Mr. Hirschfeld's opera glasses and penlight with which he would sketch during performances, his classic Schlumberger gold knot dress set, and an easel and drafting table from his studio. A special section of the auction offers artwork by Al Hirschfeld from other collections, including depictions of Humphrey Bogart and Ingrid Bergman in Casablanca, Barbra Streisand and Walter Matthau in Hello Dolly, Marilyn Monroe in The Seven Year Itch, Judy Garland in concert, Audrey Hepburn in Breakast at Tiffany's, and two self-portraits. The Hirschfeld Sale comprises lots 119-258 of the June 22 Doyle at Home auction.
The public is invited to the exhibition on view from Saturday, June 18 through Tuesday, June 21. The fully illustrated Internet catalogue for The Hirschfeld Sale may be viewed free of charge at www.doylenewyork.com. The printed souvenir catalogue of The Hirschfeld Sale with an introductory biography of Al Hirschfeld by curator David Leopold of The Hirschfeld Foundation is available for $20 at Doyle New York.
The ne, official Al Hirschfeld website, www.AlHirschfeldFoundation.org will launch on Wednesday, June 22nd in commemoration of the artist's 108th birthday. Get front row seats to the Performing Arts in the 20th Century as seen in nine decades of Al Hirschfeld's artwork. The cast is a veritable roll call of theater, film, television, music, and dance, as seen through the eyes and drawn by the hand of Al Hirschfeld. The site gives fans access to over 10,000 works searchable by personality, production, date, publisher, and genre. Never before has a Hirschfeld exhibition, published collection or online exhibition of this size been available online. New works will be added to the nearly 3,000 works already available online for visitors to view.
In addition to the artwork the site offers Hirschfeld fans access to the following:
• Hirschfeld by the year. View timelines bro
Ken Dow
n by theatre season or by each year in Hirschfeld's 82-year career, demonstrating what the artist drew as well as milestones in his life.• Hirschfeld News and Community Calendar to keep you up to date on Hirschfeld-related happenings all over the world.• The Hirschfeld Store where you can buy Hirschfeld books, records, DVDs and show posters.• Hirschfeld Screening Room where you can view videos offering insight to Hirschfeld and his art.• Hirschfeld Spotlight Page offering interesting aspects, anecdotes and fun facts about Hirschfeld art.• "The Hirschfeld of the Day." Visit daily to hunt for NINA's in the daily-selected caricature.• Share your Hirschfeld experience. Did you spend your Sunday' mornings searching for NINA's? Did Hirschfeld artwork inspire you to draw or to become a theatregoer? Have you ever dreamed of or been the subject of Hirschfeld drawing? Now is your opportunities to share your story with the Hirschfeld community online. • Hirschfeld on Facebook and Twitter. Sign up to follow The
Al Hirschfeld
Foundation on Twitter @alHirschfeld or on Facebook."
Al Hirschfeld
AND THE THEATRE OF
Eugene O'Neill
," an exhibition of 50 images of the legendary artist's renderings of O'Neill's works, will be on display through August 15th, 2011 in the windows of NYU's Kimmel Center, 60 Washington Square South. Conceived and create by The
Al Hirschfeld
Foundation, this instillation is presented in honor of the 8th International
Eugene O'Neill
Society Conference: "O'Neill in Bohemia" (www.eugeneoneillsociety.org). Each of the venue's windows will be devoted to specific O'Neill plays and more than 70 years of their productions.Over nine decades, Hirschfeld saw all the major
Eugene O'Neill
productions on and off-Broadway. Beginning with Strange Interlude (1928), Hirschfeld captur
Ed O'Neill
's stage successes of Ah, Wilderness! (1951), Days Without End (1934), The Iceman Cometh (1946), Long Day's Journey Into Night (1956), A Moon For The Misbegotten (1957), A Touch Of The Poet (1958), and revivals starring
Jason Robards
,
Liv Ullmann
,
Ben Gazzara
,
Geraldine Fitzgerald
,
Glenda Jackson
,
Colleen Dewhurst
,
Kevin Spacey
, and
Gabriel Byrne
. For Hollywood studios and television networks he drew the films of Anna Christie (1930) and The Iceman Cometh (1960 & 1973). No other artist so thoroughly documented
Eugene O'Neill
in the playwright's own lifetime and beyond. For more information, visit
www.AlHirschfeldFoundation.org
.
Photos Courtesy of www.doylenewyork.com


Noah's Arc with John Houston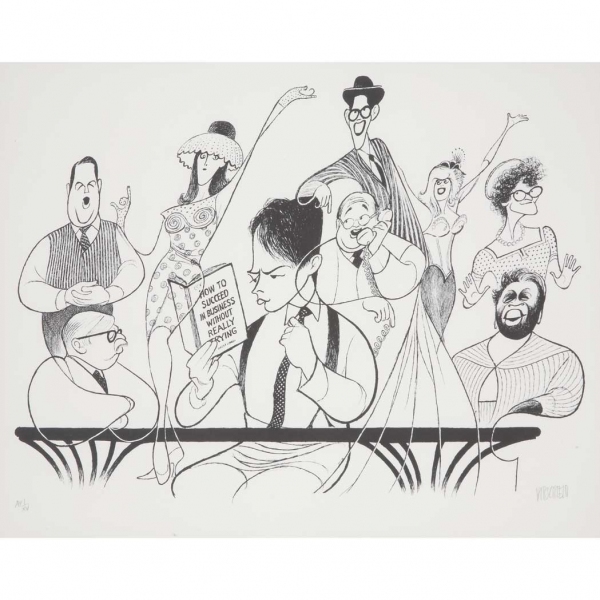 How to Succeed in Business Without Really Trying with Matthew Broderick

Hello Dolly - Barbra Streisand and Walter Matthau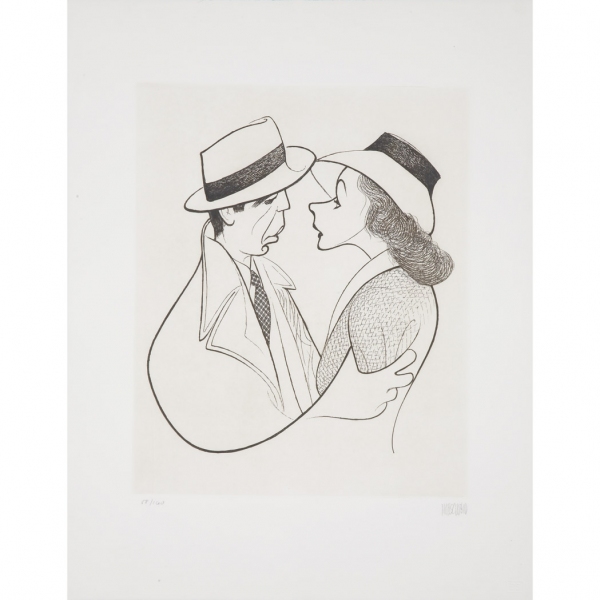 Casablanca with Humphrey Bogart and Ingrid Bergman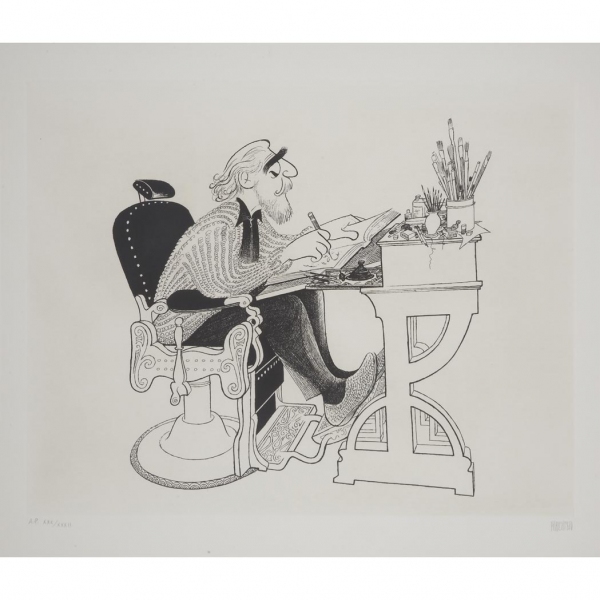 Al Hirschfeld Self Portrait in Barber's Chair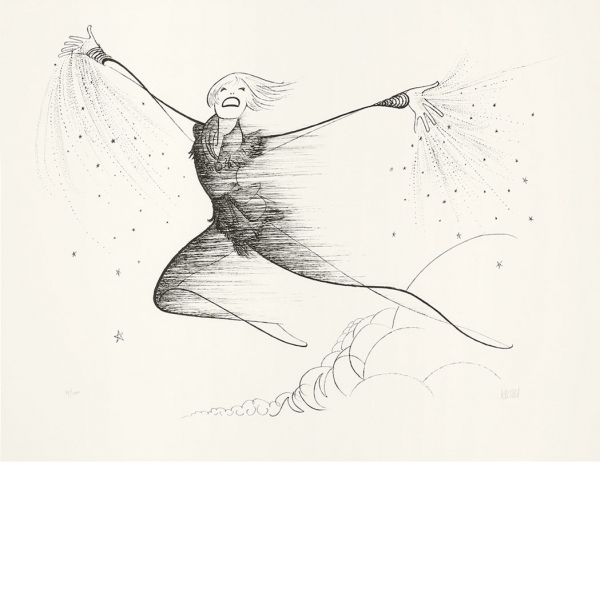 Peter Pan

Woody Allen

Movieland

Shirley MacLane

Hollywood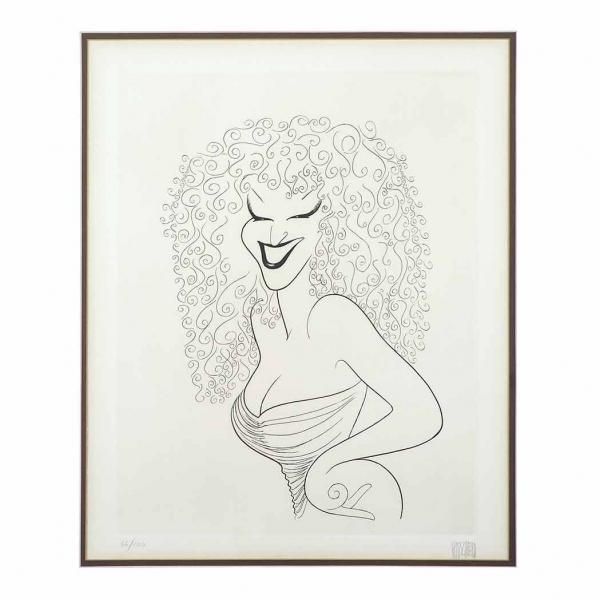 Bette Midler

Jimmy Durante as Professor Higgins

Marilyn

Broadway Trio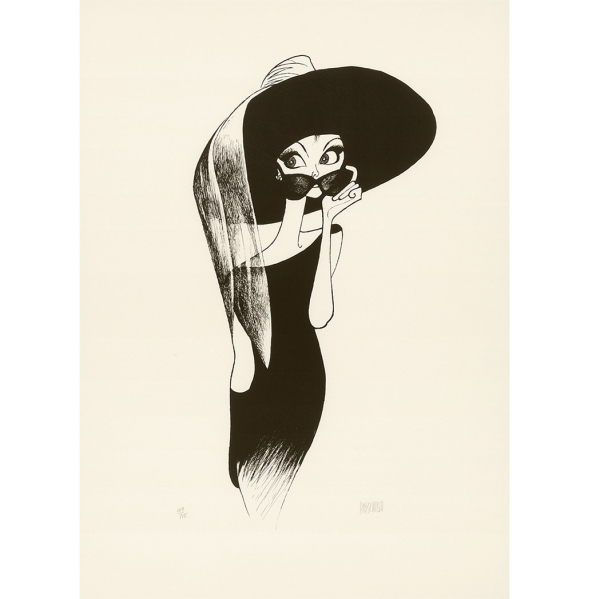 Audrey Hepburn with Hat

Bob Hope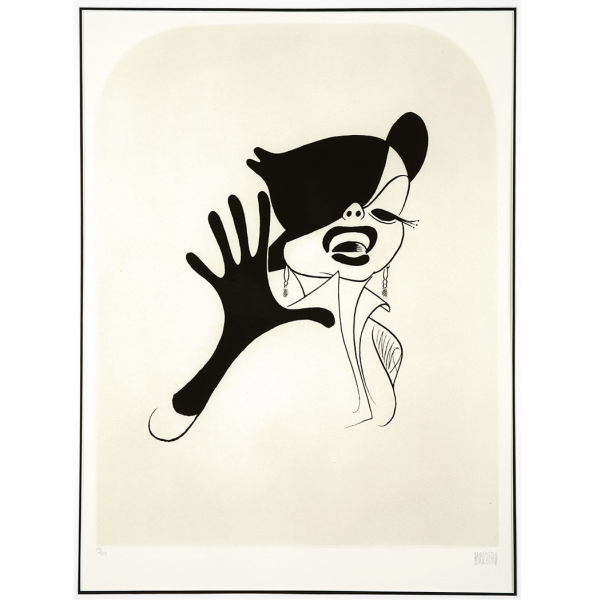 Judy Garland in Concert

Pavaratti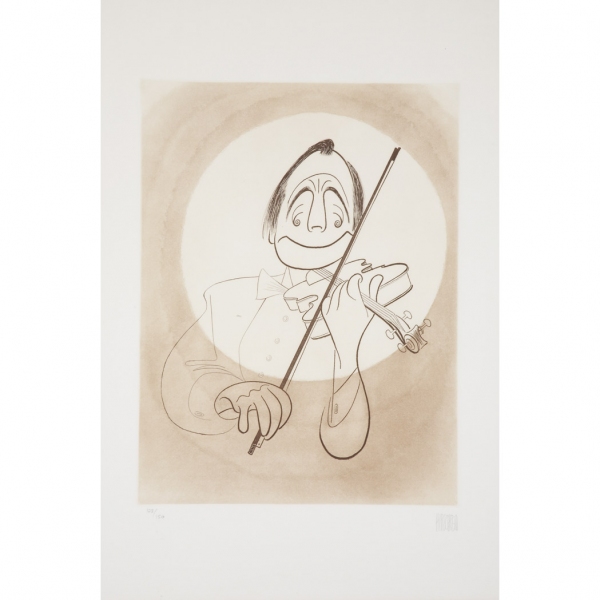 Jack Benny

Dolly Parton , Barry Manilow, Elton John, Frank Sinatra, Bing Crosby, Diana Ross, Graham Nash, Stephen Stills and David Crosby