Photo Coverage: Abingdon Theatre Company's MARATHON '33 Benefit Celebration
Abingdon Theatre Company's Marathon '33 was a star-studded celebration and special presentation of a new stage show inspired by June Havoc's 1963 play of the same title for one night only on Monday, October 19th at Webster Hall. BroadwayWorld.com's Monica Simoes, a true artist, documented the evening in her expert fashion.
As previously announced, Tony Award-winner Karen Ziemba, star of Broadway's Curtains, Contact, Steel Pier and Never Gonna Dance, participated in the evening co-directed and co-choreographed by Tomé Cousin and Peter Gregus. In the spirit of Miss Havoc's play, a cast of more than twenty performers jitterbugged and jived to the sounds of bygone days. Ms. Ziemba performed those stirring standards of the Depression Era.
The ensemble cast of MARATHON '33 included Noah Aberlin, John Alix, Lisa Anthony Biagini, Peter Brouwer, Julie Connors, Mark Stuart Eckstein, Curtis Howard, Sonia Iannetti, Scott Larsen, Steve Luker, Bill Nabel, Ron Nahass, Cassandra Palacio, Rachelle Rak, Andrew Rannells, Francis J. Roach, Kelsey Robinson, Erika Shannon, Bara Swain, Laura Swanson and Kirstin Tucker.
Joining the evening, as special guests, were the actresses who have portrayed Baby June or Dainty June, the roles based on Miss Havoc in the original Broadway cast and subsequent revivals of the landmark musical Gypsy.
Lane Bradbury, Broadway's original "Dainty June" (and an original cast member of Broadway's Marathon '33), and Merle Louise, Ms. Bradbuey's replacement in Gypsy, was on hand to celebrate Miss Havoc's life. Also attending were Jacqueline Mayro from the original Broadway cast; Bonnie Langford and Maureen Moore from the 1974 revival; Christen Tassin from the 1989 revival; Kate Reinders and Heather Tepe from the 2003 revival; and Leigh Ann Larkin and Sami Gayle from the 2008 revival.
In December, 1963, June Havoc's Marathon '33 opened on Broadway, starring Julie Harris. The play, which Miss Havoc also directed, recounted her experiences as a participant of dance marathons. In 1933, the entire country was amid the Great Depression, and unemployed, but a group of talented performers competed to see who could dance the longest -- and collect the much-needed prize money. Sixty couples began the competition. After five to six months of endless dancing, the field was narrowed to a handful. The marathoners danced for 45 minutes out of every hour, 24 hours a day. The 11-minute rest period and the two minutes to get to and from the dance floor were enough rest for the first 800 to 1,000 hours. Sleeping while leaning on one's partner was a necessity. Calluses developed after the first 500 hours. After the 1,000-hour mark, sprints, grinds and similar events occurred until contestants collapsed and fell by the wayside.
Miss Havoc, for whom Abingdon Theatre Company named its mainstage theater, began her career at the age of two as "Dainty June, The Darling of Vaudeville."
Proceeds from Marathon '33 benefit Abingdon Theatre Company. The evening is set to honor five-time Tony Award-winner Julie Harris and Abingdon Board Chairman Emeritus Margot London.
For 16 seasons, Abingdon has been a home for creative writers and loyal audiences. Abingdon is proud to foster positive collaboration by emerging, mid-term, and established artists; perpetuate dialogues between audiences and artists; engage an ever-growing and diversfying audience; and, explore the fabric of the American story. For more information about Abingdon Theatre Company visit www.abingdontheatre.org.
Photos by Monica Simoes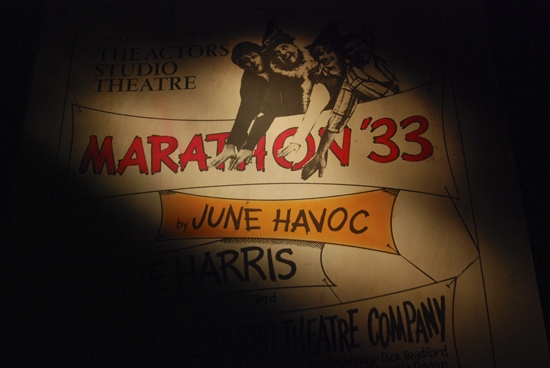 Original Poster for MARATHON '33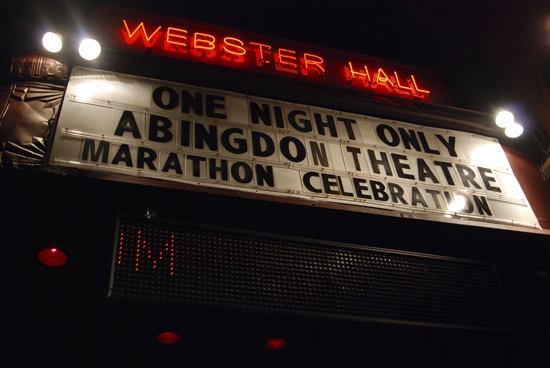 Webster Hall Marquee, Monday October 19, 2009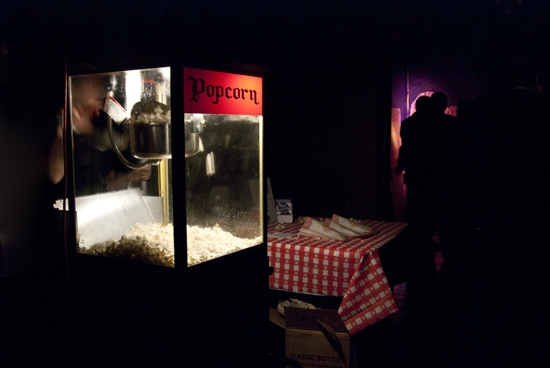 Popcorn machine

Original Scenery from the 1963 Broadway production of Marathon '33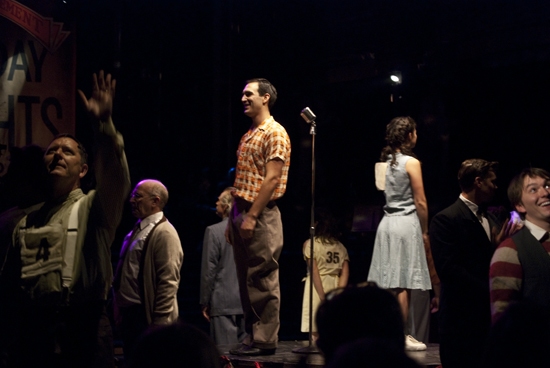 Steve Luker, Bill Nabel, Noah Aberlin and Kirstin Tucker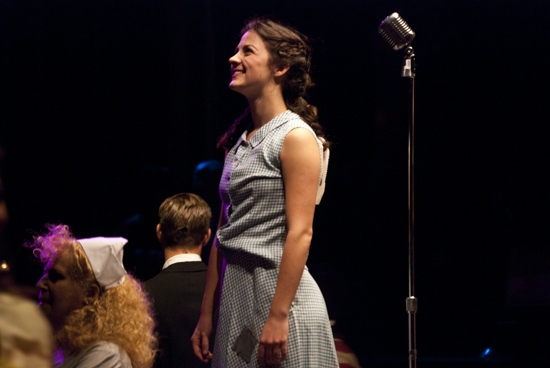 Kirstin Tucker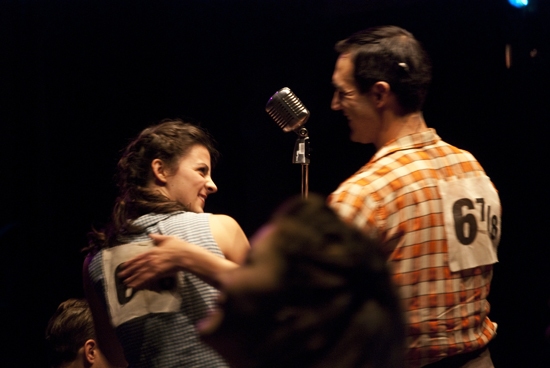 Kirstin Tucker and Noah Aberlin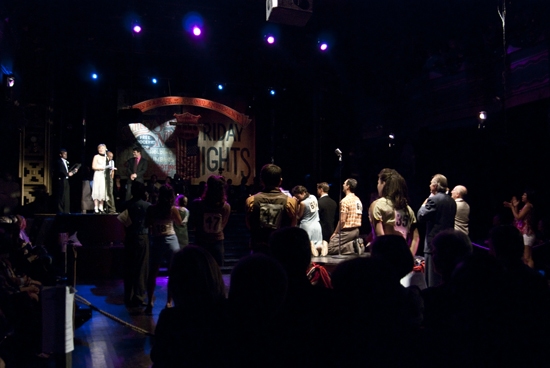 Jan Buttram, Abingdon Theatre Company Artistic Director, at microphone with the cast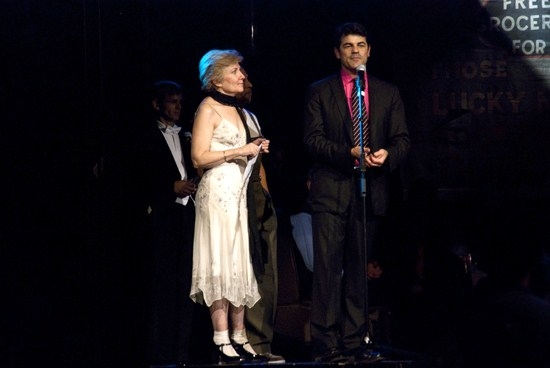 Jan Buttram, Abingdon Theatre Company Artistic Director; Peter Gregus, Co-director and co-choreographer of MARATHON '33

Jan Buttram, Abingdon Theatre Company Artistic Director; Tome Cousin, Co-director and co-choreographer of MARATHON '33

Kirstin Tucker, Tana Sibilio and Noah Aberlin

Kirstin Tucker and Noah Aberlin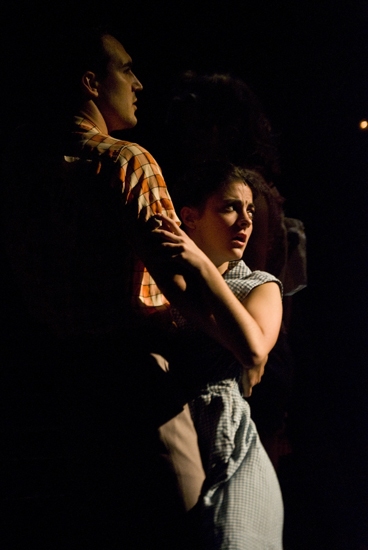 Noah Aberlin and Kirstin Tucker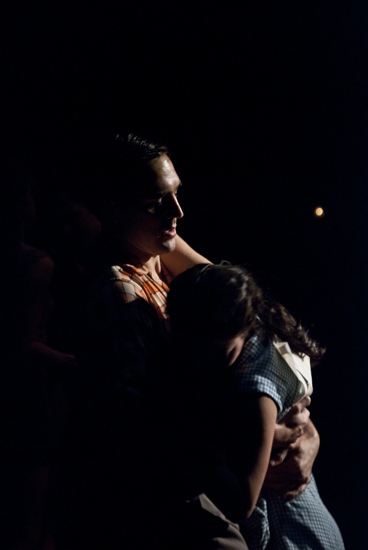 Noah Aberlin and Kirstin Tucker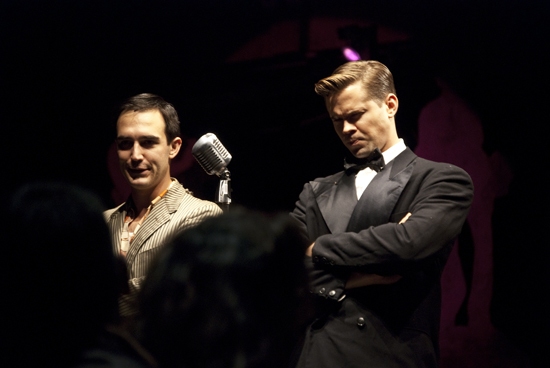 Noah Aberlin and Andrew Rannells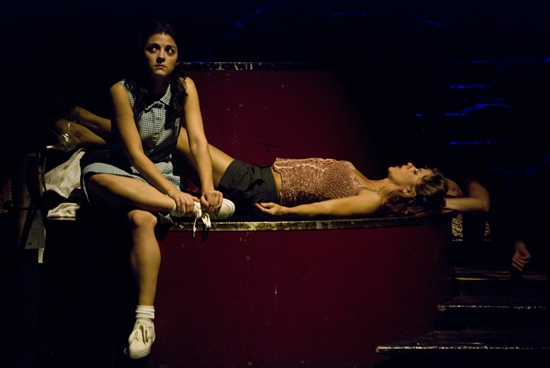 Kirstin Tucker and Rachelle Rak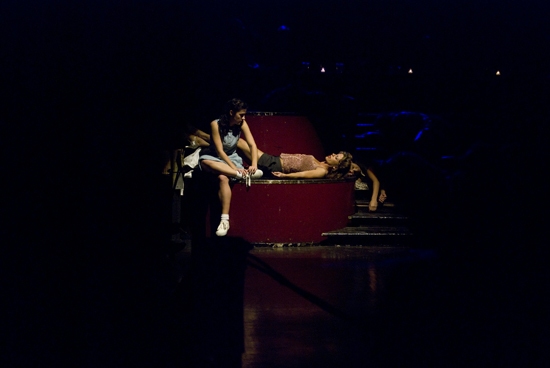 Kirstin Tucker and Rachelle Rak

Kirstin Tucker and Rachelle Rak

Rachelle Rak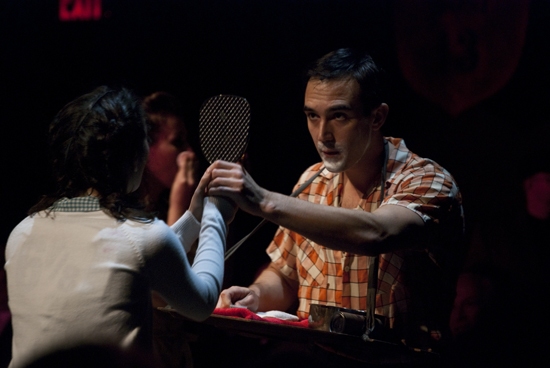 Kirstin Tucker and Noah Aberlin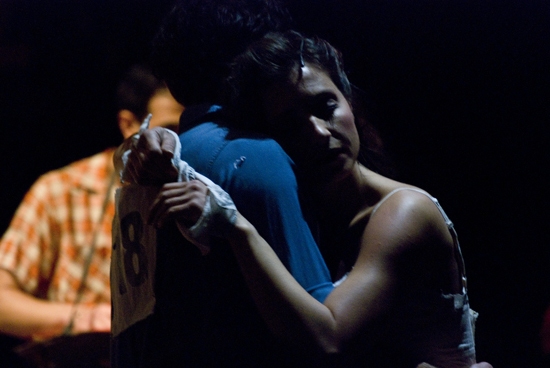 Sonia Nolfi

Erika Shannon

Andrew Rannells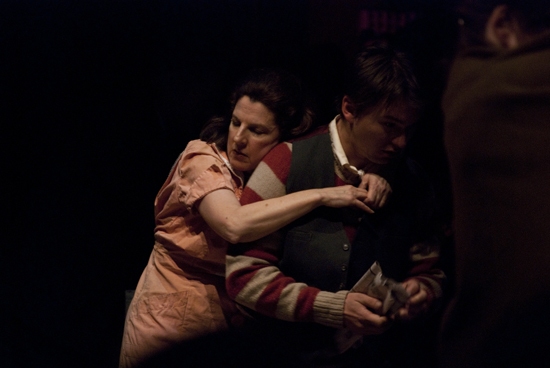 Lisa Biagini and John Alix

Curtis Howard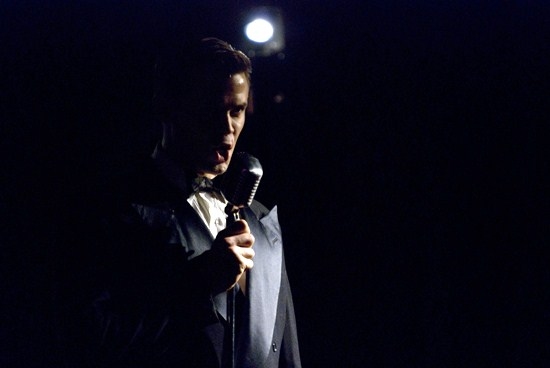 Andrew Rannells

Cast of MARATHON '33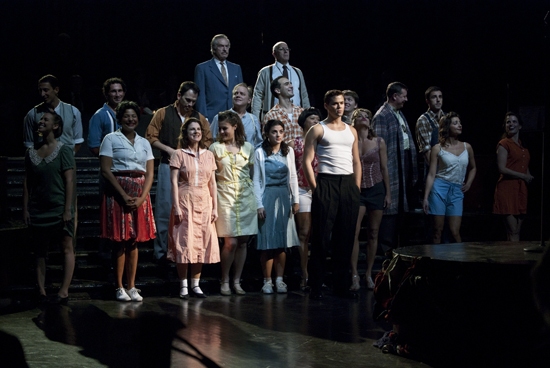 Cast of MARATHON '33

Cast of MARATHON '33

Andrew Rannells

Kirstin Tucker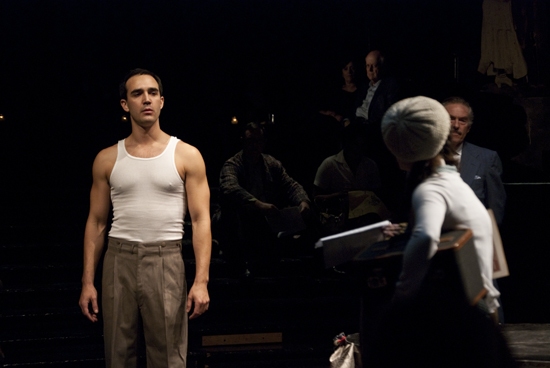 Noah Aberlin and Kirstin Tucker

Kirstin Tucker and Noah Aberlin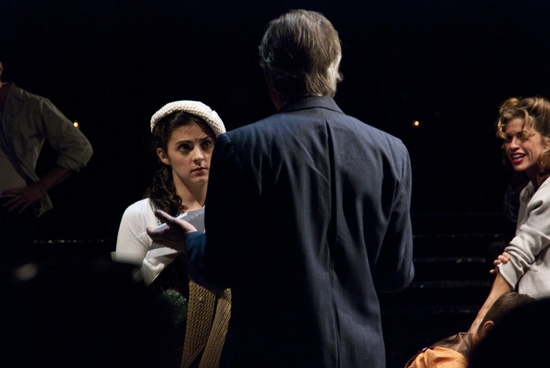 Kirstin Tucker, Peter Brouwer and Rachelle Rak

Kirstin Tucker and Peter Brouwer

Kirstin Tucker

Karen Ziemba

Guy Strobel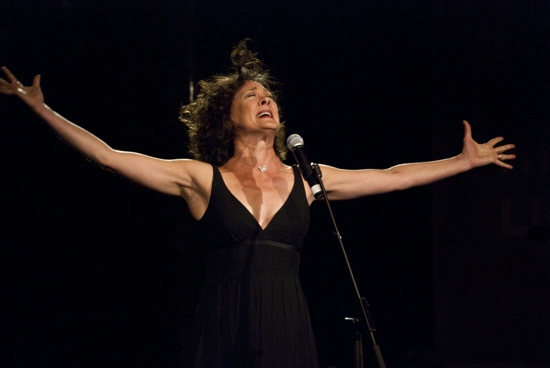 Karen Ziemba

Karen Ziemba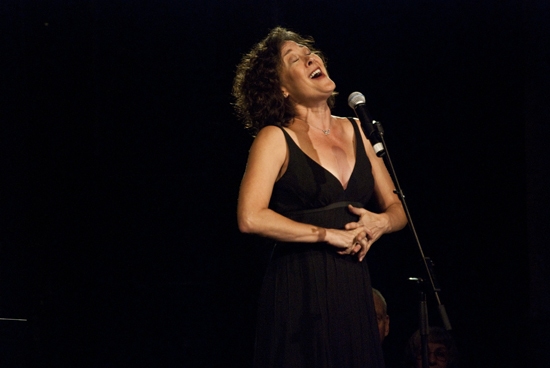 Karen Ziemba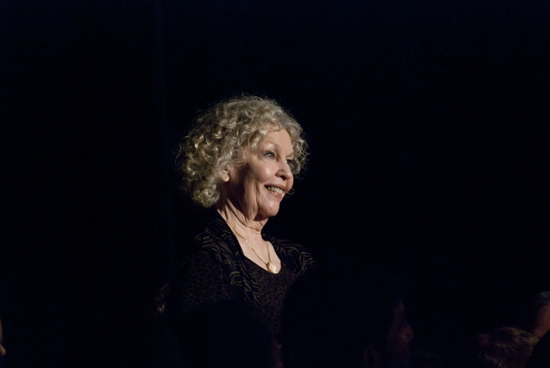 Merle Louise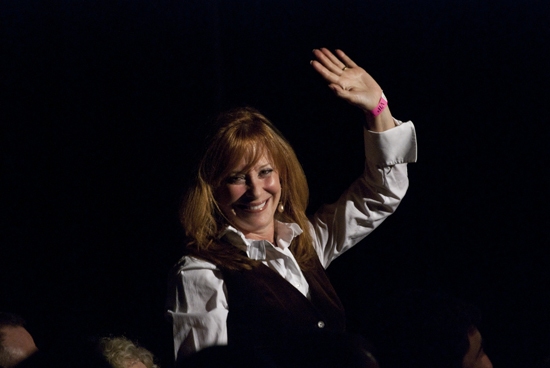 Jacqueline Mayro

Alice Playten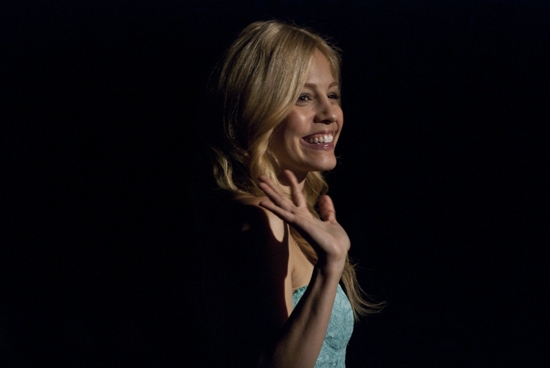 Leigh Ann Larkin

Sami Gayle

Rex Reed

Michael Deep

Original MARATHON '33 cast members Libby Dean and Lee Allen with Noah Aberlin and Kirsten Tucker

The Junes of GYPSY:? Merle Louise, Jacqueline Mayro (1959), Leigh Ann Larkin, Sami Gayle (2008), Lane Bradbury (1959), Maureen Moore (1974)
Related Articles
At a young age Monica Simoes became a fan of the stage forever. She always dreamt of being a part of theatrical magic. However, those (read more...)