Click Here for More Articles on Avenue Q
Photo Coverage: AVENUE Q Celebrates 1 Year Off-Broadway!
The Tony Award-winning AVENUE Q celebrated its first anniversary at New World Stages yesterday, October 21, 2010. After a triumphant, six-year run on Broadway, AVENUE Q continued its record of unexpected accomplishments last fall when the show's producers made the surprise announcement on the musical's Broadway closing night that they were, in fact, moving AVENUE Q to New World Stages, a mere five blocks away from the Golden Theatre, where the show had delighted audiences of all ages for more than 2,500 performances on Broadway. AVENUE Q began preview performances at New World Stages on October 9, 2009, officially opened on October 21, and continues to play to large and happy audiences one year later. BroadwayWorld was on hand for the anniversary celebration and brings you photo coverage below.
AVENUE Q is produced at New World Stages, as it was on Broadway, by Kevin McCollum, Robyn Goodman, Jeffrey Seller, The Vineyard Theatre and The New Group.
Featured in the cast of AVENUE Q - the hilarious and enormously popular musical about a group of 20-something people and puppets who live as neighbors in an outer borough of NYC - are Becca Ayers, Nick Kohn, Hazel Anne Raymundo, Howie Michael Smith, Cullen R. Titmas and Haneefah Wood.
AVENUE Q has music and lyrics by Robert Lopez and Jeff Marx, book by Jeff Whitty, and is directed by Jason Moore. Based on an original concept by Robert Lopez and Jeff Marx, with puppets conceived and designed by Rick Lyon, AVENUE Q has musical supervision by Stephen Oremus, choreography by Ken Roberson, scenic design by Anna Louizos, costume design by Mirena Rada, lighting design by Howell Binkley, and sound design by ACME Sound Partners.
Winner of three 2004 Tony Awards for Best Musical, Best Score (Messrs. Lopez and Marx) and Best Book of a Musical (Mr. Whitty), AVENUE Q became an overnight sensation on Broadway in July 2003, having transferred to the John Golden Theatre from a wildly successful, extended and sold-out engagement Off-Broadway at The Vineyard Theatre in Union Square.
During its six-plus years on Broadway, AVENUE Q played a total of 2,534 performances, surpassing such musicals as THE PRODUCERS, OKLAHOMA! and ANNIE to become, at present, the 20th longest-running show in Broadway history.
Millions of people - both young and not-so-young - have enjoyed AVENUE Q in New York, London and on national tour. As well, the musical continues to receive productions in countries around the world. The show has attracted audiences including a former President (Bill Clinton), a U.S. Senator (Hillary Clinton), celebrities including Tom Hanks, Diana Ross, Zac Efron, Kelly Clarkson, Carol Burnett, Charlton Heston, Sarah Jessica Parker and Matthew Broderick, Hillary Swank, Jennifer Aniston, Sean Penn and Judge Judy, all of whom have enjoyed the wit and wisdom of the musical with such popular songs as "It Sucks to be Me," "Everyone's a Little Bit Racist," "The Internet is for Porn" and "Schaudenfreude."
Critics love the show, too: Ben Brantley of The New York Times called AVENUE Q "A breakthrough musical of a very different stripe." In the Washington Post, Peter Marks wrote, "AVENUE Q rekindles your faith in the American musical." And Entertainment Weekly said the musical is "jaw-droppingly hilarious. One of the funniest shows you're ever likely to see.'
At the 499-seat theatre at New World Stages, AVENUE Q performs Mondays, Wednesdays, Thursdays and Fridays at 8:00pm, Saturdays at 2:30 pm and 8:00pm and Sundays at 3:00pm and 7:30 pm. Tickets range in price from $89.50 to $69.50 and are available by calling Tele Charge 212-239-6200 or www.telecharge.com. A limited number of rush tickets for $26.50 are available at the box office for each performance.
Visit the Avenue Q website at www.avenueq.com for more information.
Photo Credit: Linda Lenzi


Happy 1st. Anniversary Avenue Q @ New World Stages

Nick Kohn, Trekkie Monster, Cullen R. Titmas, Rod, Hazel Anne Raymundo, Jed Resnick, Nicky, Rob Morrison, Bad Idea Bear and Ruthie Ann Miles, Princeton, Howie Michael Smith, Kate Monster, Sarah Stiles, Lucy The Slut and Becca Ayers

Princeton, Howie Michael Smith, Kate Monster and Sarah Stiles

Princeton, Howie Michael Smith, Kate Monster and Sarah Stiles

Princeton, Howie Michael Smith, Trekkie Monster, Cullen R. Titmas, Kate Monster and Sarah Stiles

Nick Kohn and Hazel Anne Raymundo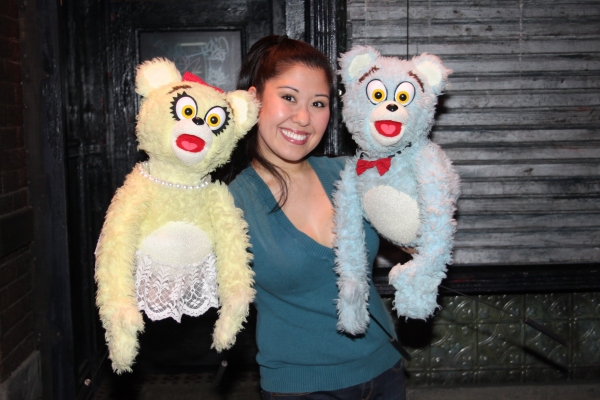 Bad Idea Bears and Ruthie Ann Miles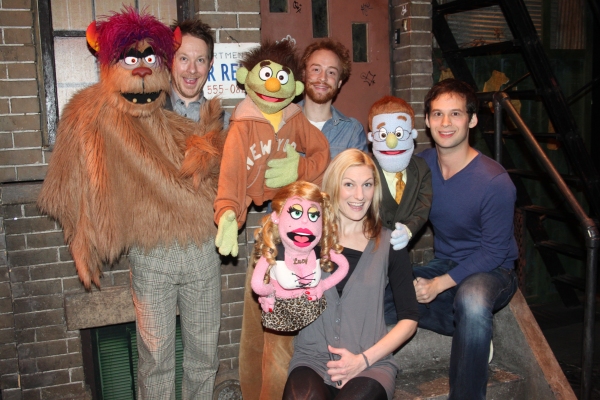 Trekkie Monster, Cullen R. Titmas, Nicky, Rob Morrison, Lucy The Slut, Becca Ayers, Rod and Jed Resnick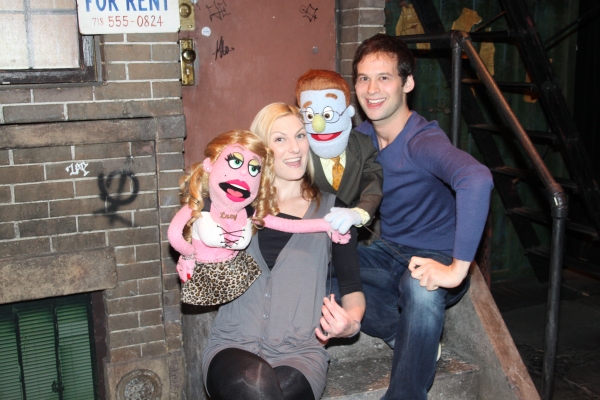 Lucy The Slut, Becca Ayers, Rod and Jed Resnick

Trekkie Monster Cullen R. Titmas Nicky, and Rob Morrison

Jasmin Walker, Nick Kohn and Hazel Anne Raymundo

Kate Monster, Sarah Stiles, Princeton, Howie Michael Smith, Lucy The Slut, Becca Ayers, Rod and Jed Resnick