Click Here for More Articles on WAR PAINT
Patti LuPone and Christine Ebersole to Sign Copies of WAR PAINT Album at Barnes & Noble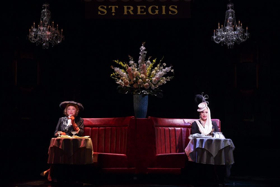 Ghostlight Records will celebrate the Original Broadway Cast Recording of the new musical WAR PAINT - starring two-time Tony Award winners Patti LuPone and Christine Ebersole - with a special in-store event at Barnes & Noble on Friday, July 14 at 2:30 PM. The recording, currently available in digital formats, will be released on CD in stores and online Friday, July 14.
LuPone and Ebersole will be featured in conversation with the show's composer Scott Frankel, followed by a CD signing. The store is located at 150 East 86th Street, between Lexington and Third Avenues on the Upper East Side. Fans who purchase the CD at the store will be offered priority seating. Wristbands will be distributed with CD purchase beginning at 9:00AM the day of the event (7/14). Please call (212) 369-2180 for details.
WAR PAINT, currently running at the Nederlander Theatre (208 West 41st Street), played a sold-out run in Chicago last summer where it became the most successful show in Goodman Theatre's history. War Paint was nominated for four 2017 Tony Awards, including "Best Actress in a Musical" for both of the leading ladies. To order the album, visit Apple Music.
A "War Paint Medley" music video featuring three of the show's most acclaimed songs - "Forever Beautiful," "Pink" and "Face to Face" - is available here. It includes exclusive footage from both the recording studio and the stage production, in addition to historical photography. You can also watch a video teaser featuring the album's first single "Back on Top" here. For more information on the album, visit www.sh-k-boom.com/war-paint.
WAR PAINT charts the legendary lives of two trailblazing women - cosmetics entrepreneurs Helena Rubinstein (LuPone) and Elizabeth Arden (Ebersole). WAR PAINT also features Tony Award nominees John Dossett and Douglas Sills. Dossett portrays Tommy Lewis, Miss Arden's husband and chief marketing officer, and Sills portrays the ambitious Harry Fleming, Madame Rubinstein's clubby confidante and faithful ally.
The cast also includes Barbara Jo Bednarczuk, Patti Cohenour, Mary Ernster, Tom Galantich, David Girlolmo, Joanna Glushak, Chris Hoch, Mary Clarie King, Stephanie Rothenberg, Erik Liberman, Barbara Marineau, Donna Migliaccio, Stephanie Jae Park, Jennifer Rias, Angel Reda and Tally Sessions.
Directed by Michael Greif (Rent, Next to Normal, Grey Gardens), WAR PAINT reunites Scott Frankel and Michael Korie-the acclaimed composer and lyricist team of Grey Gardens and Far From Heaven-with Tony Award and Pulitzer Prize-winning playwright Doug Wright (Grey Gardens, I Am My Own Wife). Choreography is by Tony Award-winner Christopher Gattelli.
The musical is inspired by the book, War Paint, by Lindy Woodhead and the documentary film, The Powder & the Glory, by Ann Carol Grossman and Arnie Reisman.
WAR PAINT tells the remarkable story of cosmetics titans Helena Rubinstein (LuPone) and Elizabeth Arden (Ebersole), who defined beauty standards for the first half of the 20th Century. Brilliant innovators with humble roots, both women were masters of self-invention who sacrificed everything to become the country's first major female entrepreneurs. They were also fierce competitors, whose 50-year tug- of-war would give birth to an industry that would forever change the face of America. From Fifth Avenue society to the halls of Congress, their intense rivalry was ruthless, relentless and legendary-pushing both women to build international empires in a world dominated by men.
WAR PAINT is produced by David Stone, Marc Platt, James L. Nederlander, Barbara Whitman, Patrick Catullo, Marcia Goldberg, Universal Stage Productions, Independent Presenters Network and Goodman Theatre.
WAR PAINT features scenic design by David Korins, costume design by Catherine Zuber, lighting design by Kenneth Posner, sound design by Brian Ronan, orchestrations by Bruce Coughlin and music direction by Lawrence Yurman.
"WAR PAINT" TRACK LIST:
1. Best Face Forward
2. Behind the Red Door
3. Back on Top
4. My Secret Weapon
5. My American Moment
6. Step on Out
7. If I'd Been a Man
8. Better Yourself
9. Oh, That's Rich
10. Face to Face
11. Inside of the Jar
12. Necessity is the Mother of Invention
13. Best Face Forward (Reprise)
14. Now You Know
15. No Thank You
16. Fire and Ice
17. Dinosaurs
18. Pink
19. Forever Beautiful
20. Beauty in the World
21. Finale
Ghostlight Records has become the leading independent force in Original Broadway Cast Recordings - building a library of over 150 records in the last 17 years, featuring some of the most successful Broadway musicals and solo albums by Broadway's brightest stars. Founded by Grammy Award winner Kurt Deutsch, Sh-K-Boom/Ghostlight has won three Grammy Awards (for The Book of Mormon, In the Heights and Beautiful - The Carole King Musical) and is a frequent nominee, most recently for the OBCR of the 2016 "Best Musical" Tony Award nominee Bright Star by Steve Martin and Edie Brickell. Other notable recent releases include the 2017 "Best Musical Revival" Tony Award nominee Falsettos, the 2016 "Best Musical Revival" Tony Award nominee She Loves Me, the 2015 "Best Musical" Tony Award nominee Something Rotten! andDisney's Newsies. The label has also released solo albums from Patti LuPone, Billy Porter, Sutton Foster, Adam Pascal, Lea DeLaria, Kelli O'Hara, Ben Vereen, Christine Ebersole and more. The label continues to support the new generation of musical theatre composers with their extensive relationships with Michael John LaChiusa and Michael Friedman, as well as Lin-Manuel Miranda, Tom Kitt, Pasek & Paul, Joe Iconis, Ryan Scott Oliver, Shaina Taub, Dave Malloy, Kerrigan & Lowdermilk and Adam Gwon. The label recently created a new joint publishing venture with Razor & Tie to represent songwriters that fuse theatrical and pop music. Sh-K-Boom Entertainment is a producer of the acclaimed film version of The Last Five Years, written and directed by Richard LaGravenese and starring Anna Kendrick and Jeremy Jordan. Visit www.sh-k-boom.com for more.
Photo Credit: Joan Marcus