Patrick Page to Return as 'Scrooge' in A MUSICAL CHRISTMAS CAROL at Pittsburgh CLO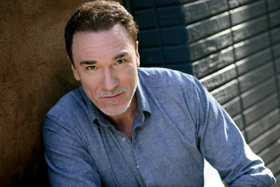 Pittsburgh CLO has announced casting for the 26th annual production of A Musical Christmas Carol, December 8-23 at the Byham Theater.
Broadway veteran and Pittsburgh CLO alum Patrick Page returns to lead the cast in his second year as Ebenezer Scrooge.
This year's production will feature lavish new costumes made possible by the support received from the Next Generation Capital Campaign.
Tickets are now available by calling 412-456-6666, online at pittsburghCLO.org or at the Theater Square Box Office.
---
ABOUT THE CAST:
Patrick Page (Ebenezer Scrooge) returns to Pittsburgh CLO after starring as Ebenezer Scrooge last year in A Musical Christmas Carol and as Fagin in Oliver! Broadway: Valentina in Casa Valentina, Buckley in Time to Kill, Adult Men in Spring Awakening, De Guiche in Cyrano De Bergerac, Green Goblin in Spider-Man, Henry VIII in Man for All Seasons, The Grinch in How the Grinch Stole Christmas, Decius Brutus in Julius Caesar, Scar in The Lion King, Lumiere in Beauty and the Beast, and The Kentucky Cycle. Other New York: Cymbeline in Cymbeline in Central Park, Max in The Sound of Music at Carnegie Hall, Marley in Christmas Carol at Madison Square Garden, Cardinal in The Duchess of Malfi at Red Bull, Aumerle in Richard II at The Public and the title role in Rex at the York Theatre. Mr. Page's regional credits span 25 years, including Associate Artist of The Old Globe Theater where roles include Cyrano in Cyrano De Bergerac (Craig Noel Award), Malvolio in Twelfth Night, Jeffrey Cordova in Dancing in the Dark (Craig Noel Award), etc. He is an Affiliated Artist with The Shakespeare Theater in DC, where roles include Coriolanus in Coriolanus (Emery Battis Award), Iago in Othello (Helen Hayes Award), Macbeth in Macbeth, etc. Mr. Page's television credits include The Blacklist, The Good Wife, Elementary, Flesh and Bone, Law and Order SVU and more.
Allison Cahill (Charity Worker/Ghost of Christmas Past/Peg) recently appeared in the following roles: Lady Bird Johnson-Tea for Three, Queen Elizabeth II-The Audience, Mother Superior-Sister Act, Mrs. Eynsford Hill-M. Fair Lady (Pittsburgh Public Theatre). Pgh CLO Productions: Oliver!, The Full Monty, Music Man, and Sound of Music. Additional credits: Pittsburgh CLO's A Musical Christmas Carol, Abigail-1776, Roxy-Chicago, Anita-West Side Story, Charity-Sweet Charity, Diana Morales-A Chorus Line.
Justin Fortunato (Fred/Businessman) returns to A Musical Christmas Carol for his 6th year. Credits include: Pittsburgh Public Theater, PICT, The REP, Primestage, St.Vincent Summer Theatre and Dream Catcher Theatre. He is the co-founder of Carrnivale Theatrics and is currently the Artistic Producing Director of Lincoln Park Center for the Performing Arts.
Daniel Frontz (Tiny Tim) is making his Pittsburgh CLO debut. Credits include Trouble in the Pittsburgh Opera and Undercroft Opera productions of Madama Butterfly and Stage 62's The Music Man. Mr. Frontz is in the fifth grade at PPS Montessori and a student at the CLO Academy.
Lisa Ann Goldsmith (Mrs. Cratchit) is back for her seventh year. Recent credits include Windfall at Arkansas Rep (directed by Seinfeld's Jason Alexander). Ms. Goldsmith has appeared locally and regionally with such companies as Pittsburgh CLO, Pittsburgh Public Theater, Primary Stages, Theatre by the Sea, and Human Race Theatre Company. She is thrilled to be playing Mary Travers (of Peter Paul & Mary) in the upcoming feature film 116 Macdougal.
Ashton Guthrie (Tom Watkins, Dick Wilkins, The Undertaker) returns to A Musical Christmas Carol after appearances in 2014, 2015 and 2016. His credits also include Guys and Dolls and M. Fair Lady (Pittsburgh Public Theater). He is a recent Point Park graduate.
Luke Halferty (Town Crier/Young Scrooge/Ghost of Christmas Yet to Come) was last seen in Pittsburgh CLO's The 39 Steps and First Date. Mr. Halferty has appeared regionally with PICT, The REP, St. Vincent Summer Theatre, Stage Right, Point Park's Conservatory Theatre Company and the All University Choir with the Pittsburgh Symphony.
Tim Hartman (Charity Worker/Businessman/Mr. Fezziwig/Ghost of Christmas Present) has been professionally acting, singing, writing, cartooning and storytelling since 1982. Broadway: A Tale of Two Cities and the Tony Award-nominated Finian's Rainbow. Favorite roles include C.S. Lewis in Shadowlands, Don Quixote in Man of La Mancha and Daddy Warbucks in Annie, and his 25th year in A Musical Christmas Carol. Film: Silence of the Lambs, The Mothman Prophecies, The Piano Lesson and The Fault in Our Stars. Mr. Hartman is also the illustrator of the new book, Discovering Gettysburg.
Jeffrey Howell (Bob Cratchit) recently appeared in Pittsburgh CLO's Newsies and Damn Yankees at Sacramento Music Circus. Other favorites: Souvenir, Choir Boy, Singin' in the Rain, The Light in the Piazza, Man of La Mancha, Lost Highway, Sunset Boulevard, Beauty and the Beast, Candide, Bells are Ringing and Mrs. Bob Cratchit's Wild Christmas Binge. Television: All My Children, The Young and the Restless Films: The Cemetery Club, Sudden Death and The Dark Half.
Daniel Krell (Marley's Ghost/Young Marley/Businessman) has appeared in over 35 productions with Pittsburgh CLO and has acted in major roles locally in theaters such as the Pittsburgh Public Theater, City Theatre, Quantum, Bricolage, PICT and The Rep; and regionally at Clarence Brown Theatre and Gateway Playhouse. Mr. Krell is also a veteran of many films, commercials, industrials and voice-overs. Up next: White Chip at City Theatre.
Julia Paladino (Missy Watkins/Martha Cratchit) counts among her favorite credits Maria in West Side Story, Luisa in The Fantasticks, Bet in Oliver! and many more, including her debut two years ago in Pittsburgh CLO's A Musical Christmas Carol.
Benjamin Pimental (Peter Cratchit/Young Scrooge's Schoolmate) is a student at CCM studying Musical Theatre. World Premiere: Tink! (Jack of the Green), Sleeping Beauty (Prince William). Regional Credits: Newsies (Finch), West Side Story (A-rab), Rock of Ages (Franz), Sweeney Todd (Anthony).
ERIKA STRASBURG (Belle/Bess) returns for her fifth year with A Musical Christmas Carol. Other local credits include Pittsburgh CLO Cabaret, Quantum Theater, City Theater, Kinetic Theater, Lincoln Park Performing Arts Center, and barebones productions. Upcoming: Hamlet at the Pittsburgh Public Theater.
Mark Tinkey (Topper, Vendors, School Master) returns to A Musical Christmas Carol, having previously played Dick Wilkins and Fred. Pittsburgh CLO credits include Shear Madness and I Love You, You're Perfect, Now Change. He has also performed with the Pittsburgh Playhouse REP company, originating the role of Joey in FBI Girl, and playing Frank in their production of All My Sons directed by Robert Miller.
Terry Wickline (Mrs. Dilber/Mrs. Fezziwig) returns to A Musical Christmas Carol for the 18th year. Favorite regional credits include M. Fair Lady, Our Town, The Importance Being Earnest (Miss Prism and Lady Bracknell), Much Ado About Nothing, The Sound of Music, Crazy For You, The Grapes of Wrath, The Music Man (Eulalie Shinn), Big River (Widow Douglas) and Jekyll and Hyde (Lady Beaconsfield). CLO Cabaret roles: Nunsense (Rev. Mother) and Always...Patsy Cline (Louise Seger). TV: Outsiders (Sally Yates). Up Next: A Devil Inside for The Rep at the Playhouse.
Magan Dee Yantko (Fan/Alice/Laundress) graduated with a B.F.A. musical theatre degree from Point Park University and has worked with Pittsburgh companies such as Pittsburgh CLO, Carrnivale Theatrics, barebones productions, Playhouse Jr. and Prime Stage.
The cast is rounded out by a host of carolers and party guests.
Brittany Graham (Caroler) returns for her sixth year with A Musical Christmas Carol. Credits include: The Musical of Musicals, Royal Caribbean Cruise Lines, Sessions (Off Broadway), The Club, Ragtime and more. She holds a BA from Point Park University. Ms. Graham and her husband, Dmitry, own Demidov Dance Ballroom Studio in Fox Chapel.
Erin Krom (Caroler) has appeared in productions at Pittsburgh Public Theater, City Theater, Playhouse on Park, Geva Theater, Cape Playhouse, Tuacahn Amphitheater, Front Porch Theatricals, Everyman Theater, Saint Vincent Summer Theater, Totem Pole Playhouse, PMT and PICT. She also has various film and television credits.
Gavan Pamer (Caroler) counts the following among his many credits: Tours of CATS (Mungojerrie), A Chorus Line, 42nd Street. Pittsburgh CLO: over 25 shows including Newsies (Roosevelt), Damn Yankees (Van Buren), Man of La Mancha (Padre), 42nd Street (Andy Lee), Joseph... (Reuben), Carousel (Heavenly Friend). CLO Cabaret: Xanadu (PSM), My Way (Choreographer), Forever Plaid (PSM). PPT: The Fantasticks (Hucklebee), Guys and Dolls (Benny Southstreet), A Grand Night for Singing (Martin). Temple Theatre: The Addams Family (Uncle Fester).
Allan Snyder (Caroler) joins the cast of A Musical Christmas Carol for the second time. He was last seen at the CLO Cabaret as Richard Hannay in The 39 Steps. Pittsburgh credits also include Daddy Long Legs (Pittsburgh Public). Mr. Snyder appeared on Broadway in Les Misérables, Off-Broadway in The Fantasticks and in the national tour of The Phantom of the Opera (often in the title role). Up next, A Funny Thing...Forum at the Public!
Several Pittsburgh CLO Academy students will also take part in the holiday production.
Joe Chufo (Turkey Boy) is a 5th grade student at Deer Lakes in his third year of studies at the CLO Academy. He is making his professional debut in A Musical Christmas Carol.
Jack Engel (Cratchit Child) first appeared in Opera Theater Pittsburgh's, The Magic Flute and is now making his Pittsburgh CLO debut in A Musical Christmas Carol. He is a student at Shady Side Academy and the CLO Academy.
Abigail Gilman (Cratchit Child) returns to the cast for the 2 nd time. Favorite credits include Jane in Mary Poppins and Sebastian in A Little Mermaid Jr. She is in her third year at the CLO Academy.
Gracie Vensel (Cratchit Child) is a Pittsburgh CLO Academy student in the seventh grade at Lincoln Park Performing Arts Charter School. Past Pittsburgh CLO appearances include A Musical Christmas Carol and Gypsy.
---
ABOUT THE CREATIVE TEAM:
David H. Bell (Technical Supervisor/Adapter) is currently the Director of the Music Theatre Program at Northwestern University and the Artistic Director of the American Music Theatre Project. Mr. Bell has worked on and off Broadway, Carnegie Hall, The Kennedy Center, and internationally. He was the Artistic Director of Ford's Theatre in Washington DC and the Associate Artistic Director of the ALLIANCE THEATRE in Atlanta (with Kenny Leon). His work in Chicago has earned him 44 Joseph Jefferson Award nominations as a director, choreographer or author (winning 11). He has also been nominated for the Olivier Award (for the London Production of his Hot Mikado).
D Martyn Bookwalter (Set Designer) has shared this 25-year journey of A Musical Christmas Carol with David Bell and the Pittsburgh CLO, having designed the original production. He has designed more than 500 productions for theaters across the country. Mr. Bookwalter was the art director of the Fox TV show "MADtv," for which he received eight consecutive Emmy nominations. Other awards include the 2001 Angstrom Lighting Lifetime Achievement Award from the L.A. Drama Critics Circle, four Drama Critics Circle awards and a Sarah Siddons Award for Design Excellence.
McCrae Hardy (Musical Director) previously served as music director/conductor for the North Carolina Theatre in Raleigh, NC from 1984-2005 as well as numerous other theatres. Currently, he is the Conductor for The Triangle Youth Symphony. He holds the Raleigh Medal of Arts "for extraordinary achievement in the arts."
Andrew David Ostrowski (Lighting Designer ) has designed approximately 250 shows in the Pittsburgh area for almost every company in this city. Credits include Salome for Pittsburgh Opera, The Play with Rocky Bleier at the Pittsburgh Public Theater.
Mariann Verheyen (Costume Designer ) has many New York credits including work at NY Public Theater, Second Stage, Hudson Guild, Cathy Rigby's Peter Pan and 10 years of commercial styling. Regionally she has designed at The Alliance, Ford's, Huntington and Studio Arena Theaters plus Missouri Repertory and Cincinatti Playhouse in the Park. Additionally, her work has been seen at the Chicago, Alabama, Oregon and Colorado Shakespeare Theaters. She has designed at Disney World's Animal Kingdom, Disney Cruise Lines, Sea World San Antonio and Viking Cruise Lines. Mariann has received numerous design awards for her work in New York City, Chicago, Boston and Atlanta and is a recipient of Distinguished Achievement Awards from both her undergraduate and high school Alma Maters. She is head of the Costume Design program at the Boston University College of Fine Arts, School of Theater.
---
In what has become A Musical Christmas Carol tradition, local choirs will perform prior to select performances. Musical groups from all over the tri-state area have the opportunity to perform on the Byham Theater stage and take part in this special holiday celebration.
The list to date includes:
December 9
12:00pm
Harrison Middle School Chior
December 15
7:30pm
Hoover Elementary Chorus
December 16
8:00 pm
Pittsburgh CLO Mini Stars & Academy Students
---
A Musical Christmas Carol will be presented at the Byham Theater (6th & Fort Duquesne Boulevard) December 8-23. Tickets range from $32.75 - $60.75 with half-price tickets for children 3-14 sponsored by The Charity Randall Foundation, and are now available by calling 412-456-6666, online at pittsburghCLO.org or at the Theater Square Box Office.
Special events available for groups include School Matinees December 8, 13-15 and 19-21, A Very Merry Meal with Lidia's Pittsburgh on December 16 and two Girl Scout Pizza Parties December 15 and 17. Our dedicated staff will help you perfect your holiday outings with A Musical Christmas Carol, from choosing a nearby restaurant, to finding a pre-show drink spot. For more information on these and other group events and discounts, call Group Sales at 412-325-1582 or email Groups@PittsburghCLO.org.
Pittsburgh CLO is also pleased to announce that together, with Beverly's Birthdays, they will conduct a toy drive during all performances of A Musical Christmas Carol. Audience members are invited to help area children in need by donating new toys at barrels stationed in the Byham Theater lobby.
Since 1946, Pittsburgh CLO has been the driving force behind live musical theater in Pittsburgh and the entire Southwestern Pennsylvania region. Under the direction of Van Kaplan since 1997, this not-for-profit arts organization appreciates the support of nearly 200,000 patrons yearly who attend its performances at three venues in the Cultural District: a seasonal subscription series at the Benedum Center, A Musical Christmas Carol at the Byham Theater and year-round shows at the CLO Cabaret. Its dedication to the musical theater art form includes educational programs such as the CLO Academy for Performance and Art, the CLO Mini Stars, the Gene Kelly Awards, the Richard Rodgers Award and The National High School Theatre Awards. As part of its new works development, the organization has been involved with 22 Broadway shows (30 Tony Awards), and in 2014 produced the world premiere of An American in Paris, on Broadway (4 Tony Awards) and in London's West End. For more information please visit pittsburghCLO.org.