Click Here for More Articles on Cirque du Soleil Paramour
PARAMOUR Will Soar to Another Venue as Broadway's Lyric Theatre Begins Renovations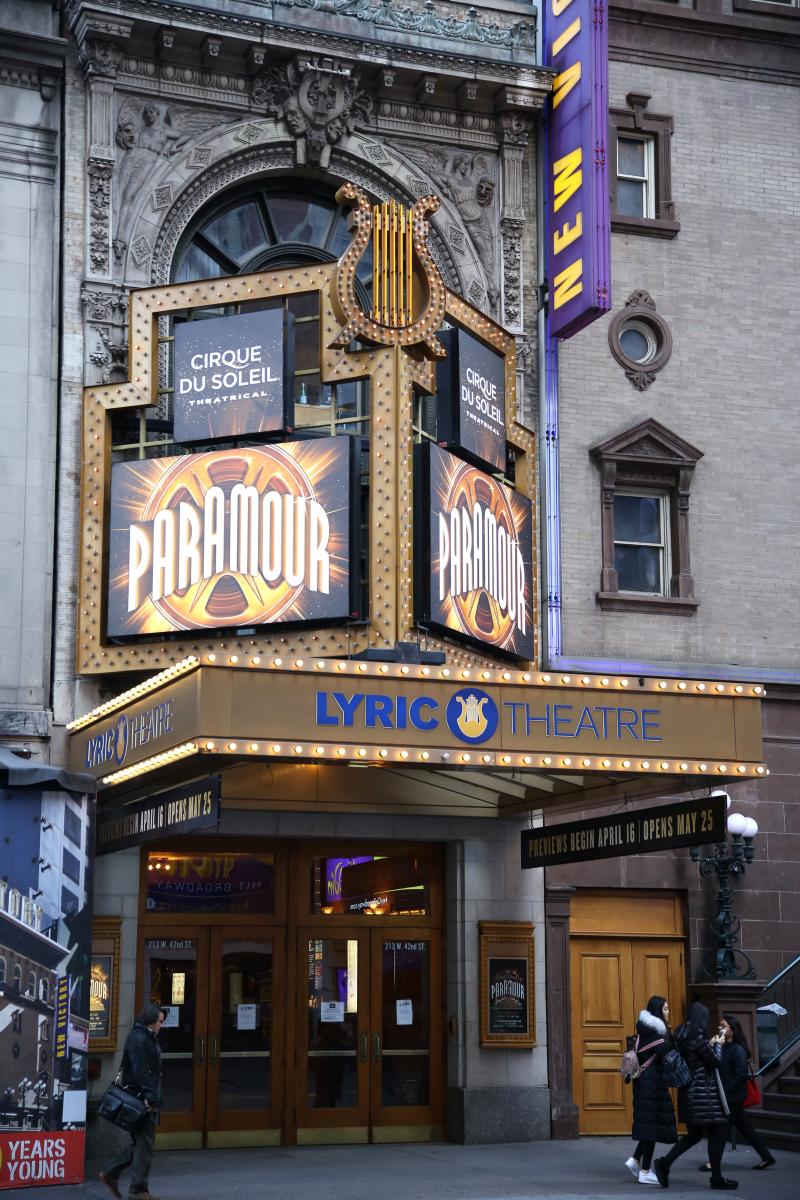 Ambassador Theatre Group has announced that the Lyric Theatre (213 West 42nd Street) will close temporarily, beginning May 2017, to undergo renovations. Cirque du Soleil Paramour will continue to perform at the Lyric Theatre until April 16, 2017, before relocating to another theater.
"We will be sad to part with Cirque du Soleil at the end of April 2017, by which time they will have completed a very successful year on Broadway. The fact that Cirque du Soleil chose to debut its first Broadway show - a great achievement - at The Lyric, was an honor for us at ATG," mentioned Mark Cornell, CEO of Ambassador Theatre Group.
Cirque du Soleil is currently in discussions with several theater owners in New York and abroad who are interested in welcoming this unique production, including Stage Entertainment for a production in Germany in 2018.
"ATG has been a great partner for Cirque in this exciting first chapter for Paramour. Following our discussions with ATG, we reached a mutually beneficial agreement and it's clear for us that our decision to move the show is the right one to ensure its long-term success," said Cirque du Soleil Theatrical CEO, Scott Zeiger.
Tickets for Cirque du Soleil Paramour at the Lyric Theatre are currently on sale through April 16, 2017.
The Ambassador Theatre Group (ATG) is the world's number one live-theater company with 45 venues in Britain, the United States and Australia, and an internationally recognized award-winning theater producer with productions in the West End and on Broadway and touring productions in the UK, North America, Europe, Australia and Asia. ATG is also the market leader in theater ticketing services through ATG Tickets, LOVETheatre and Group Line. ATG presents an average of 40 productions a year, demonstrating the unique quality and range of ATG Productions in a diverse number of theaters and markets worldwide. ATG has been behind some of the most successful and innovative productions in Britain and internationally, and has subsidiary offices in London, New York, San Antonio, Houston, Sydney, Mannheim and Cologne, Germany.
Related Articles
More Hot Stories For You