OVERHEARD AT JOE'S - The New Interactive Theater Experience, Starts 4/22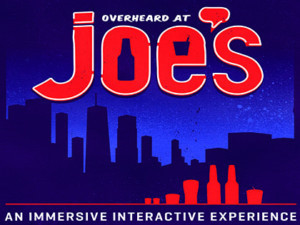 Tilted Windmills Theatricals (John Arthur Pinckard & David Carpenter) will present OVERHEARD AT JOE'S - the interactive, improvisational, theatre experience set in your local bar, created by Christian Kelty - at McHale's Bar and Grill (251 West 51st Street) starting on Sunday, April 22. Every performance includes a special musical guest; Michelle Shocked, the Grammy Award-nominated singer/songwriter, will be featured through Tuesday, May 1.
OVERHEARD AT JOE'S offers a different show every night. The audience is guided through the evening by the bartender who facilitates a funny, engaging, always topical conversation inspired by the makeup of the audience. Along with six improv actors embedded in the crowd, the ensemble creates a unique evening of immersive entertainment.
The show debuted as Joe's NYC Bar as a part of the 2001 Orlando International Fringe Festival, with seven sold-out performances. There were ten incarnations of the show between 2001 to 2004.. After a ten year absence, the show was resurrected in 2015, and returned to the 2016 Orlando Fringe to positive reviews and sold-out shows and celebrated Joe's 100th performance. That success propelled it to the Edinburgh Festival Fringe in 2016, where Joe's NYC Bar closed the festival being named by "The List" as one of the top 100 shows of the festival (#80), out of over 3000 productions. Joe's returned to Edinburgh in 2017 for a full month. Because any good bar thrives on the live performances of talented musicians, Joe's has featured unique musical performances during each show - culling from the best local talent as well as nationally recognized bands.
OVERHEARD AT JOE'S was hailed as "incredibly well conceived and executed" by British Theatre Guide and was called "A triumph of improvisation and interaction" by EdFringeReview. Orlando Weekly called the show "triumphant," with the Orlando Sentinel adding "Artistically, watching the actors is watching pros at the top of their game. Sociologically speaking, observing the audience is like peering through a window into America's soul."
The New York cast of OVERHEARD AT JOE'S includes Andy Hilbrands, Jay Malsky, Mary-Alice McNab, Sarah Nowak, Adrian Sexton, Rich Templeton, Hannah Bell, Marcus Bishop-Wright, Patrick McCartney and Christian Kelty. Adam Sullivan serves as Assistant Director. The show is produced by Tilted Windmills Theatricals (John Arthur Pinckard & David Carpenter).
OVERHEARD AT JOE'S is performed at McHale's Bar and Grill (251 West 51st Street, New York, NY 10019). The performance schedule is Sunday at 7:00 PM, Monday at 8:00 PM, and Tuesday at 8:00 PM. Tickets, which are on sale at www.OverheardAtJoes.com, and at the door one hour prior to each performance, start at $44.00.
CHRISTIAN KELTY (Creator and Director) has been a professional creative for over twenty-five years working as a writer, director and performer both nationally and internationally. His history includes tenures with the Sterling Renaissance Festival, Mad Cow Theater, Universal Orlando, Sleuth's Mystery Dinner Theatre, University of Central Florida and Walt Disney World. As the creator of Joe's NYC Bar, Christian has hired and directed over 75 actors in 20 different episodes and was one of the founding members of the Temenos Ensemble Theatre. Temenos was a non-profit theater company that was at the forefront of the revitalization of Downtown Orlando's West Side. Christian has also been an active participant in the Orlando International Fringe Festival since 2001 and his credits include Joe's NYC Bar, Obscenity, Matador, Boy's Own Jedi Handbook, Godot Arrives, The Karate Guy, Ironhead, The Boy Who Stole the Sun, Something's Weird in Weeki Wachee, and Acrobat. In December he wows audiences across Central Florida with his semi-legendary punk rock xmas band, Bad Santa and the Angry Elves.
Tilted Windmills Theatricals (Producer) is a producing partnership between David Carpenter and John Arthur Pinckard. They are represented Off Broadway with Puffs or: Seven Increasingly Eventful Years at a Certain School of Magic & Magic, currently running at New World Stages. In May, the show will make its Australian premiere and will be broadcast around the country from Fathom Events. the company's mission is to be a disruptive, forward-thinking innovator that presents fresh, unexpected, and culturally current theatre for both the seasoned arts patron and the audiences of tomorrow. David Carpenter's Broadway career has taken him from industry powerhouse Dodgers Theatricals (Jersey Boys, Matilda) to DreamWorks Theatricals. John Arthur Pinckard's producing career began over a decade ago with the cult festival hit Silence! the Musical. Soon he won the prestigious T. Edward Hambleton Fellowship for Creative Producers from Hal Prince, the 21-time Tony Award winning producer and director whose 60 years of hits range from Fiddler on the Roof to Phantom of the Opera. John's work as an independent producer has garnered him four Tony Award nominations and two wins, for Clybourne Park and A Gentleman's Guide to Love & Murder.
MICHELLE SHOCKED is a traveling troubadour whose musical talent is so eclectic it is difficult to categorize. As a young feminist, she left Texas to travel, Kerouac-style, and was caught up in Reagan-era grassroots politics. Her musical career was ignited by a bootleg recording made around a Kerrville Folk Festival campfire on a Sony Walkman.A career veteran, Michelle famously escaped major-label indentured servitude in 1996, subverting the artist-label relationship that helped lead to the current trend toward artistic self-containment. She has made good use of her independence, releasing more critically-acclaimed albums on her Mighty Sound label. Her 2009 album, Soul of My Soul, is the most recent. In 2010, she launched Roadworks, a 5-year touring project curating audience favorites while developing her current work-in-progress, Indelible Women. "Michelle Shocked" is the nom de guerre given at her arrest in a political protest called "The War Chest Tour" during the 1984 Democratic National Convention in San Francisco, California. The demonstration challenged the practice of U.S. corporations receiving lucrative military contracts from the U.S. government while giving generous campaign contributions to both political parties, thus benefiting from political favors regardless of election results. "Michelle Shocked" was intended to invoke the specter of "shell shock" as a result of Reagan's Cold War policies. Michelle is a three-time Grammy nominee and crusader in the copyfight for artists' rights.
Related Articles
More Hot Stories For You