Nikki Blonsky Leaves STUFFED Off-Broadway Following Illness; Opening Night Bumped to Halloween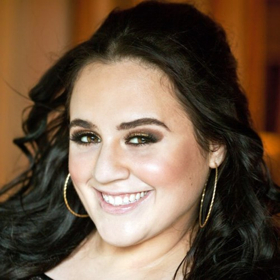 Nikki Blonsky will depart the cast of Stuffed at the Westside Theatre. Due to an illness during a crucial stretch leading up to previews, Blonsky was not able to get sufficient rehearsal time and, as a result, she and the show's creative team have mutually decided to part ways.
"I am so so sorry Nikki had to leave the production," playwright and star Lampanelli said. "When we cast her as 'Marty,' the confident plus-sized girl in the show, I was over the moon because Nikki Blonsky embodies that character to a T. Unfortunately, for us and for her, the timing put us behind schedule, and the two of us agreed this was for the good of the show. I will always love and admire Nikki and what she represents, and I really hope we can work together on something in the future. Nothing would tickle me more. And you know me -- I don't tickle easily."
"STUFFED is the first script in a long time that reached out and grabbed me by the heart," Blonsky said. "But while I'm sad not to continue with the play this time around, I want what's best for it and my castmates, who are beautifully telling this story and connecting to audiences every night. This play means so much to me: its humor, its heart, and its incredible message. I look forward to cheering it on while continuing to work on additional projects, like my upcoming film and jewelry line with HSN."
Understudy Lauren Ann Brickman will perform the role of "Marty" beginning tonight, October 12. Permanent replacement casting for the role will be announced shortly.
"We have some big shoes to fill," Lampanelli said, "but we're confident we'll find our 'Marty.'"
Opening night, originally scheduled for October 19, will now take place on October 31, 2017 at the Westside Theatre (Downstairs, 407 West 43rd Street), following a limited NYC run last fall at WP Theater.
STUFFED currently stars Lisa Lampanelli, Marsha Stephanie Blake (NYTW's Othello, Orange is the New Black) and Eden Malyn (Orange is the New Black), with understudies Dionne Audain (Top Ten), Lauren Ann Brickman (Upright Citizens Brigade, Story Pirates), and Angela Janas (Hamlet, Rosencrantz, and Guildenstern Are Dead). Jackson Gay (These Paper Bullets!) directs.
The four characters in Stuffed are a lifelong dieter, a bulimic, a confident overweight gal, and a permanent size-zero. The play features Lampanelli's famously irreverent voice, signature wit, and an extra-large scoop of razor-sharp insight into the crazy-making world of our relationships with food. With Lisa onstage, alongside a talented cast,STUFFED doesn't shy away from tough questions like: Is eating an ice cream sandwich in the shower as emotionally fulfilling as it sounds? When it comes to jeans, what's better -- muffin top or camel toe? And, if Oprah, the most powerful person in the world, can't conquer her food issues, what can the rest of us do but laugh as we try?
The creative team for Stuffed includes set design by Antje Ellermann (Stuffed, Dear Elizabeth), costume design by Jessica Ford (These Paper Bullets), lighting design by Amith Chandrashaker (FADE, [PORTO]), sound design by Elisheba Ittoop (Duat), and casting by Stewart/Whitley. Additional material was contributed to the play by Ashley Austin Morris.
The New York premiere of Stuffed was produced in 2016 by WP Theater, formerly known as Women's Project Theater (Lisa McNulty, Producing Artistic Director, Maureen Moynihan, Managing Director) and directed by Jackson Gay.