New York Musical Festival (NYMF) Announces Final Production, Readings And Concerts For 2018 Festival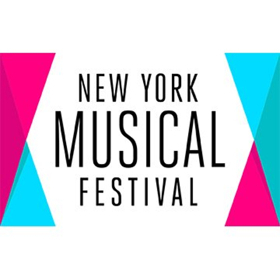 The New York Musical Festival (NYMF) announced today further selections for 2018 NYMF. The final invited production as well as a series of developmental readings and concerts will join the initially announced Next Link Projects. Now in its fifteenth year, the 2018 Festival will take place July 9th through August 5th at locations on West 42nd St. in New York City. Dan Markley serves as NYMF Executive Director and Rachel Sussman serves as Producing Artistic Director.
NYMF Passes are now on sale and offer discounted tickets, early ticket booking, and priority seating. Pass redemption for 2018 NYMF will begin Thursday, May 31st. Single tickets will go on sale on Thursday, June 14th. Visit nymf.org/tickets for more information.
FINAL 2018 NYMF INVITED PRODUCTION SELECTION:
'68: A NEW AMERICAN MUSICAL
Book and Lyrics by Jamie Leo; Music by Paul Leschen
A fiercely original work, inspired by the volatile events of the 1968 Democratic Convention and their place in history and our future. Albee Fellow Jamie Leo's book and lyrics chronicle citizens in collision with history, airborne by award-winning composer Paul Leschen's authentic, unforgettable score, honoring the 50th anniversary of the Convention. '68 forges a narrative, a eulogy and a celebration of struggle-of research librarians, hotel housekeepers, street cops, campaigners, protesters and community organizers at the center of the storm.
Learn More: nymf.org/68
2018 NYMF READINGS:
BRAD KNOWS NOTHING
Book and Lyrics by Jacob Ben-Shmuel & Alan Blake Bachelor; Music by Jacob Ben-Shmuel
Brad Knows Nothing is the story of - you guessed it - Brad, a high school senior who doesn't know very much. When he finds himself utterly unprepared for his final history report, he enlists the help of his friend Chad, and together they weave the tale of the time traveler Captain Bradimus as he sails on his Time Boat in a desperate search for glory and acclaim.
Learn More: nymf.org/bradknowsnothing
THE CIVILITY OF ALBERT CASHIER
Book by Jay Paul Deratany; Music by Joe Stevens and Keaton Wooden; Lyrics by Joe Stevens, Keaton Wooden and Jay Paul Deratany
The astonishing true-story of a Civil War soldier whose life defied definition. Albert Cashier fought for the Union, received honors, and retired to Illinois. Now 60, Albert begins to suffer from dementia - and as they slip between the past and the present, a life-long secret is discovered: Albert was born Jennifer Hodgers.
Learn More: nymf.org/albertcashier
HEALING RETREAT: A LIFE OF JOY
Book by Marcus Terrell Smith; Music by Robbie McDonald; Lyrics by Robbie McDonald & Marcus Terrell Smith
Joy, a down-on-her-luck, overweight housewife, has resigned herself to a life of regret and unfulfilled potential. But when Niev Lapel comes to town - a spiritual healer made famous when she received supernatural powers from aliens in the woods - Joy is determined to take one final stab at getting what she deserves. Healing Retreat: A Life Of Joy, is a visionary, third-eye opening masterpiece that speaks to the universal role we play in forging our own destinies. Take a deep f*ckin' breath and embark on a healing retreat!
Learn More: nymf.org/healingretreat
HELD: A MUSICAL FANTASY
Book and Lyrics by Kelly Maxwell; Music by Meghan Rose
Three friends - Mera the soldier, Bardo the baker, and Korin the Dreamer - have been trapped by an unknown Blood Wizard who has kept them suspended in time. The only escape is into memory, where they put together the pieces that solve the mystery of their captor's identity. A magnificent musical fantasy that takes place in another world-one also beset with unrequited love and impossible love triangles. The music transports you on a score of beautiful harmonies and sad refrains that seem to make you miss people that you have never met.
Learn More: nymf.org/heldmusicalfantasy
ILLUMINATI LIZARDS FROM OUTER SPACE
Book by Paul Western Pittard; Music by Yuri Worontschak; Lyrics by Paul Western Pittard and Yuri Worontschak
Conspiracy, narcissism, aliens, eugenics, fake news and alternative truth. Sound familiar? In the zeitgeist? This musical is the 21st Century Rocky Horror except it's much more "rocky" and much more "horrible"... and much, much more outrageous. Let's face it we all deserve something to escape to. But are we really escaping reality or are we just a part of a grand vortex of alien lizardry wizardry? Join us and find out.
Learn More: nymf.org/illuminatilizardsouterspace
LEGACY THE MUSICAL
Book, Music, and Lyrics by November Christine
Hip-hop meets history in this new musical about Martin Luther, the Father of the Protestant Reformation. Who is the man behind the myth? Saint or sinner? Hero or heretic? You be the judge.
Learn More: nymf.org/legacythemusical
MYTHOS: THE CRIMSON CHORUS
Book and Lyrics by Heather Jopling; Music by David Velarde
An arrogant vampire is cursed to love and lose the same human for all eternity. Will they find redemption or be forever cursed? Vanity, vengeance and vampires reign supreme in this original dramatic rock opera. With a powerful rock orchestral score, Mýthos weaves an atypical fable. Through diverse casting & fluid character portrayals, Mýthos challenges conventional expectations of attraction. Each performance will be cast uniquely - abandoning the traditional to embrace the alternative. Come out and enjoy a little bite with us!
Learn More: nymf.org/mythos
SATURDAYS
Book by Walker Caplan; Music and Lyrics by Scott Etan Feiner
A young father Eric and his wife Kathleen are hiding something from their anxious, environmentally conscious teenage son, Noah. Noah thinks Eric is an avid birdwatcher, but that bird watching is a cover story to hide the fact that Eric spends his Saturdays as a talented drag queen. On the day that Noah is to receive a big award, Noah starts to discover what's been lurking beneath the surface.
Learn More: nymf.org/saturdays
STORMING HEAVEN: THE MUSICAL
Book by Katy Blake, Peter Davenport; Music by Katy Blake, Flip Anderson, Tracy Lawrence, Peter Davenport; Lyrics by Katy Blake, Flip Anderson, Tracy Lawrence, Peter Davenport
In the dangerous world of early 20th century West Virginia coal country, Carrie Bishop, a mine nurse, is torn between love for her husband and a union organizer. All three are swept up in the fight for their lives, as the war between mine-owners and striking workers rages on around them. Miners struggle to attain basic human rights while Carrie fights to discover her true purpose.
Learn More: nymf.org/stormingheaventhemusical
VICTORY TRAIN
Book, Music and Lyrics by David Buskin & Jake Holmes
Victory Train tells the story of a group of draftees serving in an army entertainment unit in Georgia during the Vietnam War. The unit's show and its GI director Rick have aroused the enmity of the Colonel, who is looking for an excuse to shut down what he considers to be an ill-conceived outfit of misfits and shirkers. Rick meets Julie, who is a member of a radical anti-war group responsible for increasingly violent protests. Julie is repelled by the gung-ho message Rick and his show are putting out, but she can't ignore her increasing attraction to him. She urges him to use the platform of the show to advocate for a fairer social contract and an end to an illegitimate and cruel war. Rick resists...until the assassination of Martin Luther King, Jr. changes the conversation, once again.
Learn More: nymf.org/victorytrain
WONDER BOI
Book, Music, and Lyrics by J. Jarrett
Wonder Boi tells the story of Jackson, a college student who is navigating his identity as both a transgender man and as a superhero. When Jackson and his sister, Peyton, take a mysterious drug, Jackson gains the powers of super strength, the ability to fly, and self-healing. However, Peyton has an adverse reaction and her brain begins to decay. As the siblings attempt to save their campus from ultimate destruction, they must re-evaluate their relationships to their bodies, brains, and to each other.
Learn More: nymf.org/wonderboi
2018 NYMF CONCERTS:
DEFY YOUR EXPECTATIONS
Music and Lyrics by Riley Thomas
Is it just another musical theater concert? You decide. Riley Thomas brings his unique blend of contemporary musical theater infused with pop, rock, and jazz to push the boundaries of what musical theater can be about. A high-energy, humorous revue of snapshots from shows and stand-alone tunes. Accompanied by Broadway talent, Thomas will trick you into feeling something while you're tapping your toe to the beat.
Learn More: nymf.org/defyyourexpectations
FATTY FATTY NO FRIENDS
Book by Christian De Gré, Joseph Anderson & Serrana Gay; Music by Christian De Gré; Story by Serrana Gay; Lyrics by Joseph Anderson
Fatty Fatty No Friends is the story of a kid. The skinny kids hated him, no matter what he did. They taunted him until he took revenge without amends. It was a tasty lesson for Fatty Fatty No Friends.
Learn More: nymf.org/fattyfattynofriends
GIRL FROM NOWHERE
Book by Victoria Rigby; Original Music and Lyrics by Lauren Pritchard; Developed and Directed by Whitney Mosery
After a sold-out run at London's Other Palace and a hit production at the Edinburgh Fringe, concert musical Girl From Nowhere crosses the pond to make its U.S. debut. It's Texas, 1969 and the country is bursting with the vibes of peace, love and rock 'n' roll. Fronting a rock band and raising some hell, Jeannie Hogan's a disgrace to her mother and having the time of her life. ?That is, until she's dragged back to the oppressive small-town values of a home she's outgrown. Stuck once again out in the remote Texas desert, Jeannie stews behind a locked door, desperate to escape - but she has a confession to make first.
Learn More: nymf.org/girlfromnowhere
LIVING HISTORY: AN INSIDE LOOK AT SHOW TIME! THE FIRST 100 YEARS OF THE AMERICAN MUSICAL
Created, Written, and Performed by Ben West; Musical Continuity and Arrangements by Fran Minarik
Writer-performer Ben West offers a sneak peek and discussion of his upcoming documentary musical, SHOW TIME! THE FIRST 100 YEARS OF THE AMERICAN MUSICAL, which premieres Sept. 13 at the Theatre at Saint Peter's. SHOW TIME! tells the story of a uniquely American art form, charting its evolution from the mid-1800s thru 1999, and featuring more than two dozen songs that shaped the canon. This NYMF concert, moderated by a special guest, includes a glimpse at the show's four-year development, and a preview of three sequences from the new musical.
Learn More: nymf.org/livinghistory
The previously announced lineup of Next Link and invited productions for 2018 NYMF includes BAD ASS BEAUTY - A ROCK OPERA; BETWEEN THE SEA AND SKY; EMOJILAND; IF SAND WERE STONE; INTERSTATE; PEDRO PAN; PETER, WHO?; SONATA 1962; THE GUNFIGHTER MEETS HIS MATCH; WHAT'S YOUR WISH; and AN AMERICAN HERO: A WWII MUSICAL.
For a full list of productions, events, and concerts, visit NYMF.org.