New Podcast 'SMASH Bros' Revisits Broadway TV Show SMASH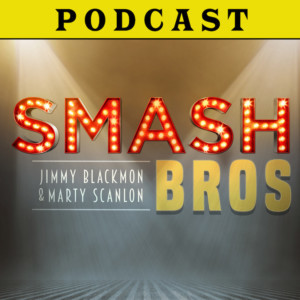 In one of the most exciting pieces of Karen Cartwright-related news this Broadway season, a new podcast about the TV show Smash premiered today, June 25, 2018. Its hosts are New York-based writer/actor/comedians Marty Scanlon and Jimmy Blackmon. They're joined each week by luminaries from the worlds of Broadway, television, and comedy.
For five years, America has been itching for two straight white men to watch every episode of NBC's musical drama Smash, to break it down to the minute details and find what made it such a glorious mess of a show. To suck the very marrow out of Bombshell: The Marilyn Monroe Musical!
Marty and Jimmy's guests include Grey Henson (Tony Nominee, Mean Girls), Natalie Walker (writer/performer, Vulture.com), Jason Grote (writer, Smash, Mad Men), Jeff Hiller (Bright Colors and Bold Patterns, Bloody Bloody Andrew Jackson, UCB), and many many more!
More important than any of this, they have made a pact to get Brian d'Arcy James on the podcast and give him a chance to sing, which Smash never did.
"If we never get Brian d'Arcy James on the show," says co-host Marty Scanlon, "I swear to God, we will burn this whole podcast down and become RISE Guys."
New episodes drop on the Equity dark day of Monday. They can be found at www.SmashBros.fun, and on Apple Podcasts, Spotify, Stitcher, or your podcast app of choice.