New Juilliard Ensemble, Led By Joel Sachs, Performs Contemporary Works On April 1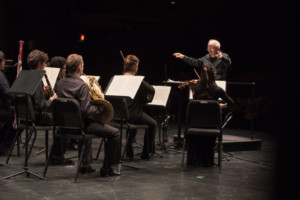 The New Juilliard Ensemble (NJE), led by founder and director Joel Sachs, performs world premieres by Juilliard alumnus Ross S. Griffey and current student Sato Matsui alongside works by Polish composer Zygmunt Krauze, and Finnish composer and Juilliard alumnus Jukka Tiensuu on Monday, April 1, 2019, at 7:30pm in Alice Tully Hall.
The program features Griffey's Night Music (2019); Krauze's Canzona (2011), in honor of his 80th birthday, with pianist Edoardo Turbil; Tiensuu's Hou (2012) with violinist Max Tan; and Matsui's Kinokonoko (2019). Griffey's Night Music and Matsui's Kinokonoko were commissioned by the New Juilliard Ensemble through its annual audition for Juilliard composition students and will receive their premieres at this concert.

Free tickets are available at juilliard.edu/calendar.
About the Composers and the Program
Ross S. Griffey (MM '14, DMA '18, composition), born in Houston in 1990, is the recipient of several national and regional awards, including an ASCAP Morton Gould Young Composer Award, first prize in the Voices of Change/Dallas Symphony Orchestra Texas Young Composers Project, and first prize in the New York Composer Circle Competition. At Juilliard, he studied with Samuel Adler and Robert Beaser. His bachelor's degree is from Rice University. Griffey wrote his dissertation about the NEA's programs supporting composers. Subsequently, he was named Albi Rosenthal visiting fellow in music at the University of Oxford's Bodleian Libraries; he was the first composer to hold the position. The result of this fellowship is a new song cycle about 19th-century Arctic exploration which will be premiered at the Oxford Lieder Festival in October. Griffey's Night Music receives its premiere at this concert. The composer writes: Night Music loosely depicts several concepts associated with night and sleep. The work is in three movements: Dream, Chorale, and Lullaby.

Zygmunt Krauze, born in Warsaw, Poland in 1938, studied composition and piano at the Frederic Chopin Academy of Music in Warsaw and with Nadia Boulanger in Paris. An active teacher, he has given seminars and master classes in composition and contemporary music performance in Poland and at centers of new music including Darmstadt, Basel, Stockholm, Los Angeles, Tokyo, Jerusalem, and Hong Kong. In 1967, he founded the Warsaw Music Workshop Ensemble, serving as its artistic director and pianist for two decades. Krauze has been professor of composition at the Music Academy in d since 2001 and at the Frederic Chopin Music University in Warsaw since 2006. He has composed six operas, instrumental concertos, symphonic and chamber works, and spatial compositions in collaboration with architects. His music is published by Durand (Paris), Universal Edition (Vienna), and PWM (Warsaw) and it has been recorded on many labels. His recent compositions include Declaration, for 14 instruments, 2 voices and electronics, which is based on the Declaration of Human Rights 70 years after its creation; and Francesco, for organ and Baroque ensemble, which was premiered in Gda sk by the Goldberg Baroque Ensemble in October 2018. He is currently working on a children's opera, Yemaya The Queen of the Sea, which will be premiered in June at the Wroclaw Opera House. Krauze has won honors in Poland, Chile, and France, where he has been named Chevalier de l'Ordre des Arts et des Lettres and appointed to the National Order of the L gion d'honneur. Canzona, for instrumental ensemble, was composed for and premiered by the Asko/Schoenberg Ensemble in Holland. In 2012, the New Juilliard Ensemble have its first performance outside Europe.

Finnish harpsichordist, pianist, conductor, and composer Jukka Tiensuu ('73, composition) was born in Helsinki in 1948 and studied at Juilliard; the Sibelius Academy as a student of Paavo Heininen; and the Freiburg Hochschule with Brian Ferneyhough and Klaus Huber; and at IRCAM, Paris. His compositions have been performed at important international contemporary music festivals on three continents and broadcast worldwide. Commissions have come from IRCAM/Ensemble InterContemporain, Goethe Institute, Nordic Music Countil, L'Itineraire (Paris), Helsinki Philharmonic Orchestra, Finnish Broadcasting Company, and others. Tiensuu has been president of the Finnish section of the International Society for Contemporary Music and artistic director of the Helsinki Biennale (1979 to 1983, now known as Musica Nova Helsinki). He also was founder and artistic director of the Time of Music international festival and summer academy of contemporary music in Viitasaari. Tiensuu's Tango Lunaire was performed on Juilliard's Focus festival in 1993; other compositions have been performed by the New Juilliard Ensemble. Hou, for violin and chamber ensemble, was commissioned in 2012 by the Koussevitzky Music Foundation for New Paths in Music in New York.

Born in Chitose, Japan in 1991, Sato Matsui (MM '17, composition) is a New York-based composer and collaborator whose musical language is influenced by traditional Japanese sonorities as well as her training as a classical violinist. Her current projects include a commission from Juilliard flute faculty member Carol Wincenc for her 50th anniversary, a concerto for flutist Stephanie Kwak, as well as the scoring of Shakespeare's As You Like It, which will be presented by Juilliard Drama and directed by Ian Belknap at the Stephanie P. McClelland Drama Theater in May. Matsui is a C.V. Starr Doctoral Fellow at Juilliard, where she also earned her master's degree as a student of Robert Beaser. She received her BA from Williams College, where she studied composition with Ileana Perez-Velazquez, violin with Joana Genova, and conducting with Ronald Feldman. In 2019, Matsui was named a recipient of the Charles Ives Prize. The composer writes: "Kinokonoko means mushroom child in Japanese. It is also a play on words since, the original meaning of kinoko (mushroom) is 'tree child.' The piece is a contemplation of the life cycle of a mushroom child as it grows, decomposes, and proliferates in perpetuity. The mushroom child spends most of its life underground, only coming into its recognizable state of fruition near the end of its life. The work is in three movements: Earthly birth, Decomposition, and Forest of a thousand.

About Joel Sachs
Joel Sachs, founder and director of the New Juilliard Ensemble, performs a range of traditional and contemporary music as conductor and pianist. As co-director of the internationally acclaimed new music ensemble Continuum, he appeared in hundreds of performances in New York, nationally, and throughout Europe, Asia, and Latin America. He has also conducted orchestras and ensembles in Austria, Brazil, Canada, China, El Salvador, Germany, Iceland, Mexico, Switzerland, and Ukraine, and has held new music residencies in Berlin, Shanghai, London, Salzburg, Curitiba (Brazil), Newcastle-Upon-Tyne (U.K.), Helsinki, and the Banff Centre (Canadian Rockies). One of the most active presenters of new music in New York, Sachs founded the New Juilliard Ensemble in 1993. He produces and directs Juilliard's annual Focus! festival, and has been artistic director of Juilliard's concerts at New York's Museum of Modern Art (MoMA) since 1993. A member of Juilliard's music history faculty, Sachs wrote the first full biography of the American composer Henry Cowell, which was published by Oxford University Press in 2012. Sachs often appears on radio as a commentator on recent music and has been a regular delegate to numerous international music conferences. A graduate of Harvard, Sachs received his PhD from Columbia University. In 2011, he was made an honorary member of Phi Beta Kappa at Harvard for his work in support of new music, and he received the National Gloria Artis Medal of the Polish Government for his service to Polish music. In 2002, he was given Columbia University's Alice M. Ditson Award for his service to American music.

About Max Tan
Born in Rockville, Maryland, Taiwanese-American violinist Max Tan (Pre-College '11; MM '17) has performed as soloist with the Juilliard Orchestra, Longwood Symphony, Harvard-Radcliffe orchestras, and others, appearing on prominent stages in the U.S. and Europe. An active chamber musician, he has participated in festivals including Yellow Barn, Ravinia Steans Music Institute, and Perlman Music Program. Devoted to advocacy and global citizenship, Tan has joined the artist rosters of the Si-Yo Music Foundation, the Center for Musical Excellence, and Music for Food. He is faculty assistant to Catherine Cho at Juilliard, where he is an artist diploma candidate. A Harvard graduate with a major in human developmental and regenerative biology and a minor in music, he earned his MM at Juilliard as a student of Catherine Cho and Donald Weilerstein. Tan just received the 2019 Foote Prize from the Harvard Musical Association. He hold the Celia Ascher Artist Diploma Fellowship.

About Edoardo Turbil
Turin-born Edoardo Turbil began his piano studies at age 4. At 16, he received his piano diploma at the Alessandria Conservatory under the guidance of Maria Tipo. He then studied at the Fiesole Music School and Ferrara Conservatory with concert pianist Andrea Lucchesini. In 2016, he earned his MM from Manhattan School of Music in the studio of Solomon Mikowsky. The recipient of several awards and prizes, Turbil has performed extensively throughout Europe and the U.S. as a solo pianist and with orchestra. In 2016 he entered Juilliard's C.V. Starr doctoral program in the studio of Yoheved Kaplinsky.

About the New Juilliard Ensemble
The New Juilliard Ensemble, led by founding director Joel Sachs and now in its 26th season, presents music by a variety of international composers who write in the most diverse styles. The ensemble was a featured ensemble four times at the Lincoln Center Festival and appears annually at MoMA's Summergarden (which unfortunately will not take place this summer due to MoMA's four-month closure due to construction of new galleries). It has given world premieres of some 100 compositions and U.S. premieres of many others. Concerts in the 2017-18 season included music by John Woolrich, Gerald Barry, Raminta erk nyt , Akira Nishimura, Mauricio Kagel, Giya Kancheli, Shuci Wang, Liu Sola, Sunbin Kim, Kolbeinn Bjarnason, Alejandro Cardona, and Jonathan Dawe. In 2014, the New Juilliard Ensemble collaborated with Carnegie Hall on UBUNTU: Music and Arts of South Africa. A highlight of the 2013-14 season was a collaboration with the Royal Philharmonic Society's Bicentennial Celebration with the U.S. premieres of works by Magnus Lindberg and Judith Weir. In 2012, NJE collaborated with Carnegie Hall on Voices From Latin America; in 2011, with Carnegie Hall's Japan/NYC festival; and in 2009, with Carnegie Hall's Ancient Paths, Modern Voices festival. The New Juilliard Ensemble performs in Juilliard's Focus! festival; recent Focus! editions have included: China Today: A Festival of Chinese Composition (2018); Our Southern Neighbors: The Music of Latin America (2017); Milton Babbitt's World: A Centennial Celebration (2016); and Nippon Gendai Ongaku: Japanese Music Since 1945 (2015). NJE opened the 2019 Focus festival, On the Air!: A Salute to 75 Years of International Radio Commissioning.
Related Articles
More Hot Stories For You
Confirmed: Billy Porter Will Play the Fairy Godmother in Upcoming CINDERELLA Film
BroadwayWorld recently reported on a rumor that Billy Porter would be joining the cast of the upcoming Cinderella film from Sony, starring Camila Cabe... (read more)

DVR Alert: Lin-Manuel Miranda Will Appear on Tonight's SATURDAY NIGHT LIVE
This just in! Lin-Manuel Miranda will appear on tonight's episode of Saturday Night Live!... (read more)

HAMILTON's Miguel Cervantes and Family Mourn Passing of Three Year-Old Daughter, Adelaide
BroadwayWorld is saddened to report that Miguel Cervantes, who plays Alexander Hamilton in Chicago's Hamilton, and his wife, Kelly,  have confirmed th... (read more)

Ben Platt Reveals Further Details About Upcoming MERRILY WE ROLL ALONG Film
Further details have been revealed for the upcoming Merrily We Roll Along film, starring Ben Platt and Beanie Feldstein.... (read more)

Photo Flash: First Look at Renee Fleming, Dove Cameron, Brian Stokes Mitchell, and More in THE LIGHT IN THE PIAZZA
L.A. Opera presents The Light in the Piazza! Get a first look at the production in the photos!... (read more)

Photo Flash: First Look at Jonathan Groff & More in LITTLE SHOP OF HORRORS
LITTLE SHOP OF HORRORS, starring Jonathan Groff, Tammy Blanchard and Christian Borle, opens October 17 at The Westside Theatre (407 W. 43rd St, NYC), ... (read more)