Click Here for More Articles on NEW YORK CITY
NYMF's 2017 Gala to Fete Marsha Norman and Charlie Fink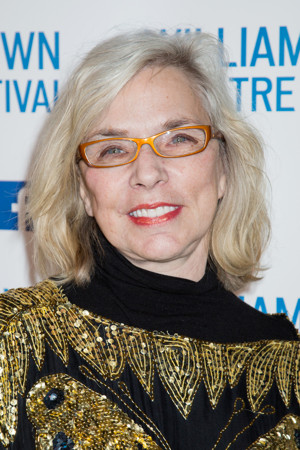 The New York Musical Festival (NYMF) will honor Pulitzer Prize, Grammy and Tony Award-winning writer Marsha Norman and NYMF Board of Directors Chair Charlie Fink at its 2017 Gala on Sunday, November 12 at the Edison Ballroom in Midtown Manhattan (240 W 47th St, New York, NY 10036).
"Marsha Norman is a treasure of the American theater, and her seminal contributions to the contemporary canon as playwright, librettist, and lyricist will stand as classics for years to come. As a preeminent teacher of theatrical writing and prolific creator of new musicals, she embodies the ideals of NYMF's mission to ensure the future vitality of musical theater," said Dan Markley, Executive Director of the New York Musical Festival. "Similarly, Charlie Fink has brought unbridled passion to our organization for more than a decade as a member of our board, particularly as Chair for many years. His energy, evangelism, and generosity have helped ensure NYMF's status as a fixture of the cultural landscape of New York City," added Markley. "We could not be more proud or excited about the opportunity to celebrate both Marsha and Charlie on November 12th."
"Musicals are about joy. Musicals are about the conflict of two worlds and how that conflict is resolved. Musicals can show you the inside of a person - the heart side, the largeness that we contain inside of us, and can get around any defense anybody can put up. And this is why I'm writing musicals now. But you can't write a musical alone. You and your collaborators can't write a musical without help. And the help that comes at the beginning from NYMF is exactly what you need at the beginning of any wonderful musical." said Marsha Norman.
"I am delighted to be honored by NYMF alongside the great Marsha Norman", said Charlie Fink. "After ten years serving on the NYMF Board of Directors, including three as Chairman, I am leaving with great pride and tremendous confidence in the institution we built together. The show must go on, and NYMF will continue to vigorously pursue its mission of supporting new work and the art form we hold so dear."
Each November, NYMF holds a gala celebrating the year's artistic triumphs and honoring select individuals whose work has contributed to the continued vitality of musical theater. Held at the beautiful Edison Ballroom, a historic Times Square landmark, this one of a kind event is attended by an exclusive group of musical theater enthusiasts, Broadway artists, and leading members of the theater industry. The evening will begin with a cocktail reception and silent auction, after which guests will be treated to a gourmet meal and a star-studded show.
The honorees will be celebrated via performances by Broadway stars and NYMF alumni in an evening of entertainment directed by Shelley Butler (Assoc. Director, Broadway - Beautiful: The Carole King Musical; A Doll's House Part 2 - South Coast Rep) and West Hyler (Georama, Cirque du Soleil's Paramour). Performers and presenters for the evening will be announced shortly.
For more information on purchasing gala tickets, visit www.nymf.org/gala.
Since 2006, Charlie Fink has produced over 30 readings, workshops, festival and off-Broadway productions of new musicals. He is the Producing Artistic Director of the not-for-profit New Musical Foundation, and currently serves as Chairman of the Board of the New York Musical Festival, of which he is the longest-tenured board member, with over ten years of service. Charlie's passion for new work began at Disney in 1986 where he supervised the development of the historic animated musicals Beauty and the Beast, Aladdin, and The Lion King, which was based on his original idea, "Bambi in Africa". In real life, Charlie is a former tech executive who writes about virtual reality and new media for Forbes and other publications.
Marsha Norman is a Pulitzer Prize, Tony, Drama Desk, Blackburn, Grammy, and Peabody winner for her work in theater, film, and television. Ms. Norman won the 1983 Pulitzer Prize, Blackburn Prize, Hull-Warriner, and Drama Desk Awards for her play 'Night, Mother. In l992 she won a Tony Award and a Drama Desk Award for her book for the Broadway musical, The Secret Garden. She also wrote the book for the Broadway musical, The Color Purple; she received a Tony nomination for the original production, and a Tony Award for the 2016 Revival. She won a Peabody Award for her writing on the HBO television series, "In Treatment," starring Gabriel Byrne and Dianne Wiest. Her most recent work is the adaptation of The Trumpet Of The Swan: A Novel Symphony For Actors And Orchestra, with music conducted and written by Jason Robert Brown.
Her television and film credits include "'Night, Mother," starring Sissy Spacek and Anne Bancroft, "The Laundromat," starring Carol Burnett and Amy Madigan; "The Pool Hall," starring James Earl Jones; "Face Of A Stranger" starring Gena Rowlands and Tyne Daley; "Cooler Climate," starring Sally Field and Judy Davis; "Audrey Hepburn," "Custody Of The Heart," and most recently, "Samantha, An American Girl." She spent one year as Co-Executive Producer of "Law And Order: Criminal Intent," and wrote the Gina episodes of Season 2 of HBO's "In Treatment." The Trumpet of the Swan: A Novel Symphony for Actors and Orchestra, written by Jason Robert Brown and Marsha Norman, was released by TRW and PS Classics on June 22, 2011.
Most recently, she received the William Inge Distinguished Lifetime Achievement in Theatre Award, and the Career Achievement Award from the Dramatists Guild of America, and teaches Playwriting at Julliard and Musical Book at Yale.
Shelley Butler's recent productions include the world premiere of Lucas Hnath's A Doll's House Part 2 at South Coast Repertory and the Japanese premiere of Beautiful: The Carole King Musical at the Imperial Theatre in Tokyo. She has developed over two dozen new plays and musicals at companies including NYMF, Ars Nova, Primary Stages, E.S.T., Women's Project, Hartford Stage, South Coast Repertory, Denver Center Theatre Company, Geva, New York Stage and Film, Dallas Lyric Stage, PlayPenn, New Dramatists, the Lark, New Georges, Dixon Place, The Playwright's Realm and Keen Company. Shelley is the recipient of a Drama League Directing Fellowship, a 2005 Director's Guild of America Trainee, a member of SDC, the Lincoln Center Directors' Lab and the Women's Project Directors Lab. Shelley spent two seasons as artistic associate in charge of new play development for Hartford Stage and three seasons as artistic associate for Great Lakes Theater Festival. Upcoming: Human Error by Eric Pfeffinger for the Denver Center Theatre Company.
West Hyler is thrilled to be working with the New York Musical Festival, having directed three productions with the Festival and the gala in 2013. Directing work includes Cirque du Soleil Paramour (Broadway), iLuminate (New World Stages), Mortality Play, Wingman, Kid who would be Pope (Ars Nova), H2O (59E59), Avenue Q (State Puppet Theater of Bulgaria), Getting My Act Together, Game of Love (York Theater Company), Tempest, Love's Labours Lost, Merry Wives of Windsor (Notre Dame Shakespeare Festival), The Disappearing Man (St Louis Rep, Musical Theater Factory), No Way to Treat a Lady (The Colony Theater), Flambe Dreams, The Awakening of Angel DeLuna, (New York Musical Festival) and Georama (NYMF; winner of 5 NYMF awards including "Outstanding Direction"), amongst others. He was the associate director of Jersey Boys (Worldwide) and How the Grinch Stole Christmas (Broadway). As a writer/director his work includes Paramour (Storywriter- Broadway), Georama (co-book writer- St Louis Rep, Great River Shakespeare Festival, NYMF), Legendarium and Metamorphosis (Big Apple Circus, Lincoln Center), Panda! (Beijing State Theater, Palazzo Hotel and Casino), Chandelier (Celebrity Cruise Lines), and A Jake and A Tom (Hollywood International Film Festival, Charleston International Film Festival).
New York Musical Festival (NYMF) nurtures the creation, production, and public presentation of stylistically, thematically, and culturally diverse new musicals to ensure the future vitality of musical theater.
Now entering its 15th year, the Festival is the premier musical theater event in the world. The preeminent site for launching new musicals and discovering new talent, the Festival provides an affordable platform for artists to mount professional productions that reach their peers, industry leaders, and musical theater fans. More than 90 Festival shows have gone on to productions on and Off-Broadway, in regional theaters in all 50 states, and in more than 20 countries worldwide. Festival alumni have received a wide array of awards including the Tony Award and the Pulitzer Prize. In 2013, NYMF received a special Drama Desk Award in recognition of its work "creating and nurturing new musical theater, ensuring the future of this essential art form."
New York Musical Festival is a 501(c) (3) not-for-profit organization. NYMF is supported, in part, by an award from the National Endowment for the Arts, by public funds from the New York City Department of Cultural Affairs, and by the New York State Council on the Arts, a state agency.
The 2017 New York Musical Festival took place July 10 - August 6. Submissions are currently open for the 2018 Next Link Project. One of NYMF's flagship programs, the Next Link Project, is open to any writer - produced or unproduced, with or without agency representation. Every script and demo recording is evaluated by numerous members of NYMF's Reading Committee, and then by a Grand Jury of leading industry professionals. The selected participants receive entrepreneurial training, career networking opportunities, dramaturgical support, and other services culminating in a subsidized production in the 2018 Festival. Early Bird Submissions end on Oct 11 at 11.59pm EST. Find out more and apply at nymf.org/nextlink. For more information, visit www.nymf.org.