NYFOS Opens 2018-19 Season With A Celebration Of W. C. HANDY And The Birth Of The Blues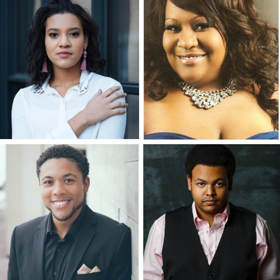 NEW YORK FESTIVAL OF SONG opens its 2018-2019 season with W. C. Handy and The Birth of the Blues. NYFOS celebrates W. C. Handy, often referred to as the "Father of the Blues," and his vast influence as a prominent African-American composer and publisher in the early 20th century.

Performers:
Shereen Pimentel, soprano
LUCIA BRADFORD, mezzo-soprano
JOSHUA BLUE, tenor
Justin Austin, baritone
Steven Blier and JOSEPH LI, pianists

And special guests
Vince Giordano and Scott Robinson, brass and reeds

Steven Blier, musical director | Elliott Hurwitt, program consultant
Wednesday, November 14, 2018, 8:00 p.m. (Two days before Handy's 145th birthday)
Merkin Concert Hall at Kaufman Music Center
129 West 67th Street

$20-$62 from the Merkin Box Office:
212-501-3330 or kaufmanmusiccenter.org
Complimentary reception with the artists to follow

From NYFOS Artistic Director Steven Blier: "For some years now I've been thinking about the blues, that most American of musical genres. The idea took shape when Elliott Hurwitt, one of our country's foremost scholars of early blues, suggested that we focus on W. C. Handy, who not only composed classics like "Memphis Blues' and "St. Louis Blues," but also founded a publishing empire that preserved and disseminated these tunes for the first time. Elliott's expertise-and his amazing collection-have been a beacon for me. I knew that Handy's music would vividly evoke the life and culture of African-Americans in the first half of the 20th century. The surprise was how contemporary his art remains, speaking directly to our times. I've been thrilled to see how these songs have fired the enthusiasm of my cast, four superb artists with big voices, big souls, and big personalities. For all of us, W. C. Handy is about both a bygone world and the world we live in now."

Born in Alabama in 1873, the son of former slaves, Handy took the blues from a regional style with a limited audience to a new level of popularity. In 1912 he wrote and published the first commercially successful blues, "Memphis Blues." In 1914, he made his fame writing and publishing "The St. Louis Blues," which was recorded more times than any other jazz standard of the 20th century.

2018 marks the centennial of Handy's arrival in Times Square. He moved his publishing company there from Memphis in 1918, which was a big deal for an African American from the south at the time. "He couldn't even rent a desk until the white vaudevillians began dropping by looking for his songs," remarks Elliott Hurwitt, a music historian specializing in the works of W. C. Handy, who helped NYFOS put together this program. In other Handy news, a feature-length documentary about the legend was released last year (watch the trailer here).

Among the many treasures on the NYFOS program is "Mister Crump," a 1909 political campaign song Handy wrote, satirizing a bully named Ed Crump who unexpectedly won that mayoral election. The tune is the basis for "Memphis Blues" (NYFOS will perform both). In the words of Elliott Hurwitt: "Crump rhymes with something but I can't remember what. Let's just say it's a timely song."

In addition to many Handy songs, NYFOS will perform several spirituals, and works by three of W. C. Handy's rivals: Shelton Brooks, Jelly Roll Morton and Clarence Williams (Handy and Williams were both African-American music publishers in the 1920's).

A compelling young cast brings these songs to life, including the radiant, versatile soprano Shereen Pimentel, one of the youngest singers ever featured at NYFOS. Currently an undergraduate at The Juilliard School, she made her Broadway debut at age 9 in The Lion King. British-American tenor Joshua Blue, who recently appeared with the Washington National Opera as Alfredo in Traviata, slayed audiences in NYC and Hudson last season in NYFOS's PROTEST show. The Brooklyn Rail wrote: "Joshua Blue's performance of Fats Waller and Andy Razaf's 'Black and Blue' was nothing short of extraordinary." Also last season, mezzo Lucia Bradford, a Brooklyn native, was featured in NYFOS's all-Bernstein program in NY and DC. Washington Classical Review praised her "huge passion, luscious voice and formidable dramatic flair." In last year's Bernstein concert, baritone Justin Austin also showed a rare power and creativity in American song, with a winning combination of warmth and rhythm.

Joining this cast is a group of first-class musicians: Vince Giordano, bassist and leader of the great New York band The Nighthawks; Scott Robinson, one of the most gifted brass and reed players in the city; and the dazzling pianist Joseph Li, now head of the Baylor University opera department in Waco, Texas. NYFOS's own inimitable Steven Blier will host from the piano "with his disarming blend of knowledge, wit, and humility" (Opera News).

"W. C. Handy is a potent reminder of our country's essence. He's bringing me home to a place I recognize and love, and I think he will do the same for our audience," states Blier.

Related Articles
More Hot Stories For You