Met Opera Conductor James Levine Let Go Following Accusations of Sexual Abuse and Harassment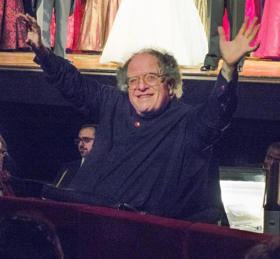 The New York Times reports that The Metropolitan Opera has fired conductor James Levine following "credible evidence" that Mr. Levine had engaged in "sexually abusive and harassing conduct."
James Levine is primarily known for his tenure as Music Director of the Metropolitan Opera, a position he held for 40 years (1976-2016). Allegations in 2017 of sexual assaults in the past led the Met to suspend its relationship with him and to cancel any future engagements by Levine.
He has made numerous recordings, as well as television and radio broadcasts, with the Met. Levine has also held leadership positions with the Ravinia Festival, the Munich Philharmonic, and the Boston Symphony Orchestra. In 1980 he started the Lindemann Young Artists Development Program, and he has often trained promising singers, conductors, and musicians for professional careers.
After taking an almost two-year health-related hiatus from conducting from 2011 to 2013, Levine retired as the Met's full-time Music Director following the 2015-16 season to become Music Director Emeritus.
The New York Times report notes more than 70 people came forward with allegations or information regarding his abuses. Read the full New York Times report here.
The Met released a statement regarding the allegations:
After considering the findings of a thorough investigation conducted by outside counsel that lasted more than three months, the Metropolitan Opera has terminated its relationship with James Levine as Music Director Emeritus and Artistic Director of its young artist program.
The investigation uncovered credible evidence that Mr. Levine had engaged in sexually abusive and harassing conduct both before and during the period when he worked at the Met. The investigation also uncovered credible evidence that Mr. Levine engaged in sexually abusive and harassing conduct towards vulnerable artists in the early stages of their careers, over whom Mr. Levine had authority. In light of these findings, the Met concludes that it would be inappropriate and impossible for Mr. Levine to continue to work at the Met.
The investigation also found that any claims or rumors that members of the Met's management or its Board of Directors engaged in a cover-up of information relating to these issues are completely unsubstantiated.
We thank the more than 70 individuals who were interviewed during the course of the investigation.
We recognize the great concerns over these issues that have been expressed by the Met community both inside and outside of the opera house, and wish to provide the assurance that the Met is committed to ensuring a safe, respectful and harassment-free workplace for its employees and artists.
Related Articles
More Hot Stories For You
Andrea Bocelli Will Stream A Live Performance From The Duomo In Milan On Easter Sunday
On Easter Sunday, April 12, Italian tenor and global music icon Andrea Bocelli will give a solo performance at the historic Duomo, the cathedral of Mi... (read more)

AMC Theaters May Never Reopen Due to Credit Score Decline
According to The Wrap, AMC Entertainment's credit rating has gone down to CCC- from B, which takes the company from a?oehighly speculativea?? to a?oeD... (read more)

Disney on Broadway's 25th Anniversary Concert Will Be Streamed to Raise Money For BC/EFA's COVID-19 Emergency Assistance Fund
The one-night-only benefit 'Celebrating 25 Magical Years of Disney on Broadway' will be streamed to raise money for Broadway Cares/Equity Fights AIDS'... (read more)

Idina Menzel, Ben Platt, Josh Groban and Many More Join SATURDAY NIGHT SEDER Benefit
Saturday Night Seder — a Passover Seder on Saturday, April 11 (the fourth night of Passover) — will be different from all other nights, as a panoply o... (read more)

VIDEO: The Marsh Family is Back With Another LES MISERABLES Cover
The Marsh family is back with another Les Miserables cover!... (read more)

Breaking: Broadway Shutdown Extends To June
In accordance with guidelines from the Center for Disease Control (CDC) and under the continued direction of Governor Andrew Cuomo, Broadway shows in ... (read more)