Marc Kudish and Antoine L. Smith Join 54 SINGS BABY: THE MUSICAL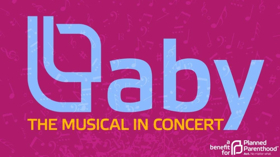 Tony nominee Marc Kudish (Thoroughly Modern Millie, 9 to 5), and Antoine L. Smith (Carousel, Memphis) have signed on to appear in 54 SINGS BABY: THE MUSICAL at Feinstein's/54 Below on Sunday, March 18th, 2018, at 7:00pm and 9:30pm.
A portion of the proceeds will benefit Planned Parenthood.
Marc Kudish will take on the role of Alan and Antoine L. Smith will take on the role of Nick. They join the previously announced Carolee Carmello as Arlene, Kenita Miller as Pam, and Charlotte Maltby and Charles Franklin as Lizzie and Danny, respectively.
The ensemble will feature Arjana Andris, Jorge Barranco, Marc Koeck, Scott Mikita, Jenna Pasqua, and Rebecca Spigelman.
54 SINGS BABY: THE MUSICAL will be directed by the show's original director and lyricist, Richard Maltby Jr. and produced by Robert W. Schneider. The show will be music directed by Deniz Cordell.
BABY, which was nominated for the 1984 Best Musical Tony Award, has music by David Shire, lyrics by Richard Maltby, Jr. and a book by Sybille Pearson.
BABY tells the story of three couples on a university campus dealing with the painful, rewarding and agonizingly funny consequences of the universal experience of pregnancy and upcoming parenthood. There are the college students, barely at the beginning of their adult lives; the thirty-somethings, having trouble conceiving but determined to try; and the middle-aged parents, looking forward to seeing their last child graduate from college... when a night of unexpected passion lands them back where they started.
Schneider said, "We are so proud of the incredible work that Planned Parenthood has accomplished and we wanted to do our small part to demonstrate our support for their services. I am very happy that Mr. Maltby, Mr. Shire, and Ms. Pearson have enthusiastically agreed. Baby is a favorite amongst many in the community and I am eagerly looking forward to bringing it back to New York audiences on March 18th."
Tickets, starting at $30, are still available. In addition to the ticket price, there is food and beverage minimum of $25.00 54 SINGS BABY: THE MUSICAL tickets can be purchased at 54below.com. Tickets on the day of performance after 4:00 are only available by calling (646) 476-3551
Michael Feinstein, one of the world's greatest musical artists, and 54 Below, Broadway's Supper Club, have united to give New York an unparalleled destination for entertainment and dining. Feinstein's/54 Below, Broadway's Supper Club, is the performance venue in the grand tradition of New York City nightlife. A few blocks from the heart of Times Square and just below the legendary Studio 54, Feinstein's/54 Below is a classically designed state-of-the-art nightclub in the theatre district that hosts audiences with warmth and style. Feinstein's/54 Below will present iconic and rising stars from the worlds of Broadway and popular music. The venue provides a food and beverage menu from early evening through the wee hours of the morning that is worthy of the world-class entertainment on the stage. In their description on the venue, The New York Times writes Feinstein's/54 Below "has the intimacy of a large living room with unimpeded views and impeccable sound; there is not a bad seat. Its sultry after-hours ambience is enhanced by brocade-patterned wall panels planted with orange-shaded lanterns. And the atmosphere is warmer and sexier than in Manhattan's other major supper clubs. Located at 254 West 54th Street, Feinstein's/54 Below features up to three shows nightly with cover charges ranging from $15-$105. www.54Below.com/Feinsteins
Related Articles
More Hot Stories For You