Magician Michael Carbonaro Brings His Live Show To The Town Hall Theatre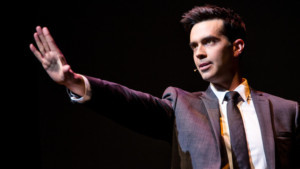 Magician, comedian and improv artist Michael Carbonaro announces his first New York City engagement at The Town Hall Theatre on Thursday, February 14th at 8:00PM.
Direct from his hit truTV series, THE CARBONARO EFFECT, magician Michael Carbonaro brings his signature blend of bizarre antics, audience interaction, hilarious video clips, and mind-blowing magic, live on stage! Don't miss out on your chance to feel the effect of Michael Carbonaro...LIVE!
Tickets are available for purchase here
Michael Carbonaro has performed over five-hundred comically perplexing and improbable feats of magic on his hit TV series, The Carbonaro Effect on truTV, currently in its fourth season. A trickster at heart, Michael performs inventive tricks on unsuspecting members of the public who are unaware that he is a magician. Jaws drop when he causes a car to disappear from under a security guard's nose or makes alien crabs transform into kittens in a science lab. Whether posing as a coffee shop barista, museum curator, or seemingly unremarkable store clerk in the REAL world, Carbonaro's illusions - along with his absurd, matter-of-fact explanations - leave REAL people bewildered and families at home laughing out loud.
And now, he is taking his popular theater show back on the road so more families can feel the effect of Michael Carbonaro...Live! You will not just "sit back, relax, and enjoy the show," Michael Carbonaro Live! is jam-packed with audience interaction, hilarious video clips, and a whirlwind of mind-blowing magic performed live on stage. See for yourself why Michael was named "Magician of the Year" by the Academy of Magical Arts and presented with the first-ever "Copperfield Prize," which recognizes an individual for elevating the art of magic.
More info on Michael Carbonaro and his tour can found at: www.michaelcarbonaro.com/.
Related Articles
More Hot Stories For You