MT Shorts Celebrates Launch Of New Platform With Premiere Concert-Screening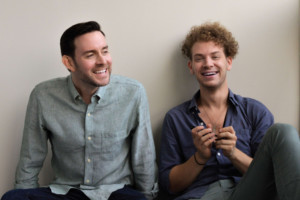 MT Shorts will celebrate its official launch, with a premiere screening of its first musical short film, Hey, Beautiful!, by award-winning composing team Nat Zegree and Eric Holmes at a one night only star-studded concert featuring selections from the duo's songbook at The Cutting Room on September 24th at 8PM.
The short film, Hey, Beautiful!, will be screened for the first time at the concert prior to its public release on September 25th. The film follows Ashley and her ride-or-dies through just another day in the concrete jungle until the interruption of, yet again, some unwanted attention off the streets of NYC. It's a sassy musical journey about females speaking the f*ck up, with a spunky new pop song!
The concert portion of the evening will be directed by Jeff Whiting (Bullets Over Broadway), and will feature performances by Ashley Loren (Jekyll & Hyde), Janine DiVita (Grease, Anything Goes), Alysha Deslorieux (Hamilton, Once On This Island), Ryan Vona (Paramour, Once), Alan H. Green (Charlie and the Chocolate Factory, School of Rock, Sister Act), Kennedy Caughell (Beautiful, Great Comet), Robin S. Walker (The Scottsboro Boys), Kevin B. McGlynn (Forbidden Broadway), Charlie Marcus (A Bronx Tale), Emma Stratton (Prince of Broadway), Stephanie Jae Park (War Paint), Josh Gaboian,  Grace Capeless (The Lion King), and Anais Reno with Maddie Shea Baldwin, Kurt Hellerich, Zachary Stewart, Markus McClain, Daisy Carnelia, Elaine Cotter and more to be announced.
MT Shorts Producers and Co-Creators, Sarah Ellis and Greg Kamp, will host the evening, with music direction by Nat Zegree and live DJing from Andre Doughty with No Dought Radio. MT Shorts is also proud to partner with Neeko Booths who will be debuting their new luxury entertainment photo booth for the event.
The night will feature a group of the brightest up and coming young talent including Blake Sheridan, Wyatt Cibrus, Connor Mills, Kieran Brown, Jack McCarthy, Sean O'Neill, Nicholas Cuadra, Kai Aida, and Alex Bello.
MT Shorts, is a creative platform where musical theatre and short film meet, with a mission to bring the voices of an emerging generation to screen through the creation of original musical short films. At its core, MT Shorts seeks to provide an outlet for new composers to explore writing for film and the luxury of a digital short form content platform with an unlimited amount of viewership-maintaining musical theatre's legacy, while simultaneously pushing the form forward.
Kenneth Ferrone (Smash, Grease Live, SpongeBob) directs the film starring Ashley Loren along with MiMi Scardulla (Gigantic), Ari Groover (Head Over Heels), Lisa Helmi Johanson (Avenue Q), and Maya Post (West Side Story). Also featured in the film are Adrian Baidoo, Ceasar Barajas, Sal Bucci, Stephanie Cain, Gerard Canonico, Ethan Crystal, Jessica Davis, Joey Dippel, Brandon Ellis, Sarah Ellis, Timothy Frazier, Tony Guerrero, Ian Gregory Hill, Michael Thomas Holmes, Derek Johnson, Greg Kamp, Rico LeBron, Andrew Leggieri, Michael Pilato, Blake Price, Ben Roseberry, Jordan Samuels, Brendan Sokler, and Nat Zegree.
Nat Zegree and Eric Holmes are both graduates of Indiana University where their musical The Kings Critique debuted in 2016. Together they also penned Fly More Than You Fall, which was workshopped at Syracuse University in the spring of 2018, directed by Jeff Whiting. Separately, Nat Zegree directs and leads shows at various acclaimed NYC venues in addition to performing one man shows across the nation. Other credits include: Dear Evan Hansen (Arena Stage, Secondstage), Million Dollar Quartet-Jerry Lee Lewis (Regional Premiere Ogunquit 2015/2016, Papermill Playhouse, Farmers Alley Theatre), and Mozart in Amadeus (Flat Rock Playhouse). In addition to musicals, Eric Holmes's plays include: Black Friday (Otis Guernsey New Voices Playwriting Nom) and Nearly Departed (David S. Hawes Scholarship Winner). Eric's other TV/Film credits include: The Good Fight (CBS All Access) BrainDead (CBS), Smash (NBC); Production Coordinator for "The Good Catholic" and co-producer of Theresa Rebeck's "Poor Behavior."
To purchase tickets for MT SHORTS: LIVE!, please visit www.thecuttingroomnyc.com
For more information MT Shorts and Hey, Beautiful!, please visit www.mtshorts.com