MOCKINGBIRD Tour to Launch from DC Plus Sorkin and Cast to Appear at Special Event for Theatre in Our Schools Month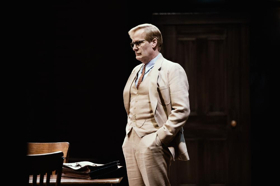 To Kill A Mockingbird, Aaron Sorkin's new play, directed by Bartlett Sher, and based on Harper Lee's classic novel, will launch its coast-to-coast National Tour in August 2020 at The John F. Kennedy Center for the Performing Arts in the heart of the nation's capital. The tour will be on the road for over two years. Additional information about the tour, including casting and additional cities, will be announced shortly.
Deborah Rutter, President, John F. Kennedy Center for the Performing Arts, commented, "We are thrilled to be launching the national tour of Aaron Sorkin's extraordinary new play. To Kill A Mockingbird is one of the great American treasures, and it is an honor to be presenting it in the nation's cultural center."
On Tuesday (April 2), to culminate National "Theatre In Our Schools" Month, Mr. Sorkin, Jeff Daniels, and members of the Broadway cast of To Kill A Mockingbird are taking the play to Washington, DC, for an unprecedented special presentation at the Library of Congress, in partnership with the Educational Theatre Association. Speaker Nancy Pelosi will be the special guest, opening the event alongside Dr. Carla Diane Hayden, Librarian of Congress (the first woman in our nation's history to hold the coveted position). Additionally, the production is excited to present DemocracyWorks essay winner, high school senior Brannon Evans of Omaha, Nebraska, with a $10,000 college scholarship at a dinner the preceding evening, made possible through a grant to the Educational Theatre Foundation.
On Broadway, the World Premiere production continues to break record after record at the box office, including its recent single-week record for the highest grossing American play in Broadway history. The now record-breaking gross of $1,701,683.59 was achieved in the second full week of performances (w/e 12/30/18) after the play officially opened to critical acclaim on Thursday, December 13.
Set in Alabama in 1934, Harper Lee's enduring story of racial injustice and childhood innocence centers on one of the most venerated characters in American literature, the small-town lawyer Atticus Finch. The cast of characters includes Atticus's daughter Scout, her brother Jem, their housekeeper and caretaker, Calpurnia, their visiting friend Dill, a mysterious neighbor, the reclusive Arthur "Boo" Radley, and the other indelible residents of Maycomb, Alabama from the novel.
Photo Credit: Julieta Cervantes