MADtv to Hit the Stage in THE MAD SHOW in Developmental Run at Theatre Aspen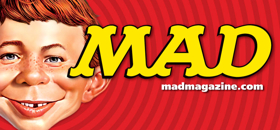 Theatre Aspen has announced a partnership with The Wheeler Opera House for the fourth annual Aspen Theatre Festival. The collaboration will support a developmental production of THE MAD SHOW, created from the twisted minds of "the Usual Gang of Idiots" behind MAD Magazine. Beginning September 12th, the work will culminate in two presentations at the Wheeler Opera House.
Primetime Emmy nominee and Peabody winner Rich Talarico (Comedy Central's "Key & Peele") turns his creativity as a writer for "MADtv" to the musical stage. Talarico, a Second City company member, has written for "Saturday Night Live," "The Tonight Show with Jay Leno" and more. He is teaming up with top flight comic and musical talent to create a one-of-a-kind event, only in Aspen.
The stars of The MAD Show are Nicole Parker (Elphaba in Broadway's Wicked, "MADtv"), Lauren L. Pritchard ("The Sarah Silverman Program," "Real Time with Bill Maher," "MADtv"), Craig Cackowski ("Drunk History," "Veep"), David Pompeii ("The Daily Show," "Key & Peele," "Heroes," "ER"), Martin Garcia ("Ray Donovan"), and Paloma Nunez (Second City). The Composer and Musical Director is T.J. Shanoff (Blank! The Musical, Second City).
Tickets for the various workshops and presentations range from $15-35. For more detailed information visit www.TheatreAspen.org. For tickets, visit www.AspenShowTix.com.
Theatre Aspen's Interim Artistic Director Markus Potter explains, "Developing new work is an important part of our mission. Our commitment to the artists must include providing the resources they need to be creative to make this intense time in Aspen transformative for their project. We are grateful to Gena Buhler and the team at the Wheeler for partnering with us and enthusiastically sharing their resources."
Wheeler Opera House Executive Director Gena Buhler states, "I'm confident this week-long residency will inspire our community. Since there's an improv element to the show, our Aspen audiences will play a huge role in the show's development." Buhler continues, "Partnerships are key for projects like this. This particular collaboration is exciting for our Wheeler team because of our relationships with Theatre Aspen and Second City."
The Aspen Theatre Festival (ATF), sustained by the generous support of Barbara and Franklin Carson, originated in 2014 with a workshop presentation of Alice By Heart, by Duncan Sheik and Steven Sater, the creative team behind Spring Awakening. The goal of the festival is to offer both emerging and established writers the opportunity to develop new work in a professional and inspiring environment, while experiencing all that Aspen offers. ATF is also supported by a grant from the National Alliance of Musical Theatre (NAMT). Theatre Aspen's 2017 season sponsors are ANB Bank and the Sturm Family, and Nancy Wall and Chuck Wall.
THE MAD SHOW is produced in association with Warner Bros Theatre Ventures (WBThV). MAD Magazine and all related elements are TM & © E.C. Publications, Inc.
THE MAD SHOW Schedule:
Tuesday, September 12 | Public Performance of Act I (1 hour); Wheeler Bar Lobby Doors: 6:00pm • Show 7:00pm • Tickets (GA): $15
Wednesday, September 13 | Public Performance of Act II (1 hour); Belly Up Aspen Doors: 5:30pm • Show: 6:00pm • Tickets (GA): $15 public
Friday, September 15 | Public Performance Full show (approx. 2 hours with intermission) Wheeler Opera House main stage • Doors: 6:30pm • Show: 7:30pm
Tickets (GA): $35
Saturday, September 16 | Public Performance Full show (approx. 2 hours with intermission) Wheeler Opera House main stage • Doors: 6:30pm • Show: 7:30pm
Tickets (GA): $35
Currently in its 34th season, Theatre Aspen is an award-winning professional theatre, performing a 3- month season in its 200-seat theatre in the heart of downtown Aspen. Theatre Aspen was recognized in 2016 with eight Henry Awards by the Colorado Theatre Guild, including the prestigious Outstanding Season by a Theater Company. Theatre Aspen's commitment to new work began in 2012 with a commission by Dan Elish called The Gifted and Talented, a play with music by Joe Iconis. In 2013, TA hosted a reading and concert of Cross That River, by Allan and Pat Harris. On the 2014 main stage, TA offered a fully produced play called The Cottage, by Sandy Rustin. Theatre Aspen formalized their commitment to new work with the creation of the Aspen Theatre Festival in 2014, featuring Alice By Heart, a new musical from the team that brought you the multi-Tony Award-winning Spring Awakening. The show workshopped in Aspen, culminating in a public presentation at the Wheeler Opera House. Theatre Aspen also produced a staged reading of the Burt Bacharach/Steven Sater musical Some Lovers, which was subsequently presented at Lincoln Center.
Since 1889, the Wheeler Opera House has been Aspen's community performance venue and has become the Roaring Fork Valley's premiere site for concerts, movies, festivals, lectures, community events, opera, and more. In recent years, the Wheeler has been a leader in producing exceptional festivals in Aspen, celebrating the comedy arts, global issues, and the craft of songwriting.
MAD, from DC Entertainment, is America's longest running and best-selling magazine with that name. For over 65 years MAD has been synonymous for "excellence in low standards." With its grinning, gapped-toothed idiot mascot, Alfred E. Neuman "gracing" its front cover, MAD satirizes politics, celebrities, sports and more in its print and digital editions, and also on its daily humor blog (which is updated daily, hence the term "daily humor blog"). MAD's most legendarily moronic features include Spy vs. Spy, The Fold-in, "A MAD Look at..," Snappy Answers to Stupid Questions and its iconic TV and movie parodies. MAD's contributors - widely known as "Usual Gang of Idiots" - include such notable names Al Jaffee, Sergio Aragones, Peter Kuper, Tom Bunk and Tom Richmond - although they wisely prefer to downplay their association with the magazine.