Click Here for More Articles on LIN-MANUEL MIRANDA
Lin-Manuel Miranda Talks HAMILTON Movie Version; IN THE HEIGHTS Film Update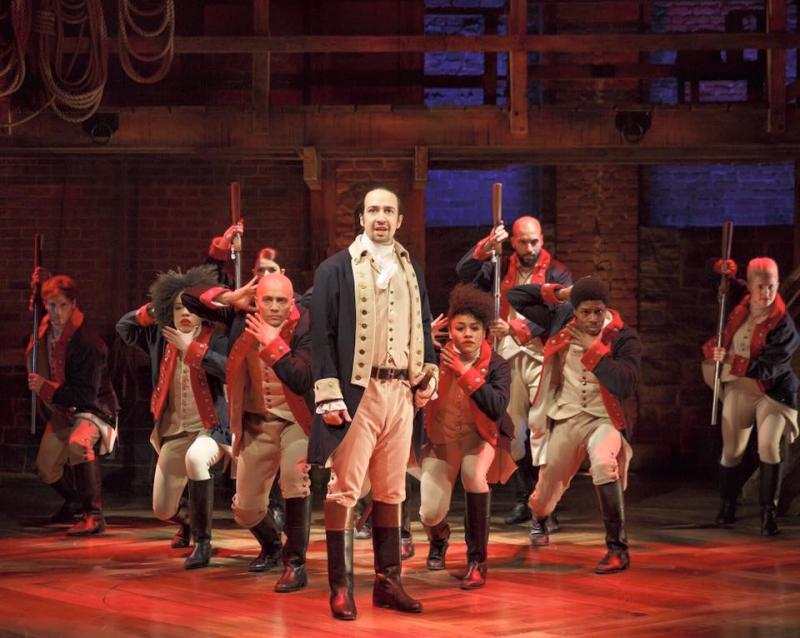 In an all-new interview with Deadline, HAMILTON creator Lin-Manuel Miranda discusses the possibility of bringing the Tony-winning hip-hop musical to the big screen, gives an update on a film version of IN THE HEIGHTS, and shares his thoughts on the possibility of becoming the world's youngest EGOT winner.
Speaking on the reported movie version of HAMILTON, Miranda shares, " I think it's a ways off, and only because I'm being selfish as a playwright. I want as many people to see the show in its musical theater form as possible before it's translated, and whether it's a good act of translation or a bad act of translation, it's a leap, and very few stage shows manage the leap successfully." He adds, "You know, the path to musical film glory is littered with A Chorus Lines. But like we said, it's tough. It's tough. So, I want to wait for more people to be able to see the show, and right now, you can only see it in two places [New York and Chicago]. By the end of next year, you'll be able to see it in four places."
A big-screen version of his hit musical IN THE HEIGHTS however is much more of a reality. "That one is in the works," he tells the site. "The Weinstein Company has the rights. Jon Chu is going to direct. So, that one is in Quiara's court right now, Quiara [Alegria Hudes], my co-writer on In The Heights, is working on the screenplay as we speak. The Weinsteins' track record is really good, and Jon Chu in particular, like, the sequences he's made for some of those Step Up films were so extraordinary. I'm really excited to see how he stages some of these musical numbers in In The Heights. I think it's a really inspired choice." Asked if he will be personally involved in the project, Miranda comments, "I will be more [involved] as we get closer, as it becomes a real thing, but I have plenty to keep me busy until there's an actual green light and we're going, and then I'll dig in."
As most theater fans know, Miranda is just an Oscar shy of becoming the youngest EGOT winner in history, already receiving a Tony, Grammy and Emmy Award. Yet the composer shares that reaching that accomplishment is not high on his priority list. He shares, "of course, that's lovely and that's fun to add in, and then I remind myself Vincent van Gogh died without having sold a single painting. Like, art is not measured by the trappings that people attached to it. It's the thing itself, and so, as you know, it's been a dream of mine to write songs for Disney, and so, it's really exciting to finally hear. It's two and a half years."
Read the interview in full HERE
Miranda is currently filming MARY POPPINS for Disney, opposite Emily Blunt. He recently composed original music for STAR WARS: THE FORCE AWAKENS, and his original music will be featured in Disney's upcoming animated film MOANA.
Miranda wrote the music and lyrics for the musical In the Heights, which opened on Broadway at the Richard Rodgers Theatre in March 2008. His written work for the show earned him numerous accolades, including the 2008 Tony Award for Best Original Score and the 2009 Grammy Award for Best Musical Theater Album. Miranda's performance in the show's lead role of Usnavi earned him a nomination for the Tony Award for Best Actor in a Musical.
This year, Miranda received multiple TONY AWARDS for his work on HAMILTON. He is a 2015 recipient of the MacArthur "Genius" Award, and received the 2016 Edward Kennedy Prize for Drama.
Photo credit: Joan Marcus
Related Articles