Len Cariou to Star in HARRY TOWNSEND'S LAST STAND By George Eastman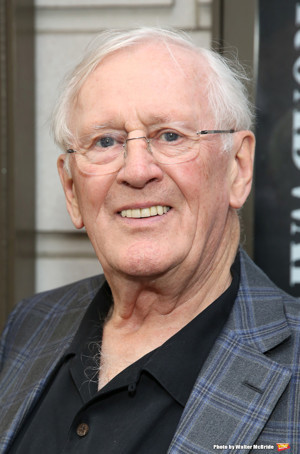 Producer Dennis Grimaldi is proud to announce that Tony and Emmy Winner Len Cariou will star in two industry-only presentations of George Eastman's new play, HARRY TOWNSEND'S LAST STAND. Cariou will be joined by Warren Bub (TV's Gotham, Tennessee Williams' The Mutilated at The New Ohio Theatre).
Presentations will take place in Midtown Manhattan on Monday, February 12 at 6:30 PM and Tuesday, February 13 at 2:00 PM.
Len Cariou explains "George Eastman's new play is important to anyone who's ever been a parent - or to anyone who's ever had a parent."
Living on his own since his wife's death, in the home they built many years ago in Vermont, Harry Townsend (Len Cariou) has become more fragile than ever, but with all his verbal spunk intact, he is delighted that his son Alan (Warren Bub) is finally coming home from California for a visit, "...and it's not even a holiday." Harry is ready to dip into favorite memories, toss down a few Scotches, and never let old age be a tough pill to swallow. Alan, however, arrives with a different agenda, an agenda that becomes more urgent - in spite of Alan's old emotional wounds and conflicts with his father, it's time to call a truce and confront the reality of Harry's situation.
Throughout an international career of nearly 60 years, Canadian-born Len Cariou has distinguished himself as one of the great theatre actors of his generation. A member of the American Theatre Hall of Fame, a three-time Tony Nominee, a premiere interpreter of Sondheim, he won the Tony for his legendary performance in the title role of Sweeney Todd: The Demon Barber of Fleet Street. In addition to his many appearances on and off Broadway, Len is known for a wide-ranging classical repertoire generated at The Guthrie Theatre, the Stratford Connecticut Shakespeare Festival, Lincoln Centre, and the Stratford Festival in Ontario, Canada. His recent off-Broadway solo show Broadway & The Bard was critically acclaimed. His many films include Executive Decision, The Four Seasons, Secret Window, About Schmidt, and Prisoners. Film critics lauded his performance as Cardinal Law in Spotlight, which won the 2016 Academy Award for Best Picture. He received an Emmy nomination for his portrayal of Franklin Roosevelt in HBO's Into the Storm, and won a Genie (Canada's Oscar) for Best Actor in the film One Man. Over the past seven years, Len has endeared himself to an audience of millions around the world playing Henry "Pop" Reagan in the CBS hit series Blue Bloods. Len is a husband of 30 years, a proud father and grandfather, an inveterate gin rummy player, and an avid golfer who dwells in possibility.
Dennis Grimaldi's Tony, Pulitzer, Drama Desk, Outer Critics Circle and Drama League and Obie winning Broadway and Off Broadway productions include: A Gentleman's Guide to Love and Murder, On the Town, The Heidi Chronicles, (Elisabeth Moss), The Realistic Joneses (Toni Collette, Michael C. Hall, Marisa Tomei, Tracy Letts), A.R Gurney's Love Letters (with All Star Casts) , On the Town, It's Only a Play (Nathan Lane Matthew Broderick , Nice Work If You Can Get It (Matthew Broderick, Kelli O'Hara, Estelle Parsons), Godspell; Angels in America, the Olivier Award winning Rise and Fall of Little Voice, (Rondi Reed), Sally Marr (Joan Rivers), Frank Gilroy's Any Given Day (Sada Thompson) The High Rollers (Vivian Reed), Tom Stoppard's Artist Descending a Staircase and A Christmas Story , the Australian tour of Driving Miss Daisy (Angela Lansbury, James Earl Jones). With Emanuel Azenberg ; Lost in Yonkers (Kevin Spacey), Jake's Women (Alan Alda ) and London Suite (Carole Shelley), Associate on A.R Gurney's Sweet Sue (Mary Tyler Moore, Lynn Redgrave), With the Producer's Circle, Chita Rivera: The Dancer's Life. The New York and Los Angeles productions of Girl's Room (Carol Lawrence and Donna McKecknie). Off Broadway, Leslie Jordon ... The Pink Carpet, Grace & Glorie (Lucie Arnaz and Estelle Parsons); Other People's Money (Mercedes Ruhel), The Boys in the Band, the musicals Annie Warbucks (Harve Presnell and Donna McKechnie),; which had the distinction to also perform at The White House. Burning Blue, Fanny Hill , Like Love, the musical adaptation of A.R. Gurney's Richard Cory by Ed Dixon and David Mamet's The Cryptogram among others. His many London productions on the West End include The Boys in the Band, John Lahr's Diary of a Somebody, Jack Gilford in Look To the Rainbow and Stephen Sondheim's Marry Me A Little . US National and Australian tour of Ghost, the Musical. Drivinging Miss Daisy (Australia tour Angela Lansbury and James Earl Jones)Producer for Candid Productions, a television Production Company, for 15 years; producing for ABC, NBC and HBO. He was also awarded the Robert Whitehead Award for Excellence in Theatre Production, The NY Film and Television Gold Medals, and The Carbonell Award. He is a Former Dancer and Actor as well as a notable Director and Choreographer.