Lauren Worsham, Denny Dillon & Stephen Bogardus Will Lead Reading of LUNA AND THE GOLD RIVER DOCKS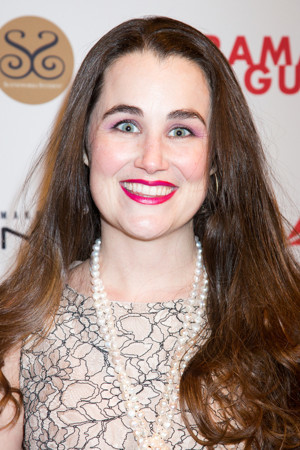 Luna and the Gold River Docks, a musical by Eric Dietz inspired by the documentary The Whale by Michael Parfit and Suzanne Chisholm, will present a special reading presentation on Friday, March 23 at 2:00pm.
Luna and the Gold River Docks follows the incredible true story of an abandoned orca whale named Luna whose search for friendship and human interaction ignited a political war in the town of Gold River in British Columbia. Breaking down the wall that separates people from nature, Luna enchants an entire community, fueling an intense debate about how humans should--and should not--interact with curious wild animals.
A finalist for The Jerome Robbins Foundation's 2017 Project Springboard and previously heard in concert with New York Theatre Barn in March 2016, this reading of Luna and the Gold River Docks will feature Tony Award-nominees Lauren Worsham (A Gentleman's Guide to Love and Murder), Denny Dillon (My One And Only), and Stephen Bogardus (Love! Valour! Compassion!). The threesome will be joined by Luther Creek (Rent), Lynn Masako Cheng (The King and I),Jake Hart, Gillian Hassert, Zachary Infante, Nikko Kimzin, Peyton Lusk (Falsettos), Lindsay Roberts (After Midnight), Erin Rubico, and Dennis Stowe (Aladdin).
Luna and the Gold River Docks is directed by Chase Brock (Disney's The Hunchback of Notre Dame, Spider-Man: Turn Off the Dark) with music supervision by Emmy Award-winner Rob Berman (Bright Star, City Center Encores!), music direction by John Bell (Fiddler on the Roof, On the Town), stage management by Michael T. Clarkston, and casting by Jason Styres, CSA.
This invitation only reading of Luna and the Gold River Docks will be held on Friday, March 23 at 2:00pm. For more information about the show and how to obtain Industry Seats, please emailLunaMusicalRSVP@gmail.com
Eric Dietz's musicals include All the Walls (New American Musical Award, finalist 2016) andLuna and the Gold River Docks (Jerome Robbins Foundation Project Springboard, finalist 2017). Other works include The Girl with the Alkaline Eyes, an evening-length ballet for The Chase Brock Experience commissioned by The O'Donnell-Green Music and Dance Foundation (premiering December 2018) and Curtain Call, a webseries of popular mini-musicals. On Broadway, he's worked on the music teams of Gigi, Dames at Sea, Bright Star, and Come From Away. He is a graduate of Carnegie Mellon University and serves on the leadership committee for the Trevor Project NextGen NYC, a nonprofit dedicated to saving and affirming lives of LGBTQ youth. Visit www.ericdietzmusic.com
Chase Brock is Artistic Director of Brooklyn-based dance company The Chase Brock Experience, celebrating its first decade, director of the new musicals Luna and the Gold River Docks, Bringers and Immaculate Conception as well as productions for the 92Y Lyrics and Lyricists series, Westport Country Playhouse and Flat Rock Playhouse, and choreographer ofDisney's The Hunchback of Notre Dame (currently running in Germany and Japan), Broadway'sPicnic and Spider-Man Turn Off the Dark, A Midsummer Night's Dream for Shakespeare in the Park, Roméo et Juliette for The Metropolitan Opera, Dance on Broadway (Nintendo Wii, PlayStation Move) and "Last Week Tonight with John Oliver" (HBO). Visit www.chasebrock.com
Rob Berman is in his eleventh season as music director of Encores!, for which he was conducted over 25 productions and five cast recordings. Mr. Berman's Broadway credits includeThe Secret Garden, Bright Star, Tuck Everlasting, Dames at Sea, Finian's Rainbow, Irving Berlin's White Christmas, The Pajama Game, The Apple Tree, Wonderful Town and Promises, Promises. For nine years he was music director of The Kennedy Center Honors on CBS, for which he won an Emmy Award for outstanding music direction and was nominated for five additional Emmys. He has conducted for Barbara Cook with the Los Angeles Philharmonic, and was also music director for the PBS presentation of A Broadway Celebration: In Performance at the White House.
Photo Credit: Jennifer Broski