LITTLE LEAGUE Comes to Kraine Theater This Month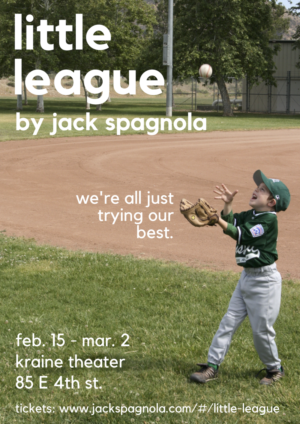 Little League will receive its world premiere from February 15th - March 2nd, 2018 as part of the 11th annual FRIGID Festival at the historic Kraine Theater, presented by Horse Trade Theater Group. Little League is written by Jack Spagnola, produced by Lizzy Ana Lincoln, directed by Noam Shapiro, and Executive Produced by Three Hares.
On the bleachers during little league games, parents root for their children, teenagers flirt with heartbreak, and secrets slip out. But when four fans gather on the sidelines during the final hot days of August, baseball is the last thing on anyone's mind. Little Leagueis a heartfelt comedy about the compassion and courage it takes to grow up.
"As a writer, I want to bring communities and audiences closer together because, at the end of the day, art is a tool that allows people to communicate with each other - I believe that starts with being honest, even when honest is unusual," says Playwright Jack Spagnola.
"If we can be honest with ourselves in that space, then maybe each time we go to the theater, our perspectives will change just a little bit. Little League is my latest attempt to experiment with characters turned inside out, who lead with their foibles, and encounter the world with honesty and humor."
This production brings together a diverse and dynamic team of artists to reimagine what the great American pastime looks like. At a time when our country is divided, this play celebrates kindness, generosity, and the incomparable power of human connection.
"I believe if we were all a little more open and honest about our insecurities and imperfections, we would be in a much better place," says Spagnola.
The complete cast of Little League includes: Leslie Class, Kea Trevett*, Barrie Kealoha*, and Bartley Booz
Thursday, Feb 15 @ 8:50pmSunday, Feb 18 @ 3:30pm, Saturday, Feb 24 @ 6:40pm
Sunday, Feb 25 @ 12:10pmFriday, March 2 @ 8:30pm. $15 Tickets can be purchased at www.horsetrade.infoStay up to date with Little League by following @LittleLeaguePlay on Facebook and Instagram.
Jack Spagnola (Playwright) is a Brooklyn based playwright. His full-length plays include Lou (an unexpected search for friendship), Doris and Cleveland (Dixon Place), and Memorial Gazebo. His one-acts include Food Chain (Manhattan Repertory Theatre and third place 2014 Five College Denis Johnston Playwriting Competition), The World's Best Therapist (finalist Strawberry One-Act Festival), A Room for Four (Piccolo Theatre), and Blind Banana (Dixon Place). His 10-Minute plays include Welcome Conference (The Kraine), A Romance (winner Midtown Theatre Festival) and Flirting with Age (Santa Cruz Actors' Theatre). His work has been produced and developed at The Lark, The Tank, The Kraine, and Dixon Place. During the day, Jack spends his time as a Pre-K teacher.
Noam Shapiro (Director) is a NYC-based director, the Producing Artistic Director of Three Hares, and the Founder/Co-Artistic Director of Lyra Theater. Noam is a 2017-2018 Manhattan Theatre Club Directing Fellow, a member of the 2017 Lincoln Center Directors Lab, and a 2017-2018 SDCF Directing Observer. Recent credits: The Resistible Rise of Arturo Ui (Lyra Theater), It Takes a Village (The Brick/The Tank), Emerson Loses Her "Miand" (NY Winterfest), Women Scouts (Ensemble Studio Theatre). He's developed work with The Barrow Group, New Dramatists, The Brick, The Tank, Dixon Place, #Serials at the Flea, and The Gallery Players. Upcoming: Gonzo (LPAC Rough Draft Festival). noamshapiro.com
Lizzy Ana Lincoln (Producer) is a Brooklyn-based producer, actor, and improviser originally from Austin, Texas. She has worked at the Soho Playhouse, Access Theatre, The Tank, and Dixon Place. Producing credits: Welcome to the Doll Den (Electric Eye Ensemble, 2018 Texas Residency), and three seasons of Paper Kraine, a new works variety night at the Kraine Theatre showcasing in-development work. Recent acting credits: The Passion of Kellyanne (The Brick), Welcome to the Doll Den (Electric Eye Ensemble at The Tank, Dixon Place, and The Drama League), Pomegrenade (The Arctic at IRT), Dementia Americana (Soho Playhouse). Catch her with Manta Ray Police Force, her indie improv team, or live-streaming RPGs on Twitch with Geeks for Good. Get in touch atlizzyanalincoln@gmail.com.
Meet the Cast
Bartley Booz (Sam) is as fresh as a bagel to NYC after earning a BFA in Acting from the College-Conservatory of Music at the University of Cincinnati. Recent film credits include: Happy! (Syfy), TURN: Washington's Spies (AMC); Best Day of My Life (dir. Fabien Constant). Recent NYC theatre credits: Park Plays (Queens Theatre); For Annie (The Hearth).
Leslie Class (Darya) is a graduate of the American Musical Dramatic Academy. This is her first time performing in Frigid Festival. She's also participated in the Thalia Festival and performed in Mammia Mia at the Arts Center of Coastal Carolina (Ensemble/Rosie Understudy). @urbanonmymind
Barrie Kealoha* (Phoebe) is a Southern California native and played softball for 10 years, making the All-Star team three times. She was nicknamed "Hops" after successfully avoiding a popped grounder to left by jeté-ing over it as she ran to third. It was the crowning achievement of her entire softball career, up until being able to channel that enthusiasm into LITTLE LEAGUE. Other achievements include performing and traveling to almost 90 countries with Holland America Line and Seabourn, CARMEN LA CUBANA (Châtelet, Paris), and vintage vocal group America's Sweethearts. She can also be heard on numerous commercial voiceovers and audiobooks in both English and Spanish. @barriekealoha; barriekealoha.com
Kea Trevett* (Marsha) New York credits include Othello (Classic Stage Company), The Comedy of Errors (Classic Stage Company), The Last Match (Roundabout) and A Tale Told by an Idiot (Lincoln Center Education). International: Antigone, dir. Greg Mosher (Africa tour). Kea has developed new work with The Lark, Ars Nova, Ensemble Studio Theater, Cloud City, and Theater Masters. Less recent credits include a 1996 production of The Good Person of Szechwan, in which she had no lines and ate chocolate pudding out of a trash can. Upcoming Film: The Kindergarten Teacher. Training: MFA Columbia University. keatrevett.com
*Member, Actors' Equity Association. AEA Showcase.
About FRIGID
Founded in 2007, FRIGID is an open and uncensored theatre festival that gives artists an opportunity to let their ingenuity thrive in a venue that values freedom of expression and artistic determination. In true support of our Indie Theater Community, 100% of box office proceeds will go directly to the artists whose work is being presented. FRIGID is here to chill out the New York independent theatre scene's ideas of what a theatre festival can be!