KINKY BOOTS Will Screen in US Cinemas Next Month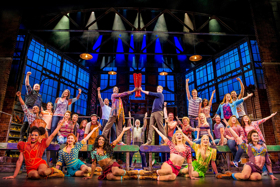 Filmed at the Adelphi Theatre in London, Kinky Boots arrives in movie theaters nationwide June 25 and 29 only. In addition to the full production, audiences will enjoy an exclusive behind-the-scenes look at the story of "Kinky Boots" and never-before-seen footage from the record-breaking Broadway run, which closed last month after more than six years and 2500 performances.
Tickets for "Kinky Boots the Musical" are available online at www.FathomEvents.com and participating theater box offices.

Presented by Fathom Events, this special two-night event will premiere in nearly 500 U.S. cinemas on Tuesday, June 25 at 7:00 p.m. and Saturday, June 29 at 12:55 p.m. local time, through Fathom's Digital Broadcast Network (DBN). For a complete list of theater locations, visit the Fathom Events website (theaters and participants are subject to change).
"We're so excited for 'Kinky Boots' fans and new audiences alike to have the opportunity to experience the joy of the musical in a completely new way- on the big screen," said Daryl Roth and Hal Luftig, the musical's lead producers. "In addition to getting even closer to the magic of the production, American audiences will get to see our fabulous West End cast, and viewers will get an unprecedented glimpse into the show's heartwarming story."
"Since the first performance of Kinky Boots, hardly a day has passed without my receiving a thank you message from someone whose spirits were raised up by the show," Fierstein said. "Kinky Boots has been playing in big cities all over the world but now, thanks to this film capture, it will reach people wherever there are movie theaters. I am beyond excited!"
Kinky Boots is the winner of every major Best Musical Award, including the Tony Award, the Grammy Award, and London's Olivier Award. Inspired by true events, this huge-hearted hit tells the story of two people with nothing in common - or so they think. Charlie (played by Olivier Award nominee Killian Donnelly) is a factory owner struggling to save his family business, and Lola (played by Matt Henry, who won an Olivier Award for the role) is a fabulous entertainer with a wildly exciting idea. With a little compassion and a lot of understanding, this unexpected pair learn to embrace their differences and create a line of sturdy stilettos unlike any the world has ever seen! But in the end, their most sensational achievement is their friendship.
"We are thrilled to have the opportunity to bring this heartfelt hit musical to audiences nationwide in a larger than life way," said Fathom Events CEO Ray Nutt. "We continue to execute on our arts and entertainment strategy by seeking out the best in Broadway for our audiences to enjoy from the comfort of their local cinema."
Related Articles

More Hot Stories For You
VIDEO: Jennifer Hudson Performs 'Bridge Over Troubled Water' as Tribute to John Lewis
Jennifer Hudson was one of the stars who took part in CBSa??s John Lewis: Celebrating a Hero TV special, which aired on Tuesday at 10 p.m. ET....

Check Out the Original Broadway Cast of HAMILTON's Latest Projects
What have the original cast members, ensemble members, swings, and standbys of Hamilton been up to lately? Check out their latest projects!...

Disney Employee Pulls the Curtain Back on What it is Like to Work at Disney World During the Pandemic
Rolling Stone has reported on a conversation they had with one Disney World employee, pulling the curtain back on issues of safety, whether social dis...

VIDEO: On This Day, August 6- HAMILTON Opens On Broadway!
On this day in 2015, Hamilton officially opened on Broadway at the Richard Rodgers theater!...

Disney's Live-Action MULAN Will Be Released on Disney+ This September for an Extra Fee
As BroadwayWorld previously reported, the release of Disney's live-action Mulan has now been delayed several times, but a new plan for its arrival has...

Zach Braff Shares Tattoo Tribute to His Friend, Nick Cordero
Zach Braff is remembering his friend, the late Nick Cordero, in a special way. Tattoo artist Doctor Woo shared a photo of his depiction of Nick in Bul...